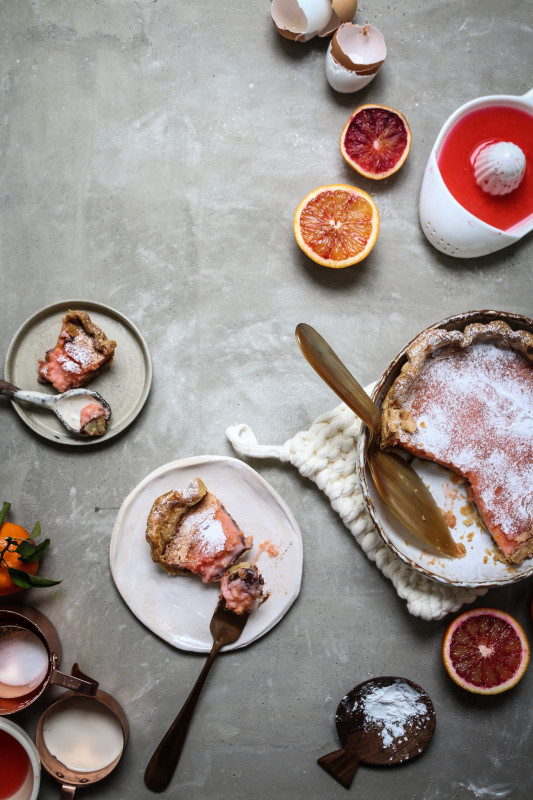 I decided to adapt four and twenty black birds black bottom lemon pie, and use blood oranges instead. It was really tasty, i enjoy this time of year when you can get blood oranges, the season doesnt last for long so when its here I go a bit blood orange mad. I like the black bottom lemon pie so it was interesting to make a blood orange one instead, i love the four and twenty black birds pie book theres so many great recipes in it.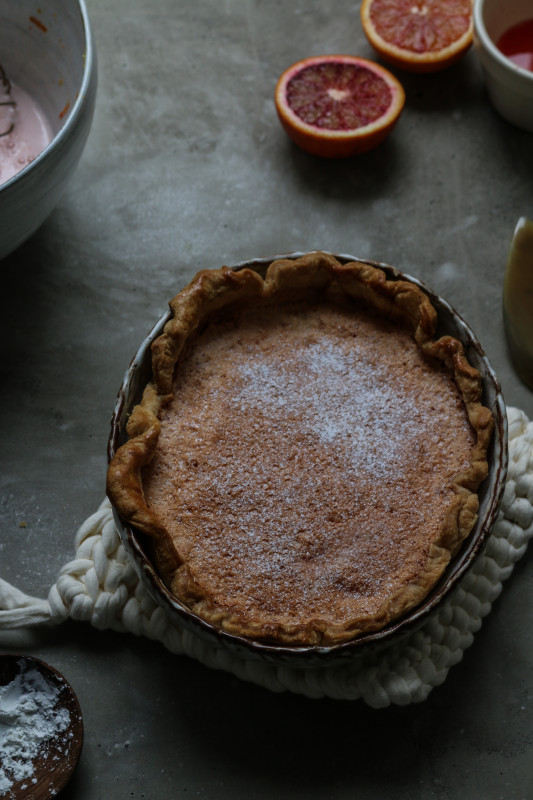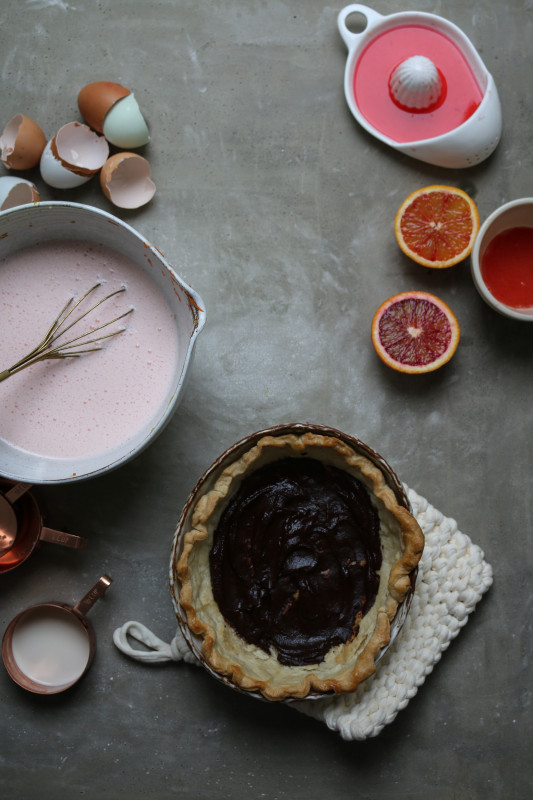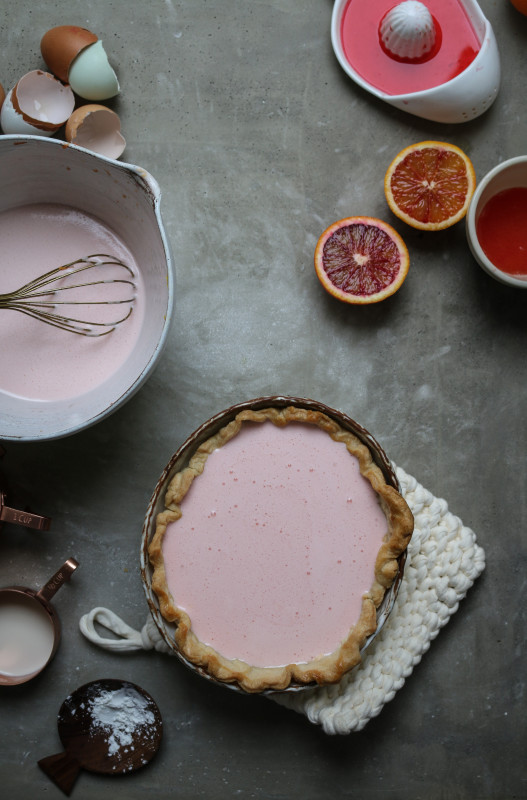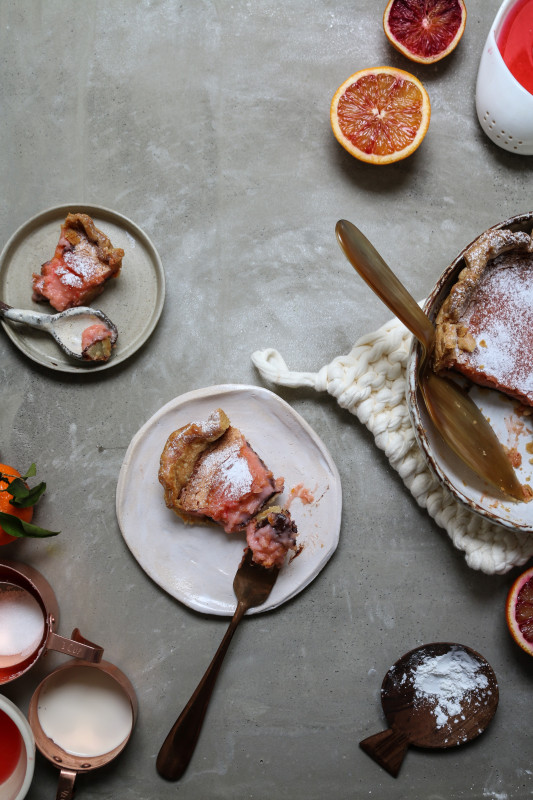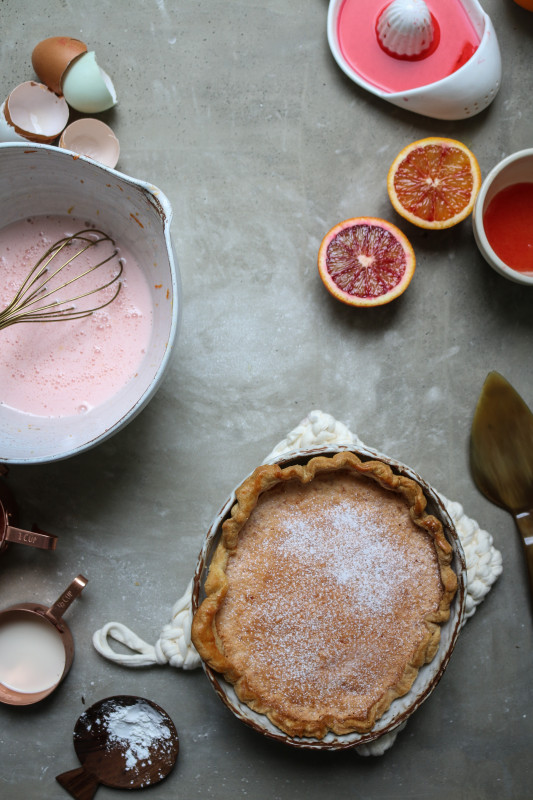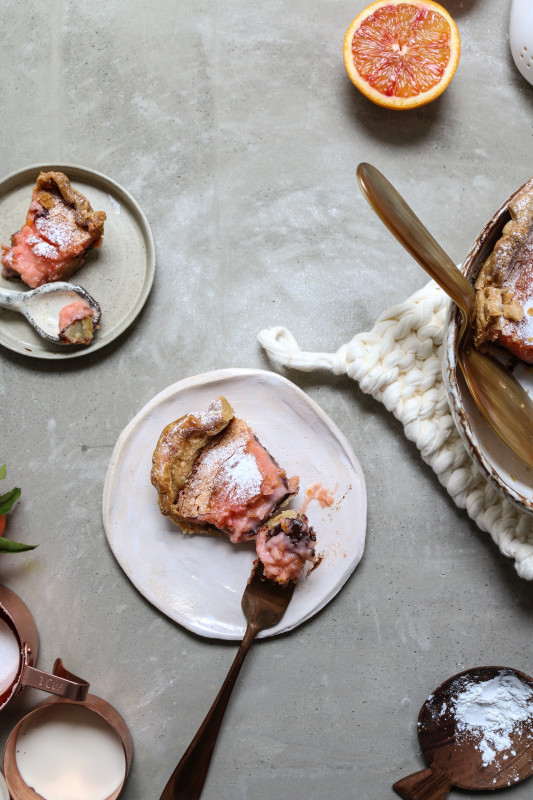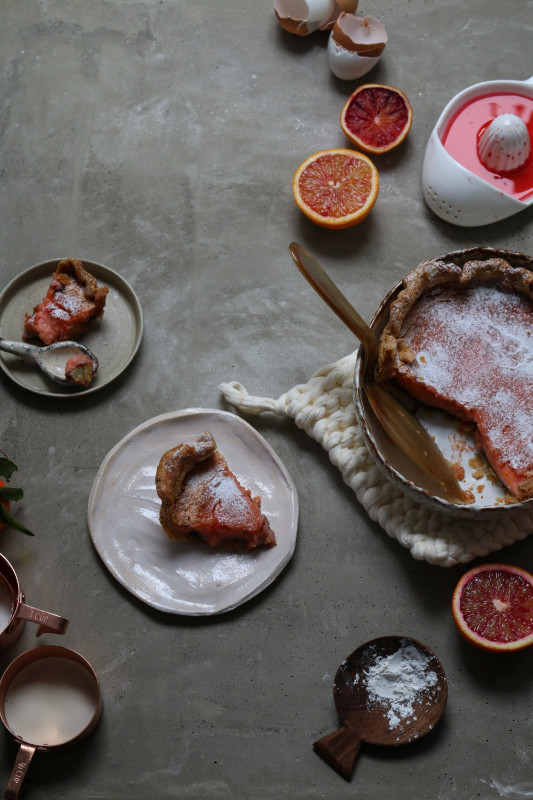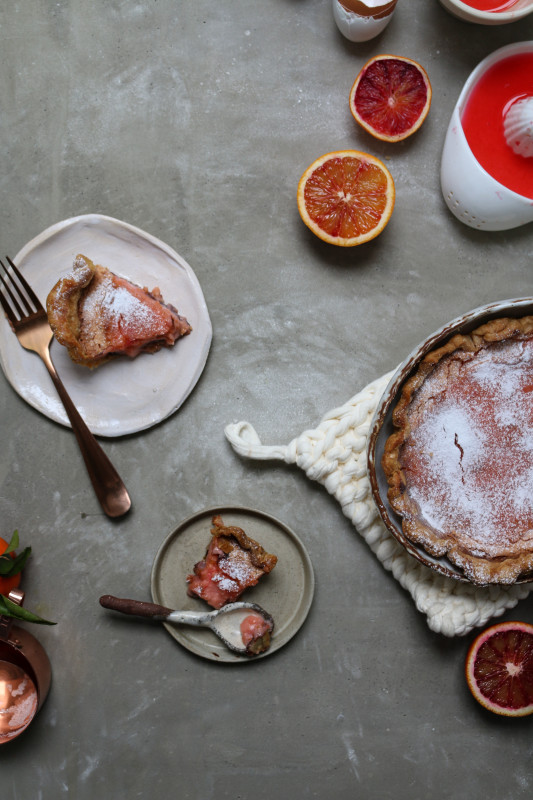 Recipe for pastry
1 1/4 cups plain flour
1/2 tsp salt
1 1/2 tsp granulated sugar
1/4 pound (1 stick) unsalted butter
1/2 cup cold water
2 tbsp cider vinegar
1/2 cup ice
Stir the flour, sugar and salt together in a large bowl, add the butter pieces and coat with flour mixture using a bench chopper or spatula.
With a pastry blender cut in the butter to the flour mixture, working quickly until mostly pea sized pieces of butter remain.
Combine the water, cider vinegar and ice in a bowl, sprinkle 2 tbsp of the ice mixture over the flour mixture and cut it in with a bench scraper until fully incorporated, then add more water a tbsp at a time until it comes together in to a ball. Cover and place in the fridge for 25 minutes.
Preheat the oven to 350f
Roll out and line the tart tin with the pastry, then place a piece of baking paper in and fill the shell with baking beans and bake for 15 minutes then remove the beans and baking paper and bake for another 10 minutes.
Ganache
To make the ganache add 3/4cup heavy cream and 4 ounces bittersweet chocolate chopped into small pieces in a bowl, Gently melt over a pan of boiling water and spoon the ganach into the tart shell and place in the fridge to cool.
To make the filling
4 large eggs
1 egg yoke
1 1/2 cups granulated sugar
1/2 tsp salt
1/2 cups blood orange juice
1/4 cups lemon juice
Grated zest of on blood orange
Grated zest of 1/2 a lemon
In a mixer mix the eggs, yolk, sugar and salt and mix until thick then stir in the juice and zest. Pour through a seive into the tart shell and bake for 15 to 20 minutes until the edges are set and there is still a slight wobble in the middle. Let the tart cool completely before slicing. I baked mine in a ceramic dish so it took a bit longer to cook. I dusted it with icing sugar to finish.