Upcoming workshops 
london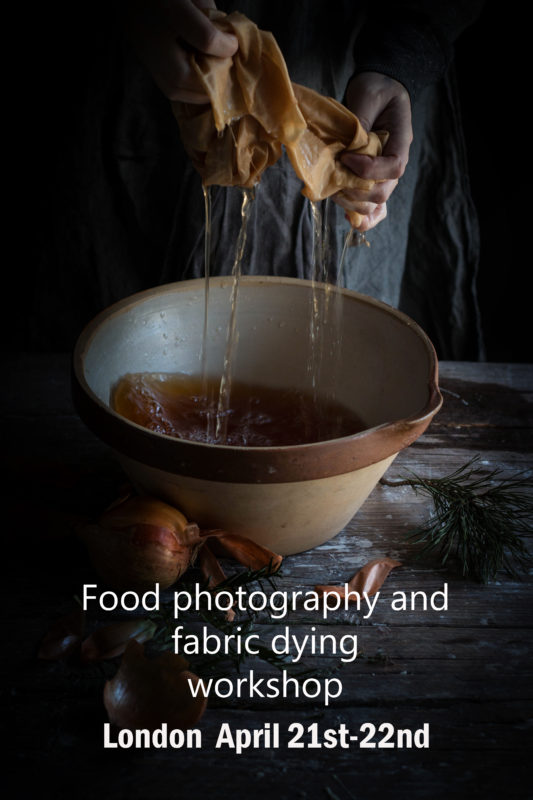 I am teaming up with silvia bifaro from salvia and limone and Isabella from twome to bring you a two day workshop that combines two great skills together, natural fabric dying and food photography. we will dye some fabric that can be used in your food photography shots.
where = Clapham studios london
when =  21st 22nd april 2018
what you will learn
day one = we will learn and have a hands on fabric dying workshop from Isabella from twome, she will share how to dye your own fabric using natural materials and each attendee will dye fabric for themselves. Silvia and I will talk through camera settings and how to shoot in manual and we will photograph the process of the fabric dying and teach how to capture motion, then we will style and shoot together using some fabric so show how it adds great textures in your food photography.
day two = on day two we will learn how to style and photograph a table scene and flat lays to do this we will shoot a recipe story from start to finish, we will show you how to create a story with a set of photos this is great for bloggers wanting to show the processes of a recipe.
who Is this for?– beginners or experienced photographers wanting to learn more about styling, bloggers wanting to learn how to shoot a recipe story, crafters wanting to learn how to dye fabric at home using natural materials like avocado stones and pomegranate skin. any one looking to learn a new skill
how much is it? we are going to set the price so you can attend day one or both which will be
day one £299
Both days £549
these is 10% off for early bird booking if you book by January 15th.
email aimeetwigger@aol.com for all booking info and schedule
lunch, snacks and tea, coffee and soft drinks will be included on both days. The fabric is also included.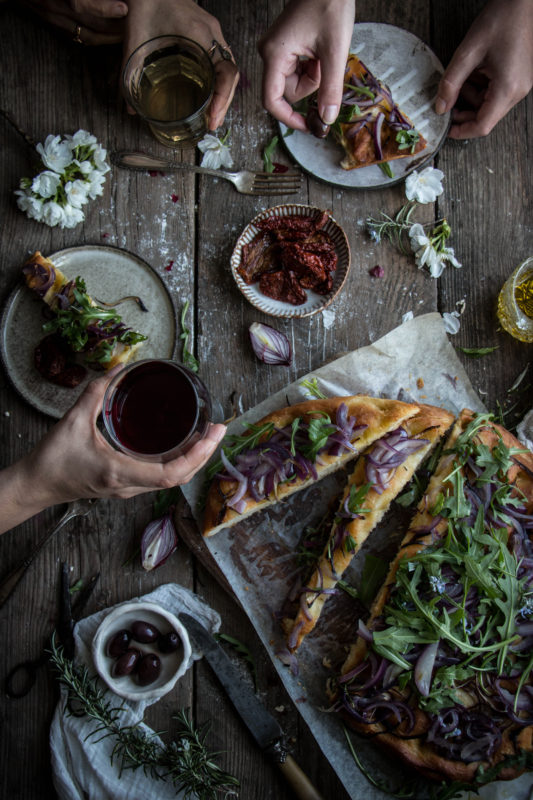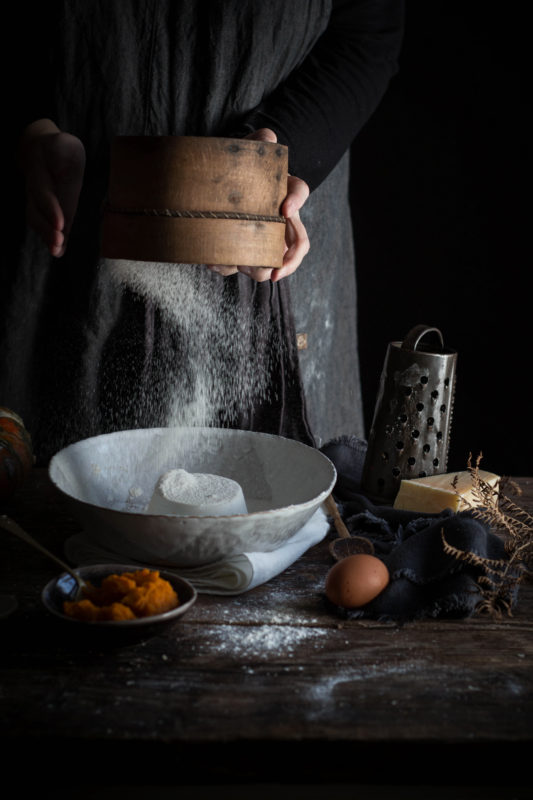 ---
one to one workshops
I am really pleased to announce that I am now holding one to one workshops at my home studio in Torquay in Devon. these workshops can be tailor made to what you want to learn and we can discus and plan it in advance. Also I am flexible with the dates and can work around your schedule.
the workshop can be a day workshop or held over several days to suit your needs. we will cook and photograph a story discus styling and backdrops and post editing and anything else you want to learn.
email me at aimeetwigger@aol.com to discus pricing and dates
---
---
*TICKETS CAN BE BOUGHT HERE – only a $500 deposit required*
Overview
A 3 day food photography and styling retreat held in Daylesford, VIC.
Retreat Teachers
Aimee Twigger of Twigg Studios
Host: Anisa Sabet
Location
The retreat is located in an absolutely breathtaking house, in the quaint town of Daylesford. Daylesford is located approx. 75 minutes from Melbourne, VIC.
Who Can Attend
This workshop is for beginner – intermediate photographers. If you've never picked up a camera, we will be going through camera settings and photography basics. This retreat is perfect for those interested in food photography and who want to meet like-minded creatives.
Date
11 – 13 May 2018.
Accommodation
Accommodation included is for 11 and 12 May 2018, is on site, and is single beds in shared rooms (one ensuite per 2 people).
About
Join us for an intimate food photography and styling retreat, being held in a beautifully curated house in quaint Daylesford of Victoria. We will cook, we will feast, we will laugh and learn. Workshop sessions will be taught by Aimee Twigger of Twigg Studios who has mastered the beautiful art of story telling and moody photography.
Retreat highlights include
Photography basics | We will go through basic camera settings, how to approach lighting, colours, compositions, angles and lenses.
Styling process | Together, we will learn how to create beautifully styled food stories. We will demonstrate how to create a scene by going through the thought process, set up, examining natural light, crafting an environment, choosing props, managing time, and choosing angles.
Moody photography | We will learn how to create this dark and moody type of photography.
Lightroom demonstration & preset building | We will sit down to a collective lightroom editing session, where we'll talk about post-processing and how to develop your own preset to get the look you want consistently.
Business and Marketing | We will talk about the business side of blogging which is as important as the creative side. We will discuss blogging, sponsorship, marketing, social media and how to develop a consistent brand.
Autumn cocktail class | In a special masterclass, you will learn about autumn cocktails, which alcohols work best and which fruits and flavours to pair with them.
Feasting | The best part of the retreat – the feasting! You will be treated to a beautiful meals throughout the weekend by our famed caterers Alfie's Kitchen. We will share meals, sample local wine and share stories.
Program
Friday 11 May
Welcome lunch and housekeeping
Session 1 – Photography basics (theory)
Autumn cocktail class
Long table dinner
Saturday 12 May
Breakfast
Session 2 – Styling basics (theory)
Session 3 – Collective styling (practical)
Lunch
Session 4 – Small group styling
Afternoon tea
Session 5 – Editing and preset building
Dinner 
Sunday 13 May
Breakfast
Session 6 – Business, marketing and social media and Q&A
Farewell morning tea / lunch
**Note this programme is subject to change**
Attendees
There are only 16 tickets for this workshop available. Be sure to get in quick to avoid missing out on this once in a lifetime retreat.
Inclusions
Two nights shared accommodation on site
Beautiful Daylesford house for the retreat period
All lessons and discussions
Welcome snacks and drinks
Two dinners
One lunch
Two breakfasts
Two morning teas
Two afternoon teas
Carefully curated set of gifts
Not included
Transport to and from Daylesford
Alcohol
Schedule
The workshop commences 12pm Friday 11 May and finishes 12pm Sunday 13 May. Please contact anisa@themacadames.com for more details.
Investment
The all-inclusive cost for the retreat is AUD$1,850 (only $500 despot required to secure your spot). This includes 2-nights shared-room accommodation in Daylesford for 11 May and 12 May 2018 | IMPORTANT: due to the logistics involved in planning these events no refunds are available unless you find a person to replace you on the retreat. If you pay the deposit, please note you are still required to pay the remainder (due Feb 1 2018) until a replacement is found. Thank you for your understanding. 
* If you have any dietary requirements, please let me know upon booking and our caterers will ensure to accomodate you.
---
Here is some feedback from some of my previous workshops
"Thank you so much for the workshop i learnt so much and i cant wait to go home and use my new skills"
"I cannot tell you how much I loved your workshop and wish I could do it all again!!! I felt there was just the right amount of people for me to get the most out of it and I learnt so much. Thank you so much."
"I would highly recommend one of the group workshops i felt like i learnt so much"
This was, by a mile the most inspiring, productive and information packed workshop ever"
"i never thought i would be able to create the type of images aimee does but by the end of the say i was shooting images that blew my mind"
"finally i understand how to use and get the most out of my camera"
---