I was asked to take part in this virtual blog party by Kimberly from the little plantation in order to bring awareness to how great Malawi coffee is and how buying it helps support coffee farmers in Malawi,  Mzuzu coffee growers in Malawi are part of a fair trade co-operative and are helping improve local infrastructure by building bridges and accommodation for teachers, if you are interested in finding out more you can read about it here. I love the idea of fair trade co-operatives as they help give a little back to the local community securing it for the future. Every one was asked to share a recipe using some Malawi coffee, kimbery kindly sent me some coffee and I decided to make this spiced coffee cake with maple cinnamon frosting and some gingerbread animals for my contribution. I am always embarrassed to admit that I'm not a fan of coffee but I do like it in a cake so that's ok right?, my partner asked me to make him a coffee and walnut cake so I decided to give it a winter makeover and use some spices in it.
As a bonus from this virtual party coffee-direct are offering EU readers 20% off when they buy some Malawi coffee from them by using the code #loveMALAWIcoffee to claim the discount. Valid: 7th – 31st December 2015.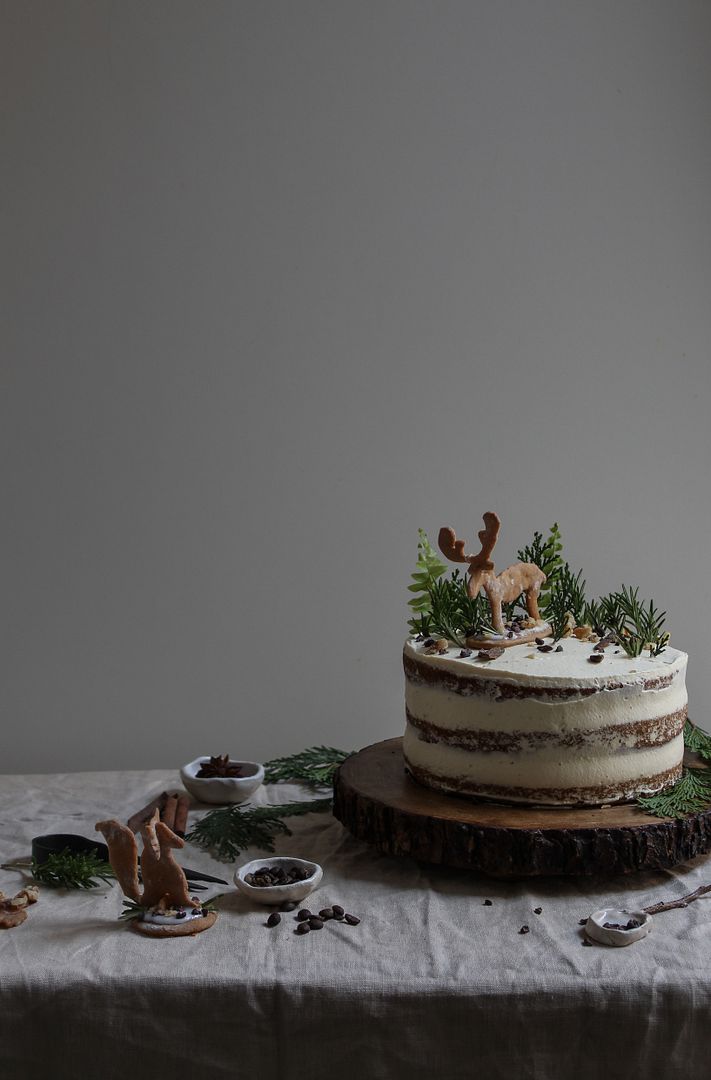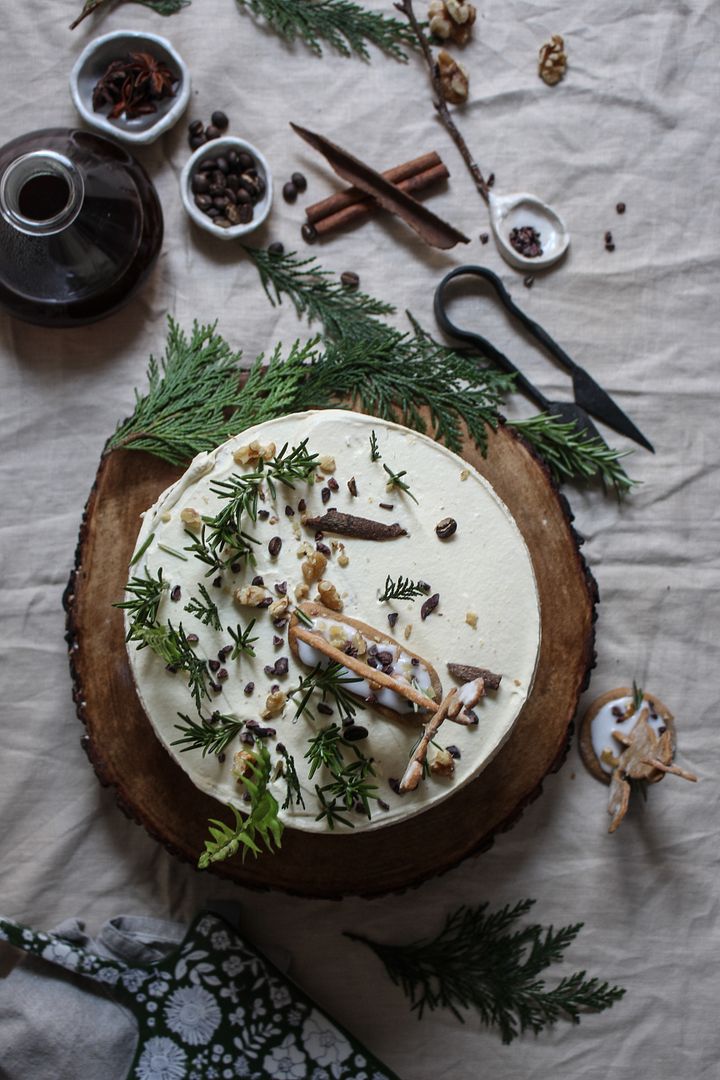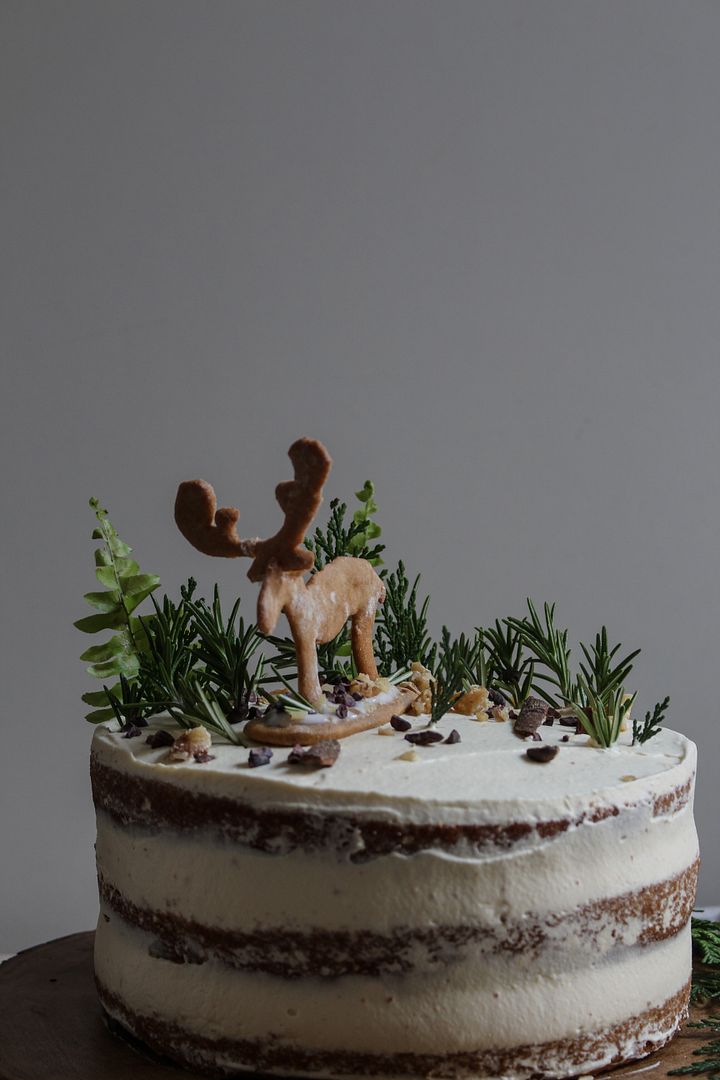 recipe for sponge
220g light brown muscavado sugar
220g butter
4 eggs
220g self raising flour
3 tsp ground coffee in 1/3 cup of boiling water
2 tbsp. cinnamon
1 tbsp. ginger
1 tsp nutmeg
1/4 tsp ground clove
1/4 tsp ground anise
1 tsb vanilla extract
50g chopped walnuts
2 tbsp. milk
preheat the oven to 160c
whip together the butter and sugar until fluffy then add the eggs one at a time, making sure you leave a minute of two to incorporate each egg before adding the next egg then mix in the vanilla extract. in a bowl sift the flour, spices together then fold in to the mixture finally add the milk and coffee to loosen the mixture and the nuts and fold in then spread evenly between three lined 11cm tins
bake for about 30 minutes then leave to cool
recipe for frosting
300ml double cream
65g butter
8 tbsp. powdered sugar
3 tbsp. maple syrup
1 tsp cinnamon
whip the butter until soft then add the cream, icing sugar and maple syrup and whip until thick, pipe onto one of the layers of cake then add the next layer and continue piping on some more frosting then add some frosting to the top. to make it look like a woodland scene I used cacao nibs and little rocks, bits of broken cinnamon sticks to look like fallen branches some chopped nuts and I used rosemary sprigs as trees.
recipe for gingerbread moose/fox
140g light molasses/ golden syrup or honey
200g soft light light brown sugar
200g soft unsalted butter
zest of one unwaxed lemon
4 tsp of ground ginger
2 tsp of ground cinnamon
1/2 tsp ground nutmeg
1/2 tsp  ground coffee
1/4 tsp ground cloves
1 tsp of bicarbonate of soda
500g plain flour
1 tsp salt
1 lightly beaten medium egg
in a pan add the syrup, sugar, butter, zest and spices, coffee and heat until the butter has melted and the sugar has dissolved, let cool a little then add the flour, bicarbonate of soda and salt and mix then add the beaten egg (the mixture will be very wet don't worry) cover with cling film and put in the fridge for at least 1 hour and a half. (I left it over night and prepared it the day before)
preheat the oven to 160c
lightly flour surface and tip out dough and roll in flour so its not to sticky to work with place a quarter of the dough between two sheets of baking paper and roll out thinly (it needs to be thinner that the slits in the dough where the parts fit together) cut out the stencils and place on the dough and cut around using a sharp knife then place on a lined baking tray in the freezer for 5 minutes then bake for 6 to 8 minutes. to glue them together I heated some corn syrup in a pan until it started bubbling, I dropped a blob of it into a cup of water to see if it hardened, if it does its ready then dipped the antlers in to it and stick them in the slit on top of the moose head and did the same with the fox face and legs.
I then mixed a very thick water icing and spread it on the bases thickly and propped the moose/fox on top and rested them against something (I propped them against the microwave) until it dried hard, before it has dried sprinkle some cacao nibs and push in a bit of rosemary to look like foliage.
I halved this recipe to make the gingerbread fox and moose but its worth making a big batch and freezing half unless you half the recipe which means you have too use half a egg.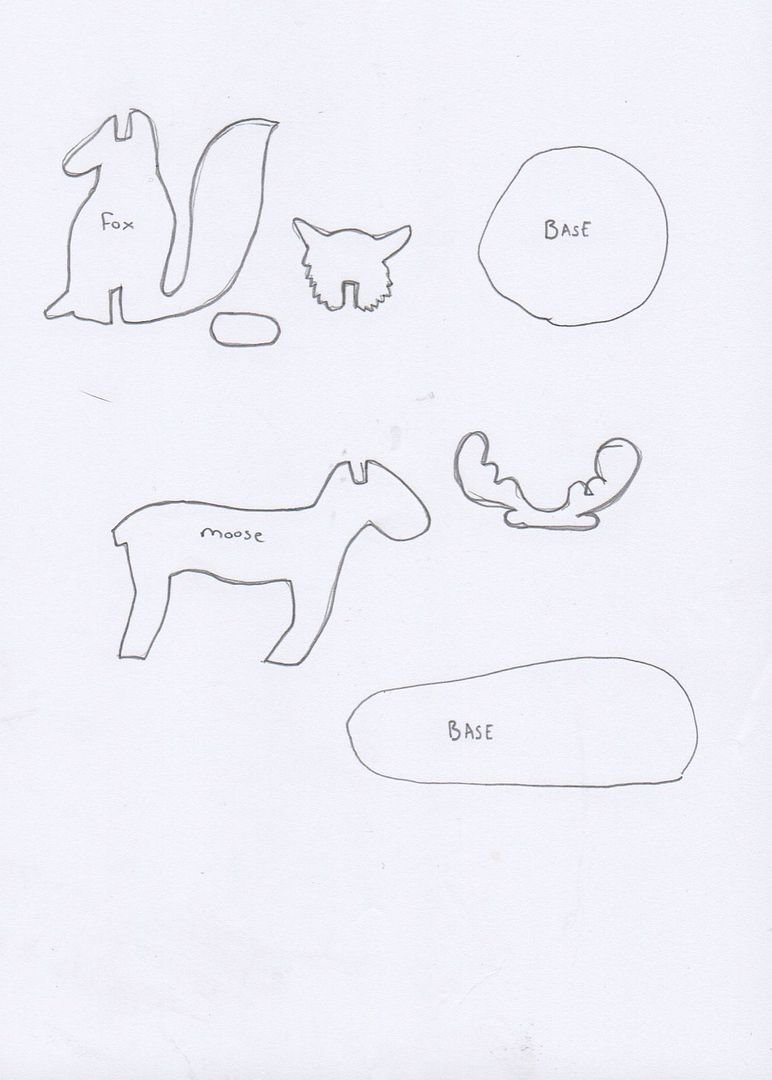 if you would like to buy some malawi coffee
EU you can buy some here http://www.coffee-direct.co.uk/products/malawi-coffee
US you can buy some here http://www.igourmet.com/shoppe/Malawian-AA%2B-Mzuzu-Estate-Whole-Bean-Coffee.asp   or also http://www.toms.com/coffee/malawi-coffee-single-origin-12oz-wb
AUS you can buy some here http://lavistadelcoffee.com.au/roasted-coffee-beans/
check out some of the other contributors posts here