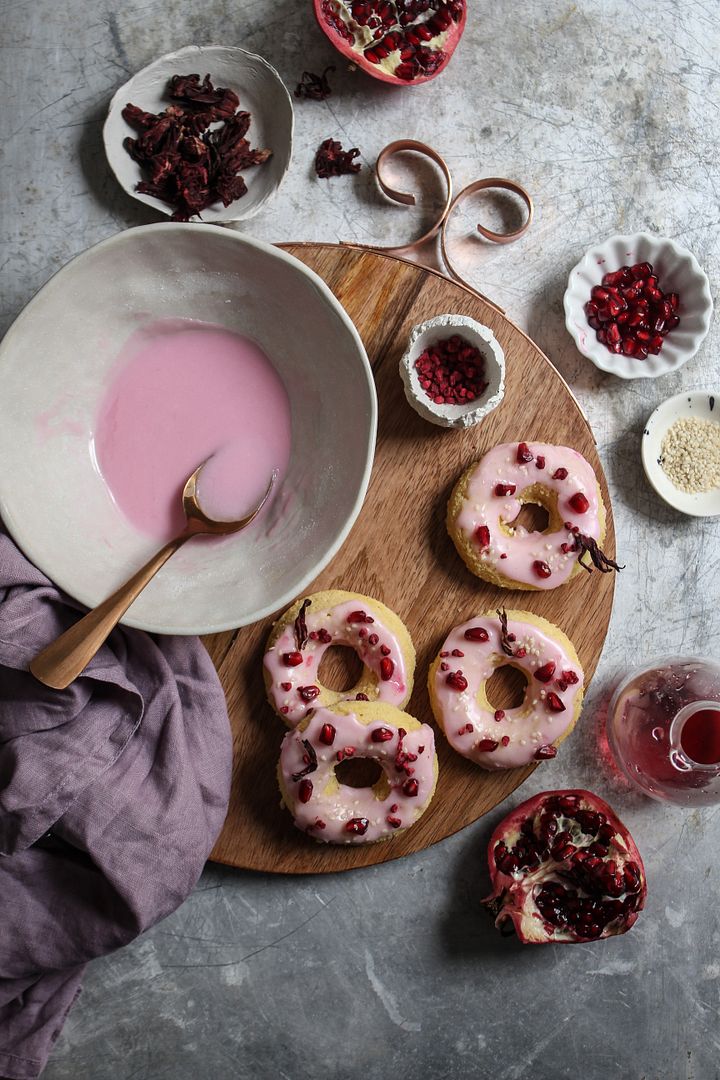 I was baby sitting and was fed up of watching monsters inc for a third time in a row (don't get me wrong I love kids movies but not on repeat lol) so I decided that we should do some baking and we made these, they are tahini floured cake doughnuts with naturally coloured pink icing made with the juice from some fresh pomegranate seeds and some hibiscus. I decided to keep the sprinkles natural too and use some pomegranate seeds, freeze dried raspberry bits, sesame seeds and some hibiscus petals. we had a great time.
Recipe
110g butter (half a cup)
110g sugar (half a cup)
2 eggs
2 tbsp tahini
110g self-raising flour (3/4 cup)
1 tsp vanilla extract
pinch of salt
preheat the oven to 350f 180c grease a doughnut tin. In a mixer cream together the butter and sugar until creamy then beat in the eggs on at a time (mix the first egg for at least a minute before adding the next to make sure it's properly combined). Mix in the tahini and vanilla then fold in the flour and salt. Spoon into a piping bag and pipe into the tin then bake for about 10 minutes then tip out and let cool.
For the glaze
4 hibiscus flowers
juice from half a pomegranate
2 tbsp sugar
squeeze the seeds from half a pomegranate over a pan. I do this in a jelly bag, if you can't get much juice (about 1/3 cup) you can add a little water. you will only need about 2 tbsp of the finished mixture for the glaze (be careful it could get messy) and add the hibiscus flowers and sugar then heat so that the flowers release colour and flavour and let it reduce a little then pour into a bowl (If you wanted to make this a thick pouring syrup to use with pancakes then use more juice and sugar and reduce until thick it's really good)
mix 2 tbsp of the liquid in a bowl and add icing sugar until it makes a thick glaze then dip each doughnut in then sprinkle over some pomegranate seeds, freeze dried raspberries and sesame seeds and enjoy.