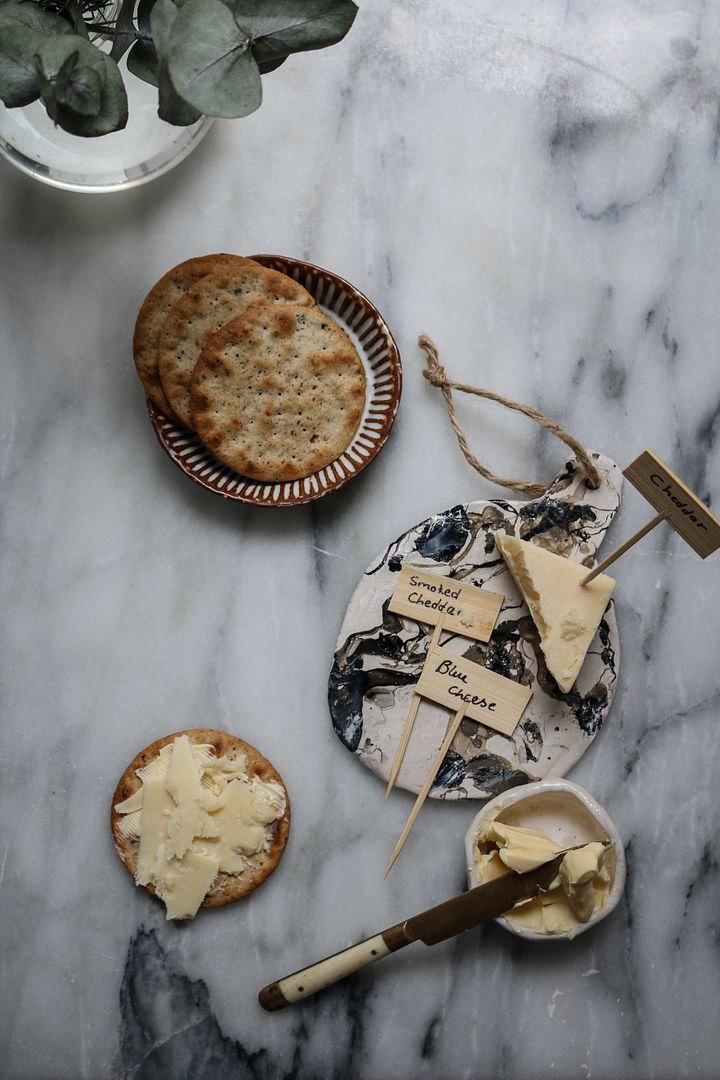 I made these mini clay cheese boards with air dry clay then I marbled them using black and grey nail varnish. I learnt how to do it from the year of cozy book. I thought they would be fun to make for the Christmas table for guests to have individual boards for cheese and biscuits at the end of the meal, do you have a cheese course at the end of your meal?.
to make it I got a chunk of air dry clay and rolled it out with a rolling pin then used a sharp knife to cut out the shape I wanted, I used a little water to smooth the edges then I used a straw to make a hole to thread the string through. then I left it to dry for a few days (I left it on a marble chopping board in the dining room). once it had dried I glazed it with a clear gloss then to marble it to do this you will need
two nail varnishes I used black and grey
old bowl (one you can throw away I got a cheap plastic one)
tooth pick
paper
fill the bowl with warm water (it needs to be warm/hot) then hold the nail varnish over the water (as close to the water as possible so the nail varnish floats on the top) then drizzle on the nail varnishes at the same time, use a tooth pick to spread it around the dip the glazed side of the board onto it and then place it on the paper to dry. after 5 minutes you can pat the water off of it. once dry I threaded some twine through the hole. this method can be used to marble other ceramics as long as they are glazed.