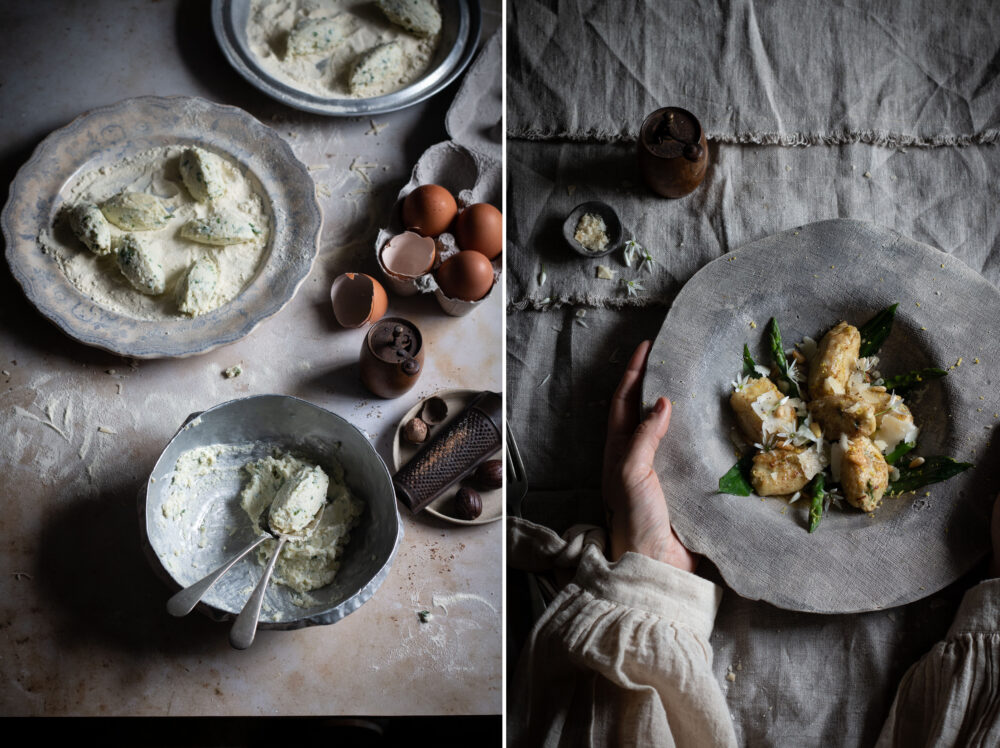 Gnudi are like little airy pillows, that taste as light as a feather. With every mouthful I smiled with amazement at just how delicious they where.
I thought this recipe would tie in perfectly with my introduction to Tutto food Milano. I was invited to the event this week which is still being held at Fiera in Milan. I wasn't quite sure what to expect, but it was the biggest food event I have ever seen.
In the past I have attended a few food shows/conferences in England and they just took place in one large arena, well this was about 10 times bigger.

Every food or drink item that you associate or is produced in Italy was there, as well as suppliers from around the world. There was cheese, pasta, cakes and pastries, olive oil and of course wine. The list really does go on and on. Each exhibit hall had its own theme so it was easy to navigate your way around. The highlight was getting to sample the exhibits beautiful food.
They cooked up pasta, pizza and risotto for us to try as we where walking around and during live demos, and of course each stall had samples for you to try.
We munched on taralli from Puglia, pistachio pasta and gelato, incredible chocolates and panettone and much much more.
I also got to see some of the chocolate being lovingly being made, and fresh pasta being prepared.
We spent one morning in the Pivetti stall watching pasta being made from scratch, it was the highlight of the show for me, it was amazing to witness the joy of pasta making on their faces.

I spoke to some producers who told me their businesses had been in their families for years, it was quite heart warming to see the passion for food get passed on to the next generation.
If you have been following me for a while then you will know about my love affair with Italian food. So this show was like heaven for me.
Not only did we get to walk around the exhibits and see all of the produce but we got to watch demos on stage being prepared by Michelin starred chefs. There where also discussions about all the important factors for running a business. I don't speak Italian so I didn't get the full benefits from the shows but afterwards I was able to speak to them in English to find out what had been discussed.
I got to try lots of different fresh ricotta's that would have been so perfect for this recipe.
If you love Italian food and drink and you are in Milan this week then I would highly recommend that you go along as it's still on until the 9th of May. Find out the details here. Or put it on your calendars for next year, it really must not be missed.
For some photos from the show scroll down after the recipe. 
Gnudi
Gnudi are completely different to gnocchi as they don't have any flour in them. Basically they are like ravioli filling but with out the pasta, and instead they are covered in semolina and left in the fridge to firm up for two or three days. The semolina forms a protective layer so they can be boiled and then browned in the pan easily so they don't fall apart. I suppose they are like little tasty ricotta dumplings, and the bonus is that are so easy to make.
If like me, you love gnocchi but haven't tried gnudi yet, then I urge you to try them right now because,
They are a lot quicker to prepare
They taste like mouthfuls of heaven – I'm serious!
They can be made a few days in advance so you can cook them in a hurry on the day
They are so light and fluffy that you couldn't possibly not enjoy them
I flavoured these with some wild garlic, parmesan, pepper and nutmeg and then served them in some wild garlic lemon brown butter with toasted pine nuts and asparagus.
A perfect treat for spring. If you cant find wild garlic then you can use ramps, or even sage would be amazing.
They look really fancy and complicated, but really they are not much of a fuss to put together at all. So they are perfect for wowing your guests or just simply enjoying by your self. I love them because they don't require a lot of ingredients and can be adapted to suit any season.
I was lucky enough to be invited on a trip to Riverford farm in Totnes to pick some wild garlic in the woods, so I now have an abundance of it that needs using up. So expect quite a few more wild garlic recipes to come.
The woods we visited where carpeted with wild garlic as far as the eye could see. It was such a beautiful sight, the smell was so intense but in a wonderfully hypnotising way.
Wild garlic is my favourite spring time ingredient to go foraging for. Every year I look forward to going out and finding it.
Most of it has gone to seed now, which looks incredibly pretty but it means the leaves will start to loose their intense green colour and some of their flavour. This is because most of the plants energy is being used to grow the flowers so it can disperse its seeds. The garlic will still be tasty but maybe not as good as it was at the beginning of the season. Try and pick the smallest, greenest leaves if you can.
I like to pick it with a bit of stem still attached, so I can put it in a cup of water in the fridge to help in last longer.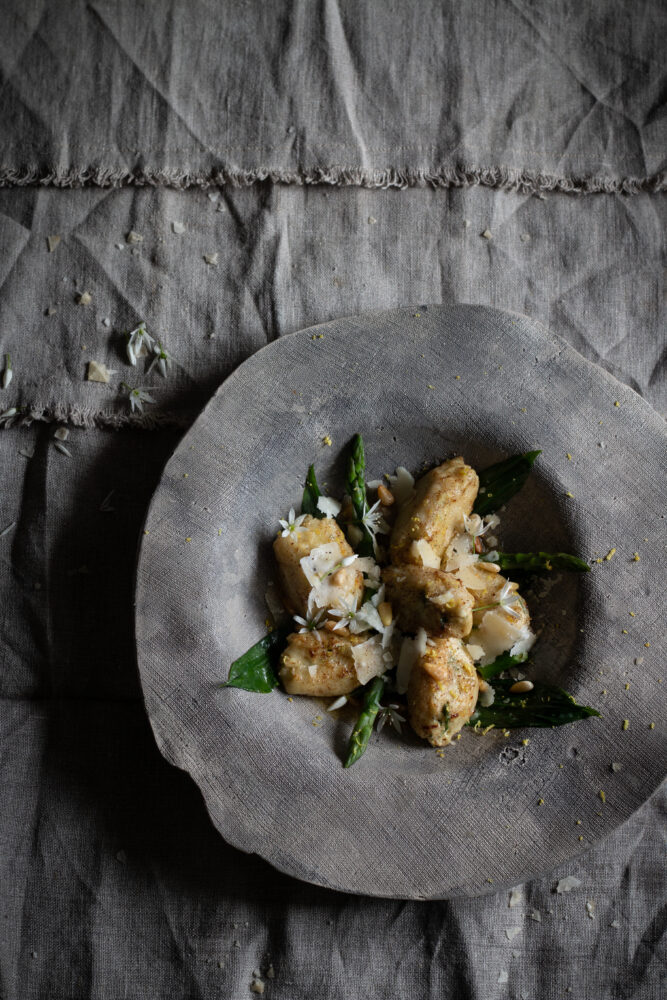 Recipe
They are really easy to make but need to be prepared at least a day in advance. Ideally up to three days.
This recipe served two hungry people as a main course, it made about 14 large dumplings.
If you where making it for a dinner party you could easily serve four if it was an entrée. If not just double the ingredients.
Gnudi ingredients
250g ricotta (drained)
1 cup – 70g finely grated parmesan
2 egg yolks
4 wild garlic leaves (stems removed)
salt – pepper
nutmeg
semolina flour
To make them, add the wild garlic and egg yolks in a food processor and pulse until the garlic is chopped.
In a bowl add the ricotta, parmesan, 1/2 tsp of salt, good pinch of pepper and some freshly grated nutmeg. I used a few scrapings on the grater.
Add the egg-wild garlic mixture and fold together.
Fill a tray or plate with semolina flour, then take two spoons and shape them in to quenelles or you can roll them.
Cover them with some more semolina flour and cover with cling film, or bee wrap (a plastic free-planet friendly alternative) and place in the fridge to firm up for one to three days, ideally three days.
After they have rested and firmed up, bring a pan of salted water to the boil. Meanwhile prepare the butter sauce so you can toss them straight in.
To serve
I decided to serve them in a buttery sauce with lemon, asparagus and wild garlic, but you could just use plain brown butter with sage.
5 tbsp. butter
6 wild garlic leaves
1 tsp grated lemon zest
2 tbsp. pine nuts
6 asparagus stalks (cut into smaller pieces)
Remove the gnudi from the semolina and dust off any excess and gently drop them into the water and boil for about three minutes or until they float to the top.
In a pan add the butter, garlic, lemon zest, asparagus and pine nuts and leave to gently simmer.
When gnudi are ready use a slotted spoon and carefully remove them and put them in to the pan of butter and toss to colour them slightly, Serve equally between two bowls (or four if you are serving it as a starter) and grate over some parmesan and some more lemon zest. I added some wild garlic flowers and lemon salt too.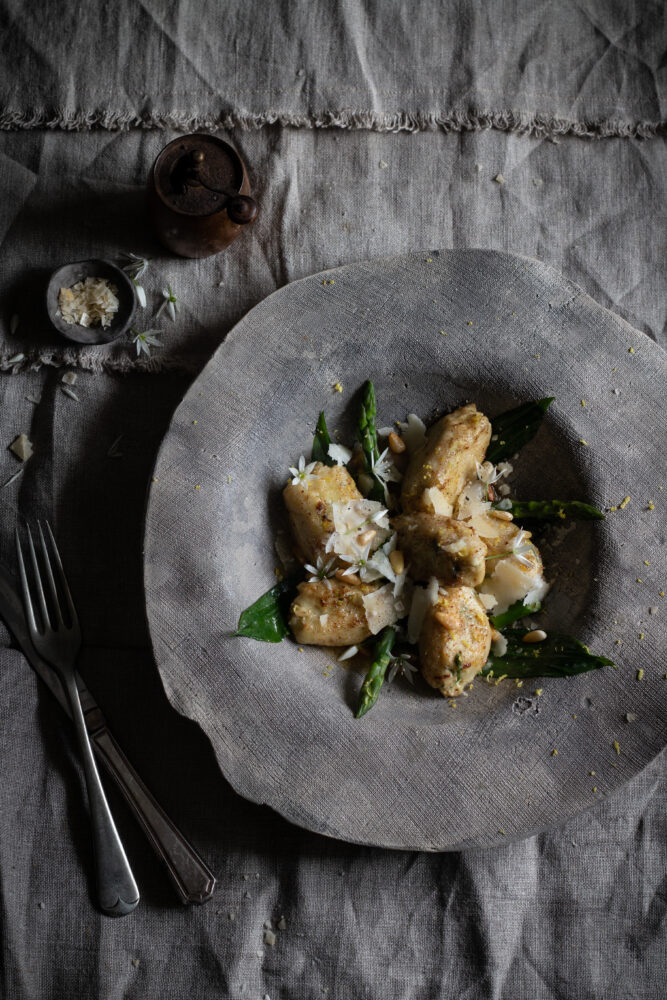 If you are like me and love wild garlic then you can check out some other recipes that use it on my blog, and keep a eye for a few new ones coming soon.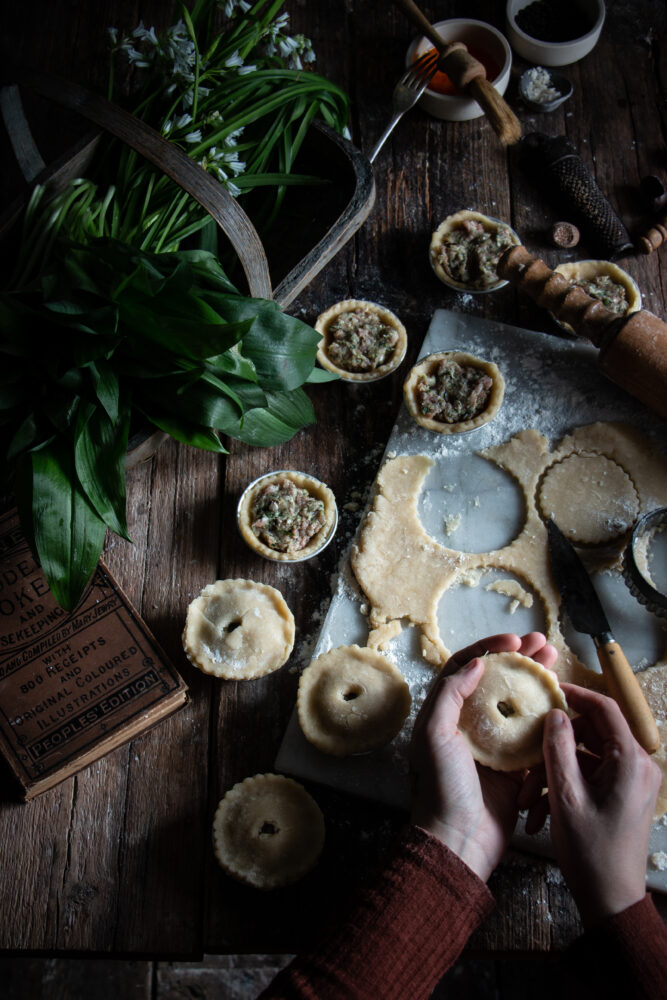 Here is the link to some other wild garlic recipes.
here are some photos from my time in Milan and the Tuttofood event.
I loved watched pasta me made, it was so inspiring.