Delicious slow cooked braised lamb shanks in a rich tomato sauce fills these little ravioli parcels. You all know how much I love ragu and pasta so this is like an inside out version of that, but made even more special as they are tossed in brown butter and topped with rosemary bread crumbs.
I was asked to take part in a contest with millesima.co.uk to create a recipe and choose wine that pairs with it perfectly from their amazing collection.
To make things even better there is a contest where one of you can win £100 to spend on their website to purchase some wine for your self !! I will be running that competition over on my Instagram account here. Come over and enter if you want to be in with the chance of winning. For an extra chance to win you can also leave a comment here and let me know what wine you enjoy the most. If I get through to the second round I will be giving away a weekend for two to Bordeaux!!!!. In order for me to get through I need to have the most entries for the first part of the competition, so share this with you friends and you could win.
For my part of the completion I had to create a perfect pairing and then Millesima will choose their favourites to go through to the next round. Fingers crossed.
I chose to go with a meaty pasta dish, so the choice of red wine seemed obvious to me.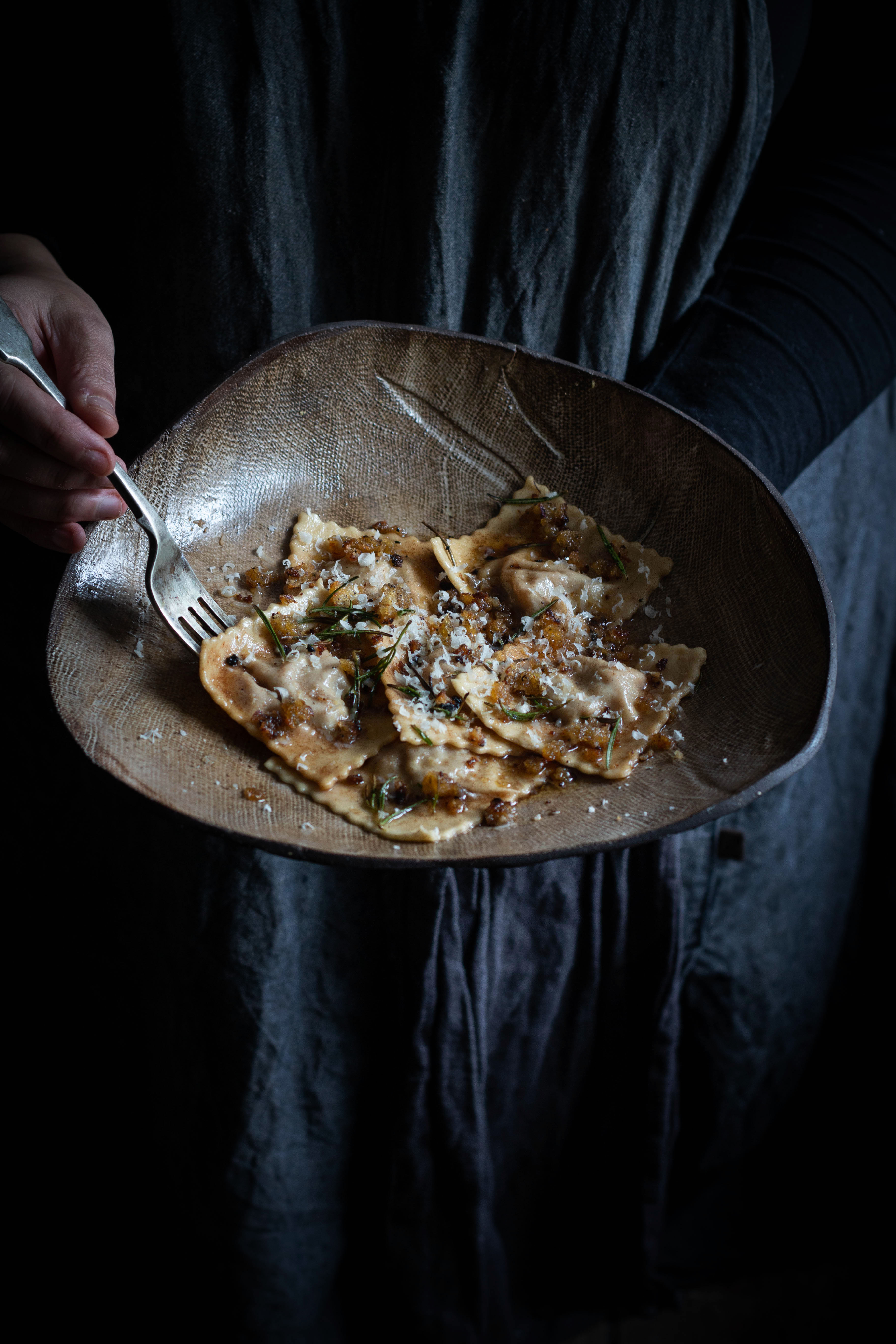 Pairing wines with this dish was so interesting, I think I have found a new passion.
I really wanted the wine to be Italian to match the cuisine and I found a few chiantis which are perfect, along with a few others. After some research into wines and reading descriptions of some on their website, I gave the recipe some consideration first and as the pasta filling has slightly sweet with acidic tomatoes, punchy garlic and fragrant herbs and a rich flavour from the lamb, this led me to decide on a emboldened red. I wanted a more fruit driven wine such as a younger red, like a chianti or Bordeaux or even a cabernet/merlot blend. I have narrowed it down to 5 wines.
One a Syrah, Jean-Luc Colombo : La Louvée 2012, as it has a taste of blackberry, pepper and thyme. This wine has a dark fruit intensity with smoke, cured meat and spicy tobacco flavours. I thought this would pair perfectly with the rich flavours of the lamb.
My second choice an Tuscan classic, a chianti Antinori – The 2012 Tignanello of Antinori is a classic chianti. It has a velvety texture, dark fruit flavours, with spice and smoky aromas of thyme and tobacco. I loved that this was from the region that inspired the dish and felt the flavours would pair really well.
My third choice is the Gaja Ca' Marcanda : Camarcanda 2013, I picked this as It has plump berry notes with the flavours of smoke and leather.
The next wine I like to pair with this dish with is the donnatella cinelli colombini, this is a great Tuscan red that pairs really well with pasta so its ideal.
The Antinori-Pèppoli 2014 another chianti would go beautifully also.
It was really hard to only pick a couple of wines to pair with this dish with as their collection is so vast, which was excellent. I had so much choice and I was able to narrow down my search to about 10 orginally  by typing in the petametres that I wanted. You can get a wine tasting crate with 6 wines from their website so if you are indecisive like me its  perfect.
I love nothing more than spending an afternoon making pasta at home, I find it so relaxing. I think I'm happiest when I'm covered in flour and busy cooking.
The smells coming from the kitchen whilst the lamb was in the oven where delightful. Ragu style dishes are my favourite kind to eat and cook, it amazes me how much flavour you can get.


Ingredients
1 1–1¼-pound lamb shank
salt, freshly ground black pepper
2 tablespoons olive oil
1 red onion, finely chopped (about 1½ cups)
4 large garlic cloves, crushed
4 rachers of smoked bacon or lardons finely chopped
2 sticks of celery finely chopped
2 carrots finely chopped
1 small leek finely chopped
8 mushrooms finely chopped
2 tablespoons tomato paste
1 tin of tomatoes
1 cup red wine
3 cups low-sodium chicken stock or broth
2 bay leaves
2 sprigs of thyme
2 sprigs of rosemary
2 tbsp. balsamic vinegar
2 tbsp. brown sugar
Method
Preheat oven to 180c  350°. Season lamb with salt and pepper. Add some olive oil in a medium ovenproof pot (I use a large lidded cast iron pot) sear lamb, by placing in the pan and turning occasionally, until evenly browned.
Remove the lamb from the pan and transfer to a plate.
Add the carrot, leek, mushrooms and celery in a food processor to chop really finely.
Reduce heat and in the same pan add the onion and garlic and stir over the heat until the onions are softened.
Add the bacon and simmer until cooked then add the leek, carrots, celery and mushrooms and stir over the heat for another 5 minutes.
Add tomato paste and cook until heated through and darkened in colour, about 2 minutes.
Add wine to deglaze the pan, then add tinned tomatoes, and bring to a simmer.
Add stock, bay leaves, 2 thyme sprigs, and rosemary replace and reserved lamb shank; return to a simmer, add the brown sugar and balsamic vinegar and stir.
Cover, transfer to oven, and braise, turning lamb occasionally, until meat is falling off the bone, 2½–3 hours.
Remove meat off the bone and add back into the sauce.
leave to cool. To make pasta and assemble scroll down.
Make the pasta
400g tipo 00 pasta flour
6 medium eggs
1 tsp olive oil
To make pasta, add the flour in a mound on the work surface and make a hole in the centre and pour in the eggs and oil (the oil is optional). Then using a fork start mixing the eggs while gradually mixing in the flour, knead for about 5/10 minutes until smooth. Let the dough rest for 20 minutes.
roll the dough through the widest setting on your pasta machine then fold and roll again, then fold again and roll through again, then turning the width down each time roll it through until it is thin,
this folding and rolling through a few times before turning the width setting down will ensure it I nice and al dente.


Place the pasta sheet on the work top and cut in half so you have two strips.
Spoon on mounds of filling making sure there is enough space around each one.
Brush around each one with a beaten egg then roll the second sheet through the machine one more time to make it a bit bigger than the first sheet and place on top of the first sheet and push any air bubbles out.
Cut into squares to resemble ravioli with a fluted pastry cutter.
Bring a pan of water to the boil, then add some salt and boil the pasta for about 4 minutes or until it floats.
In a pan add 5 tbsp. butter with 2 tbsp. of oil simmer until the butter turns brown and pour through a sieve and pour over the pasta.
In another pan add some oil, bread crumbs, and rosemary and gently toast. remove from the pan and add some salt and pepper.
serve the pasta and spoon over some extra brown butter. sprinkle on the rosemary bread crumbs and add some grated parmesan.