I am really excited to share the recipe for these homemade custard creams, mainly because they bring back such nostalgic memories of my time as a child. On a weekend morning when we slept over at grandma and grandads house my brothers and I would wake up and pile into their bed and grandma would bring up a tea tray and the biscuit tin. We would all sit there enjoying a nice cup of tea and some biscuits together talking about the day ahead. Grandads favourites where rich tea biscuits and mine and grandmas where custard creams. I really wanted to try and make some custard creams of my own so last week before bed I was inspired to finally bake some.
I enjoyed them in bed with a cup of tea and it made me so happy to remember such great memories with my grandparents. Grandad really was a biscuit lover. I have such a vivid memory of grandma pouring the tea from an old metal tea pot and grandad sat there in his stripy pyjamas in bed with us all sat around him.
Making the biscuits was really fun, To get the pattern on them like traditional custard creams I got a Lace doily and rolled it into the dough. I made these several times and changed things each time in the quest for the perfect imitation. I remember them being quite a hard biscuit so I reduced the amount of baking powder in my second batch and I think they are very similar. It depends on how thin you roll them also. I rolled some thinner than others to see what was best.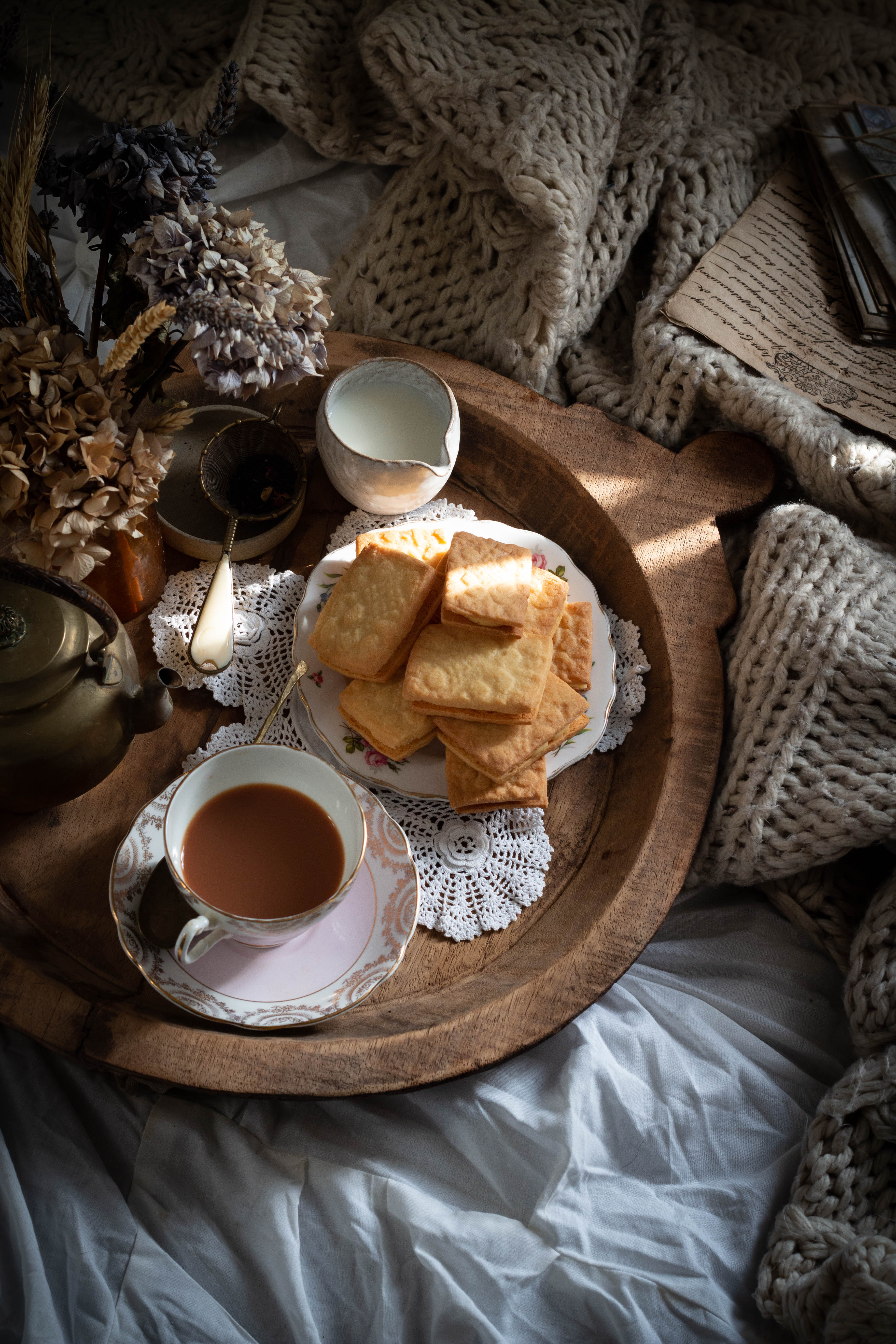 Saturday mornings wouldn't have been the same with out tea and biscuits in bed at grandmas house. It was a routine I looked forward to every week.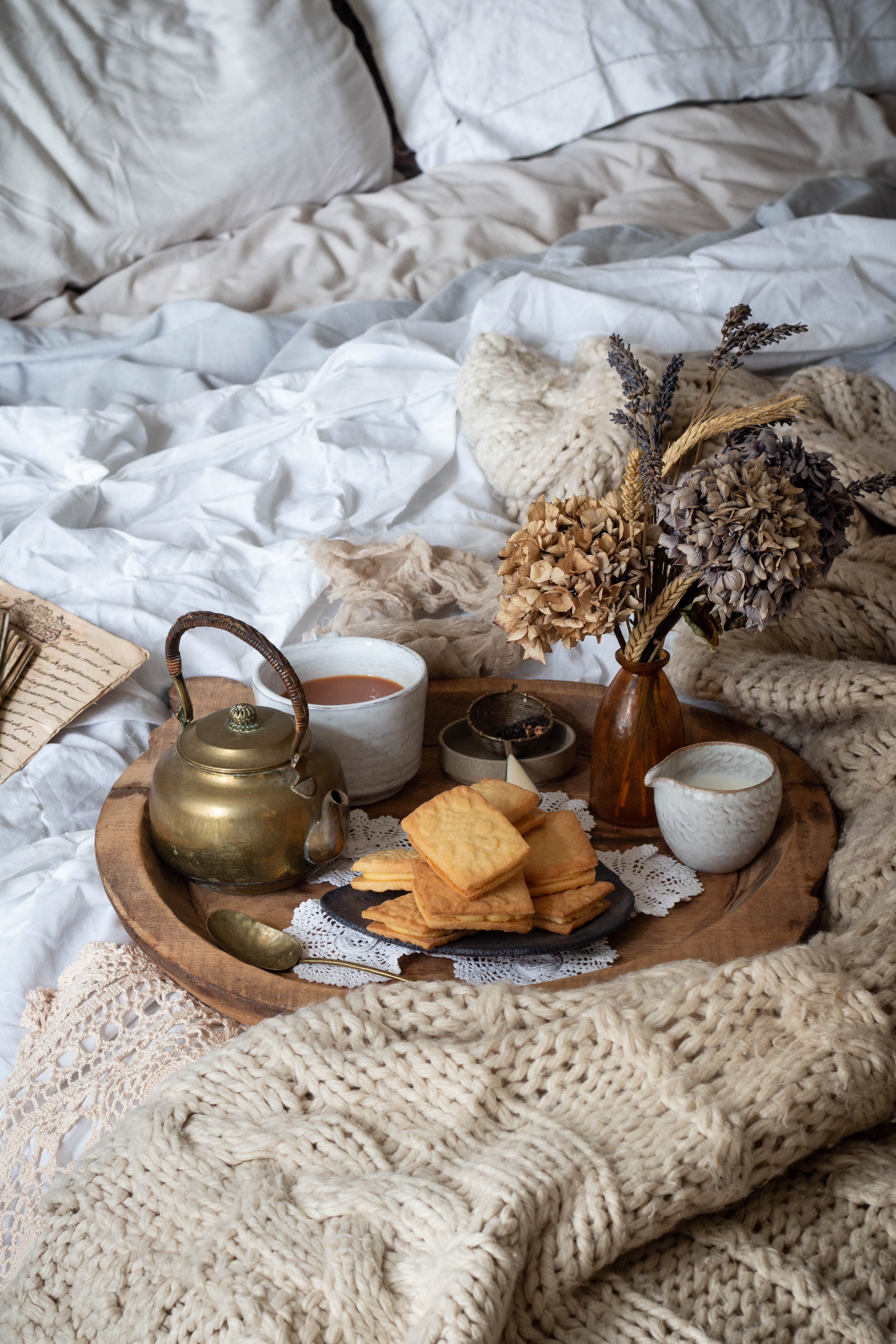 I recreated my favourite childhood biscuits and I'm so happy with the result, I hope you enjoy them too. Its funny how something as simple as a biscuit can bring back so many happy memories of my brothers and I huddled on my grandparents bed each weekend enjoying biscuits and tea together
recipe
Biscuits dough
80g caster sugar
3 tbsp icing sugar
3 tbsp custard powder (I used birds custard powder)
100g unsalted butter
185g plain flour
2 yolks
1/2 tsp baking powder
1/2 tsp salt
Filling
150g icing sugar
100g unsalted butter
4 tbsp. custard powder
1 tsp vanilla extract
1 tbsp. milk
Method
To make the biscuits
Preheat the oven to 180c and line two baking trays with baking paper.
In a stand mixer, or a bowl with an electric whisk, cream the butter, caster sugar, icing sugar and custard powder together.
Add the yolks, do this one at a time, making sure to scrape the bowl with a spatula before adding the next one and mix until combined.
Add the flour, baking powder and salt and mix.
Remove bowl from the mixer and using your hands bring the dough together in a ball, cover and let rest for 10 minutes
Flour your work surface and roll out your dough, place a lace doily on and roll over to make patter.
Cut into rectangles and place on the tray. leaving space between each one
Place in the freezer for 5 minutes. (I did this as an extra measure to keep the pattern when baking)
Bake for 12/15 mins until they are slightly golden
NOTE cooking time varies on how thick you have rolled them. If they are very thin they may need less time s0 set the timer for 8/10 minutes and check them.
NOTE if you prefer your biscuits a little lighter then add 1 tsp baking powder instead, I made these the first time with 1tsp and they where really nice but as I was trying to find the same consistency as the shop bought ones so I added a little less.
To make filling
In the stand mixer with the whisk attachment, whip the butter, then add the icing sugar and custard powder a little at a time, it will look really dry, don't worry this is normal. then add the milk and whisk. the buttercream filling needs to be very firm, but you can add more milk if your buttercream seems too dry.
Put filling in piping bag and fill the cookies and press them together.
NOTE I tried this recipe with margarine instead and the filling was too soft for these measurements. Use proper butter at room temperature. If you want to use margarine for the filling then use 75g instead. I used butter that was quite cool and it worked really well.