I'm a big fan of rice bowls, there's something so comforting about them. Chicken in teriyaki sauce is probably one of my favourites to make as it's quick and easy and doesn't take a lot of ingredients to whip up, which is really handy on a day when I'm busy. To make this one a little more special I used wholegrain rice cooked in dashi stock rather than water and the all-new Tenderstem Royale® which is a brand new brassica sold exclusively at Marks and Spencer Food Halls. Tenderstem Royale® is part of the same family of brassicas as the much loved Tenderstem®. Not only does Tenderstem Royale® differ in colour, but in flavour too in the form of a delicious more mellow and buttery taste. This purple brassica is also packed full of nutrients like vitamin A to keep skin healthy, vitamin C to keep your immune system in check, potassium to maintain normal blood pressure and B6, which helps reduce tiredness and fatigue.
Using wholegrain rice means this dish is a bit more time consuming than it would be with noodles or white rice but I think it's worth the extra effort. If you are in a hurry try it with soba or Udon noodles.
I have had a bit of a love affair with chicken teriyaki for some time, It's the one dish I will always order when I go to a Japanese restaurant. There is only one Japanese restaurant in the town that I live in, but luckily, it's a really good one. Generally, I would have it with soba noodles, but I am really loving rice at the moment, so I decided to make it with that instead. I considered using sushi rice or even risotto rice and making a Japanese style risotto with the dashi stock. Which I think would have been amazing, but I settled on whole grain rice as I love the flavour of it.
Teriyaki sauce basically consists of three ingredients which are; mirin, soy sauce and sugar. I used cane sugar but this can be a healthier alternative like rice syrup or coconut sugar.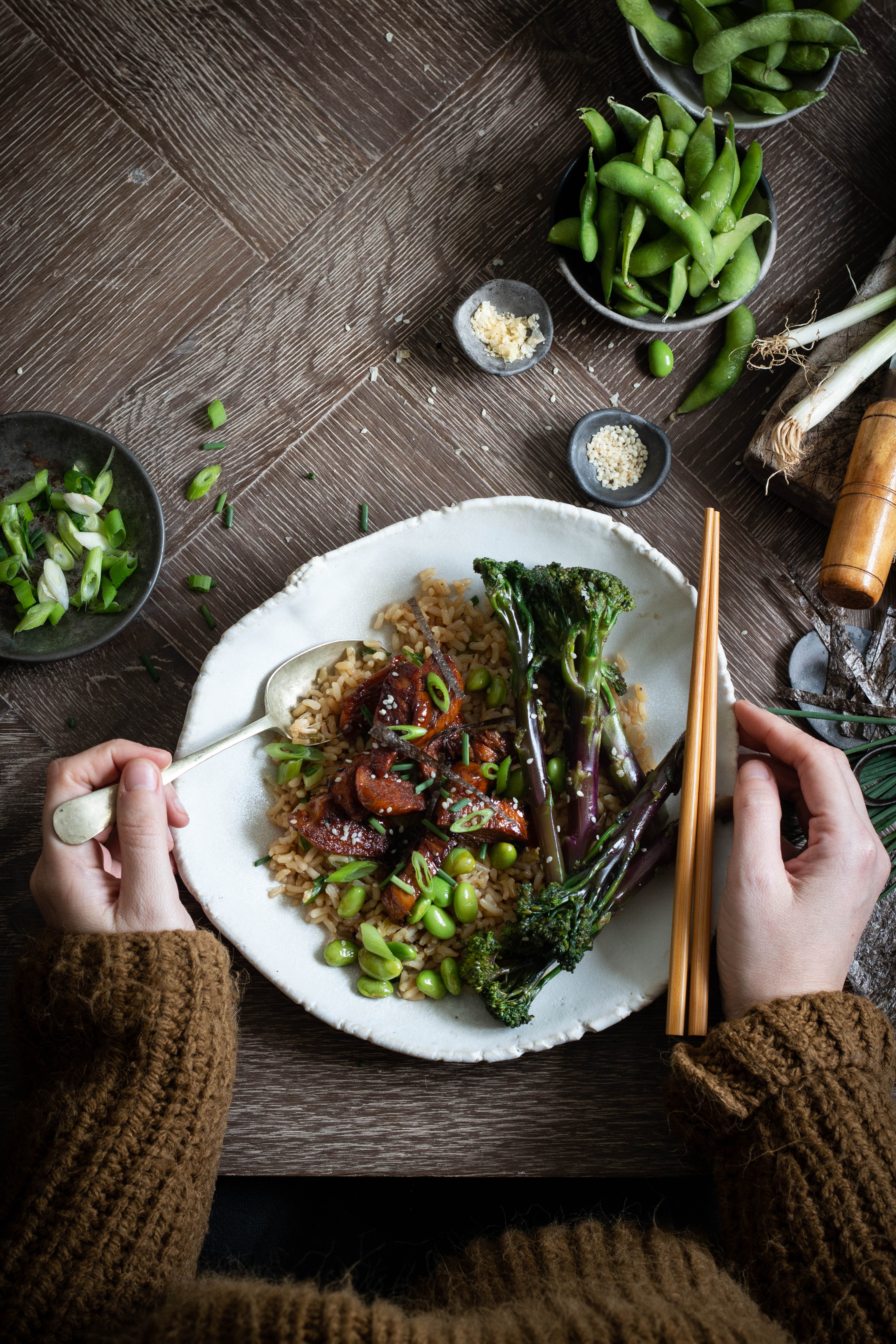 A big warming bowl of teriyaki chicken and rice cooked in dashi.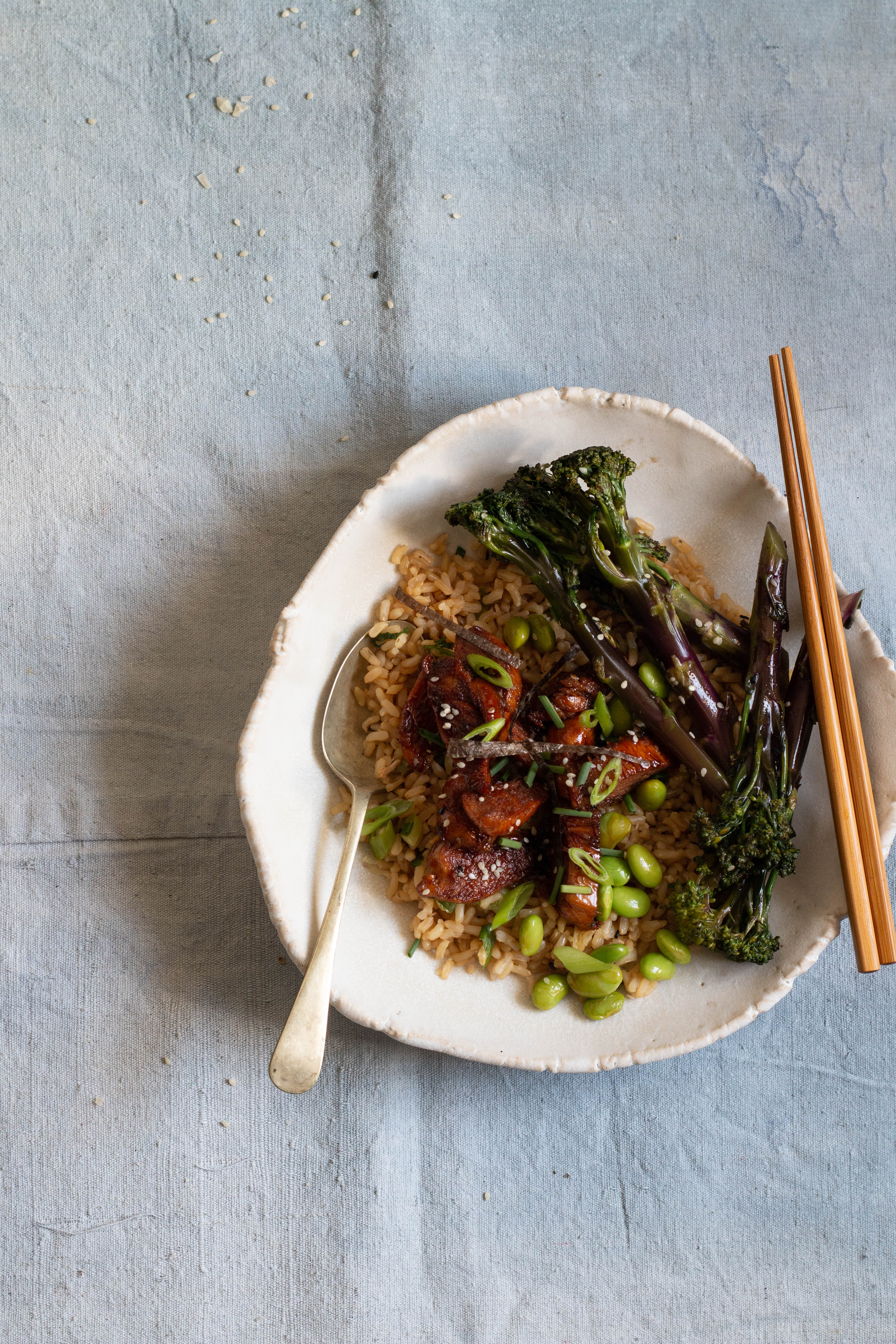 If you want to make your own here is the recipe.
Recipe
For the rice
I use this simple ratio to measure out for rice:
• 1 cup whole grain rice
• 2 cups dashi stock or water
and add the following for flavour
• 2 spring onions finely sliced
• chives (small bunch chopped)
• 1/4 sheet of nori chopped in to small slices
Method
Bring rice and water (or dashi broth) to a boil. Reduce heat to low and simmer, covered, until the rice is tender and most of the liquid has been absorbed, 40 to 50 minutes. Let stand 5 minutes, then fluff with a fork.
Mix in chopped spring onions, chives and nori and place in the bowl and top with the chicken.
For the sauce
• 100ml mirin
• 100ml dark soy sauce
• juice of half a large orange
• 4 tbsp. sugar
• 4 chicken breasts or tofu for a meat free option
Method
In a sauce pan add a little oil and place over a medium/high heat, slice the chicken and add to the pan and gently cook until browned and cook through.
If you want to use tofu for a meat free option, use firm tofu and pat dry and fry each side until golden.
Add the mirin, soy sauce, sugar and orange juice and reduce until the sauce is thick and sticky.
For the Tenderstem Royale®
• Tenderstem Royale®
• sesame oil
• 1 tsp sesame seeds
Method
Using a wok, stir fry the Tenderstem Royale® for 4 minutes with a little sesame oil, just before the end of cooking add a tsp of sesame seeds and toss the Royale® around in the pan to coat with the seeds and then serve.
additional ingredients
• edamame peas
• sliced spring onions
• sesame seeds
• chopped chives
• thinly sliced nori
Place the rice at the bottom of the bowl and top with the chicken and Tenderstem Royale® then serve with edamame pea, sliced spring onions, more sesame seeds and some chopped chives and nori.
Note = you can buy ready cooked edamame peas or cook your own in salted water.