Ever since I had one of Lune's almond croissants at their bakery in Melbourne last year, I have been dreaming about them.  I think they where probably one of the best I have had.
They are extra special because they have frangipane inside and on top and are covered with almonds like a little spiky hedgehog. They where so incredible, its probably the extra frangipane that goes golden and crispy on the top that really sells it for me!.
I was in Melbourne last may for a workshop and Anisa took me to the bakery for a treat. She had heard lots of hype about their croissants on Instagram and said we had to go and try them.
It was my first time visiting Australia and I really liked Melbourne. They have a really amazing food scene there, we also had some amazing meals at tippo 00 and movida.
I am actually heading back to Australia again in a few weeks to teach another workshop, this time in Sydney.
My almond croissants didn't turn out as beautiful looking as theirs. They seem to be able to get the almonds to stick up and look pretty. Where as mine didn't stay in place and slid down the side's a little. The flavour was incredible though so that's the most important thing.
Last week I was scrolling on Pinterest and I came across an article with their recipe, i was so excited and I just had to make some. I was hoping they would be just as delicious and they where.
I didn't actually realise that almond croissants where invented as a way to use up any left over croissants, the bakeries just fill the day old croissants with frangipane and bake them again so they don't get wasted. What an amazing idea!.
Lunes recipe made enough frangipane for 10, but I halved it and made 5, but if you are cooking for a crowd please feel free to double the recipe again. I wanted to make a few changes to lune's recipe just so I could add my spin on it, not because It wasn't already perfect.
I added almond extract and some mahlab (its a delicious spice often used in middle eastern cooking made from ground cherry stones) and a little zest from an orange.
They where so delicious, it was tempting to eat all of them and not share any with Howard. If you just want the original recipe then you can find it here.
I have always loved frangipane, whether its in a Bakewell tart (which is one of my all time favourites) or on top of Bostock, its so wonderful.
Breakfast in bed seems like such a guilty pleasure, I always feel like its a bit naughty in case I spill crumbs every where, which with croissants is pretty inevitable isn't it. It seems to be our new thing to do on the days when my partner isn't working. Basically I will take any excuse to stay in bed for a bit longer.
I don't seem to have grown out of that lazy teenager faze, I could probably spend all day in bed. These bed sheets where gifted to me by made.com and they are making it even harder to get out of bed in the morning. Its the first time I have had linen bedding and I cant believe its taken me so long to realise how comfy and luxurious they feel. I have always just had normal cotton sheets, maybe Egyptian cotton at a stretch.
I never really get to have nice bedding. Mainly because the dog has a tendency to run straight up stairs and jump all over the bed with excitement when he gets back from his walk, leaving muddy paw prints everywhere. I'm going to have to try and keep him away from these.
This recipe is great because you can just go to a bakery and buy some plain croissants, rather than making them. Taking out the hard part, as who has time to make croissants?. I have made croissants from scratch a few times, but they are really time consuming and honestly I can never get as many layers as a bakery can.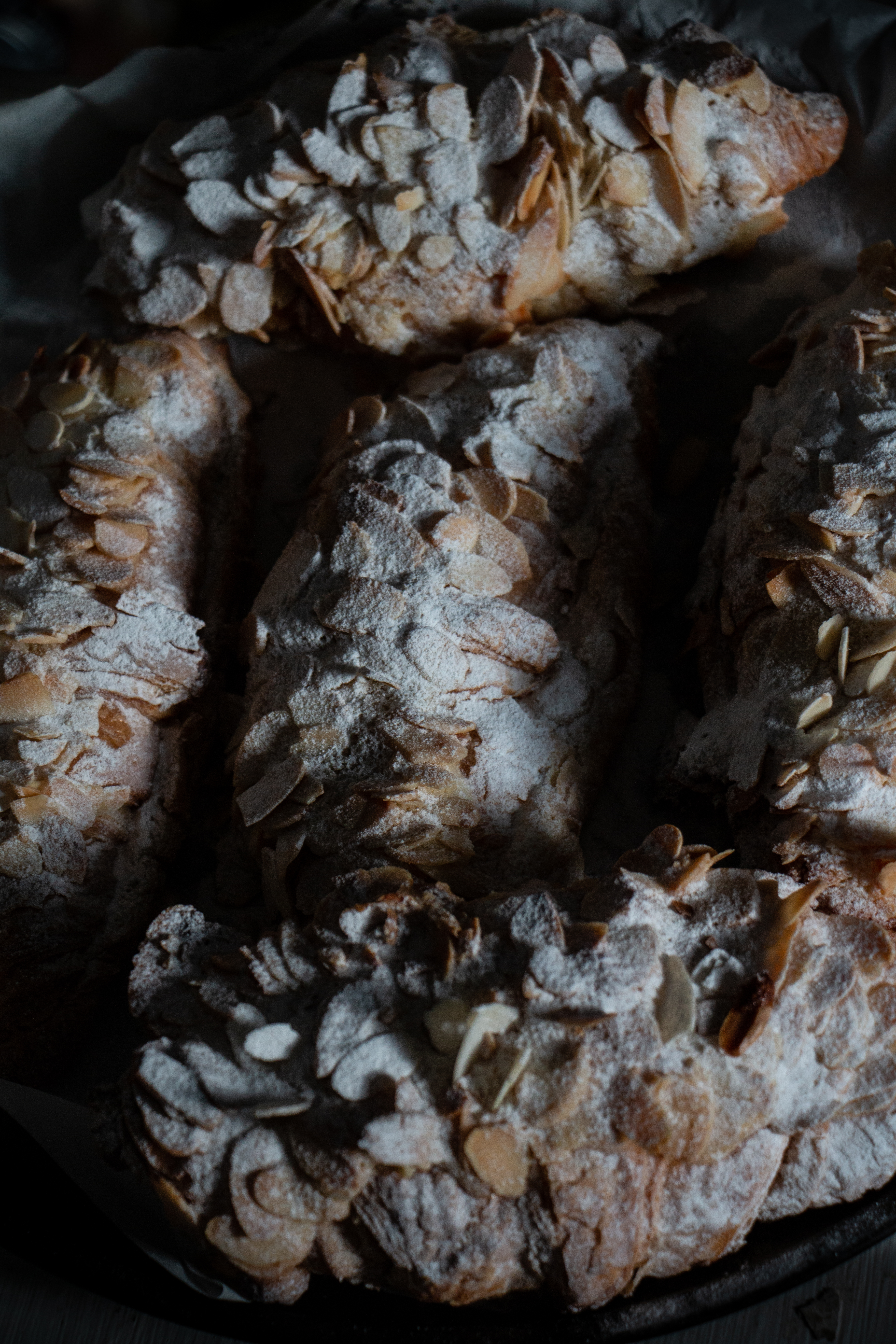 Look at all those crispy almonds!!! These are seriously delicious.
Almond croissants
Based on Lune in Melbourne's recipe
Makes 5 (double the frangipane recipe if you are making 10 but use three eggs )
Ingredients
1/2  cup caster sugar,
5 x 1-day-old croissants,
1 cup flaked almonds,
icing sugar, for dusting.
For the frangipane
125g caster sugar,

125g unsalted butter, at room temperature ,

1 egg and one egg yolk,
125g ground almonds,
1 tsp almond extract,
1tsp mahlab (optional they taste fab with out this)
1 tbsp. of freshly grated orange zest,
pinch of salt.
Method
Preheat the oven to 180°C fan or 200f
Line 2 baking tray's with baking paper.
To make the frangipane
Beat the butter and sugar on low speed with an electric mixer until light and fluffy, about 2–3 minutes.
Add the egg, and mix for 2 minutes. Then scrape the bowl with a spatula and add the yolk and beat again. (If you want to make 10 rather than 5 and you double the recipe then use three eggs. Make sure each one is fully incorporated before you mix in the next one)
Add the almond extract and orange zest.
Mix in the ground almonds, salt and mahlab until incorporated and transfer to a piping bag.
Putting them together
To make the syrup add 250ml of water and the sugar to a small saucepan and stir over medium heat until the sugar has dissolved. Bring the syrup to the boil and take off the heat.
Cut the croissants in half horizontally and brush the inside of each croissant with the syrup.
Pipe some frangipane onto the bottom half of each croissant and place on the top halves.
Top the croissant with a piped line of frangipane and press on some flaked almonds.
Place the croissants on the prepared baking tray and bake for 18–20 minutes until the frangipane is set.
Once cooled, dust the almonds croissants with the icing sugar.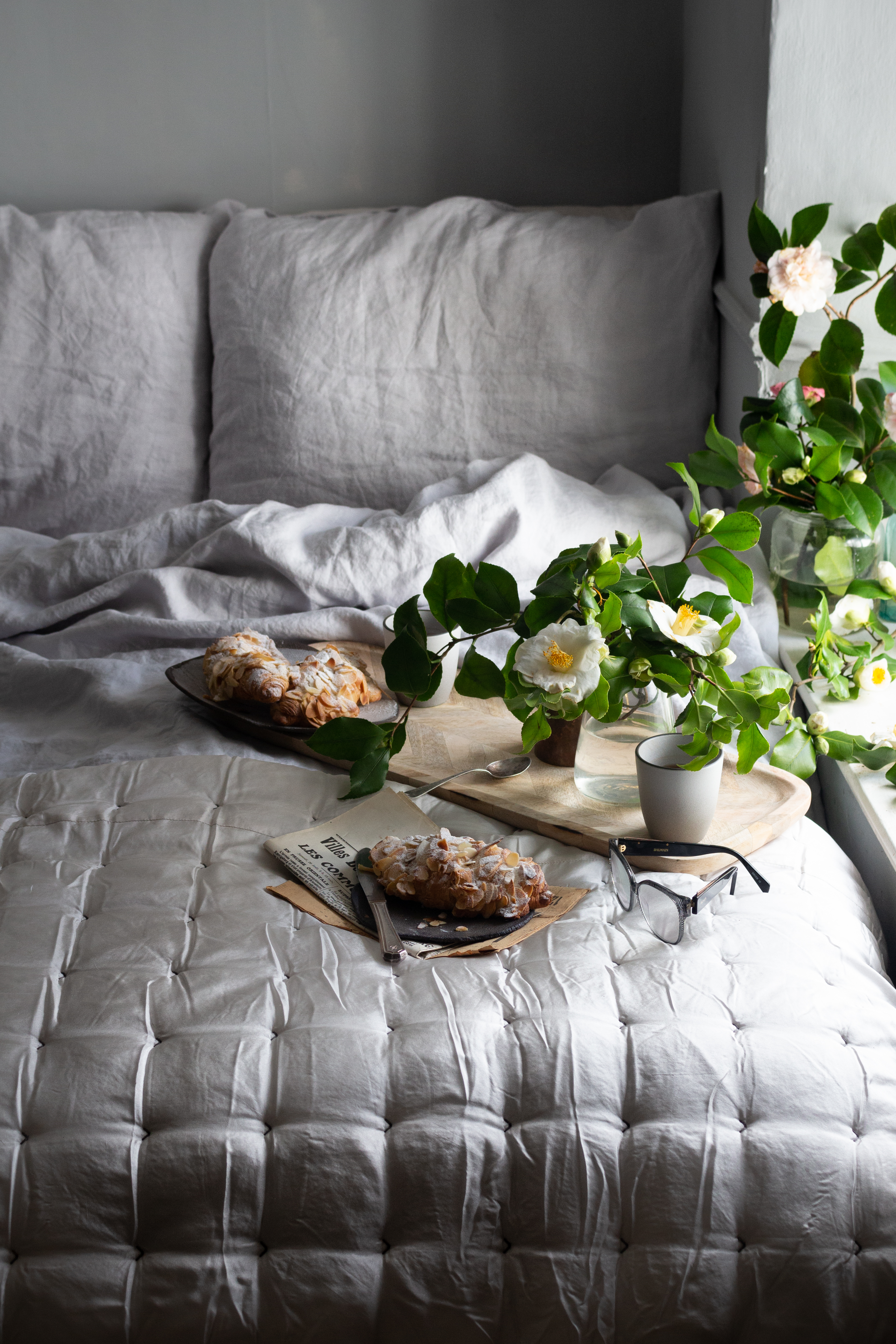 Frangipane baked inside and on top of these croissants means they are full of flavour. The frangipane on top goes golden and crispy because of all the flaked almonds. To finish they are dusted with icing sugar.