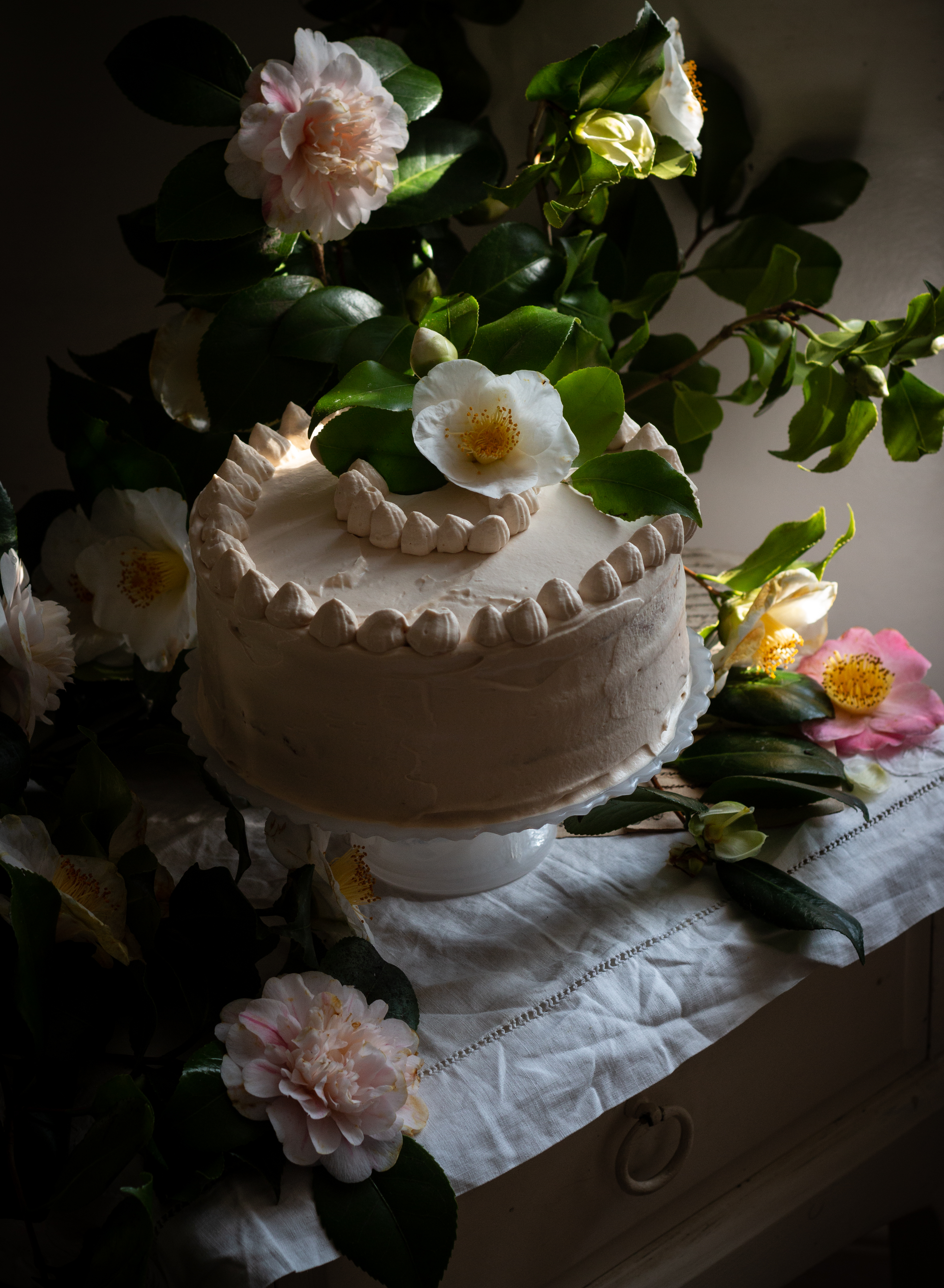 I have been baking like crazy recently and this triple ginger lemon cake didn't disappoint. The harsh light was so interesting to try and photograph this in. I thought I would experiment and it was really interesting to try something new, but it was a real struggle! its going to take a bit more practise to master.
Because there was so much contrast between the light colours and the dark ,it was tricky to not over expose the whites in order to see the darker leaves. Some of these shots are a bit over exposed but I still like them.
I used ginger in three forms, stem ginger in syrup, candied ginger and ground ginger and then as if that wasn't enough ginger I also soaked the sponge in some homemade fresh stem ginger syrup. My partner really loved this cake so I hope you will too.
It's got some lemon in to, so that with the ginger created a wonderful fiery flavour. I didn't want it to be a typical dark ginger cake, so instead its a normal yellow cake with only a little brown sugar.
To even out the strong flavours, I wanted something quite refreshing so I used whipped cream, but to make it special I flavoured it with some home made goats milk caramel, which I am pretty obsessed about. The caramel was pretty incredible on its own (I have to stop myself eating it with a spoon). I make it quite often as its so good.
The recipe I use for it is from Justin Gellatly's book called Bread, cake, doughnut, pudding. Its such a lovely book, but its probably best known for its doughnut recipe which is pretty famous.  You may have seen them If you have ever been to borough market in London. The bread ahead doughnuts have become quite a sensation on Instagram.
I used to bake cakes all the time but I rarely do any more, so it was a fun treat. It was baked it at midnight, which seems to be the time when I enjoy playing in the kitchen. I have no idea why that time seems to be a favourite of mine, maybe because its quiet and I can concentrate. The kitchen looked like a tornado had blown through it when I was finished baking but all that mess was definitely worth it. I literally took my eyes off the milk for one second and it had boiled over.
We went on a wonderful dog walk and I picked these beautiful flowers, I just love this time of year when the camellias are in bloom they are so pretty. The place where we go there are so many different varieties of camellias growing.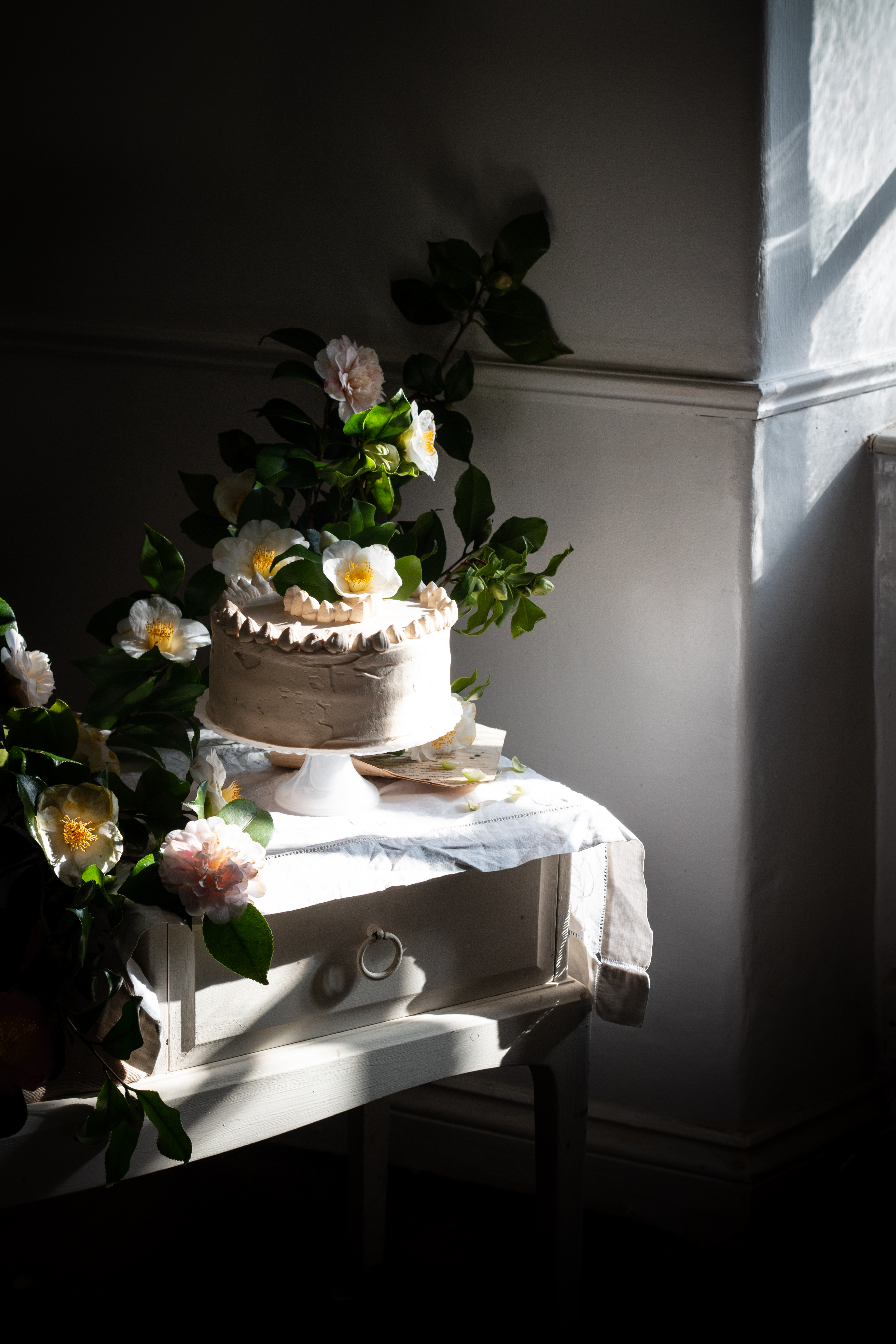 I love the combo of lemon and ginger, its so fiery and full of flavour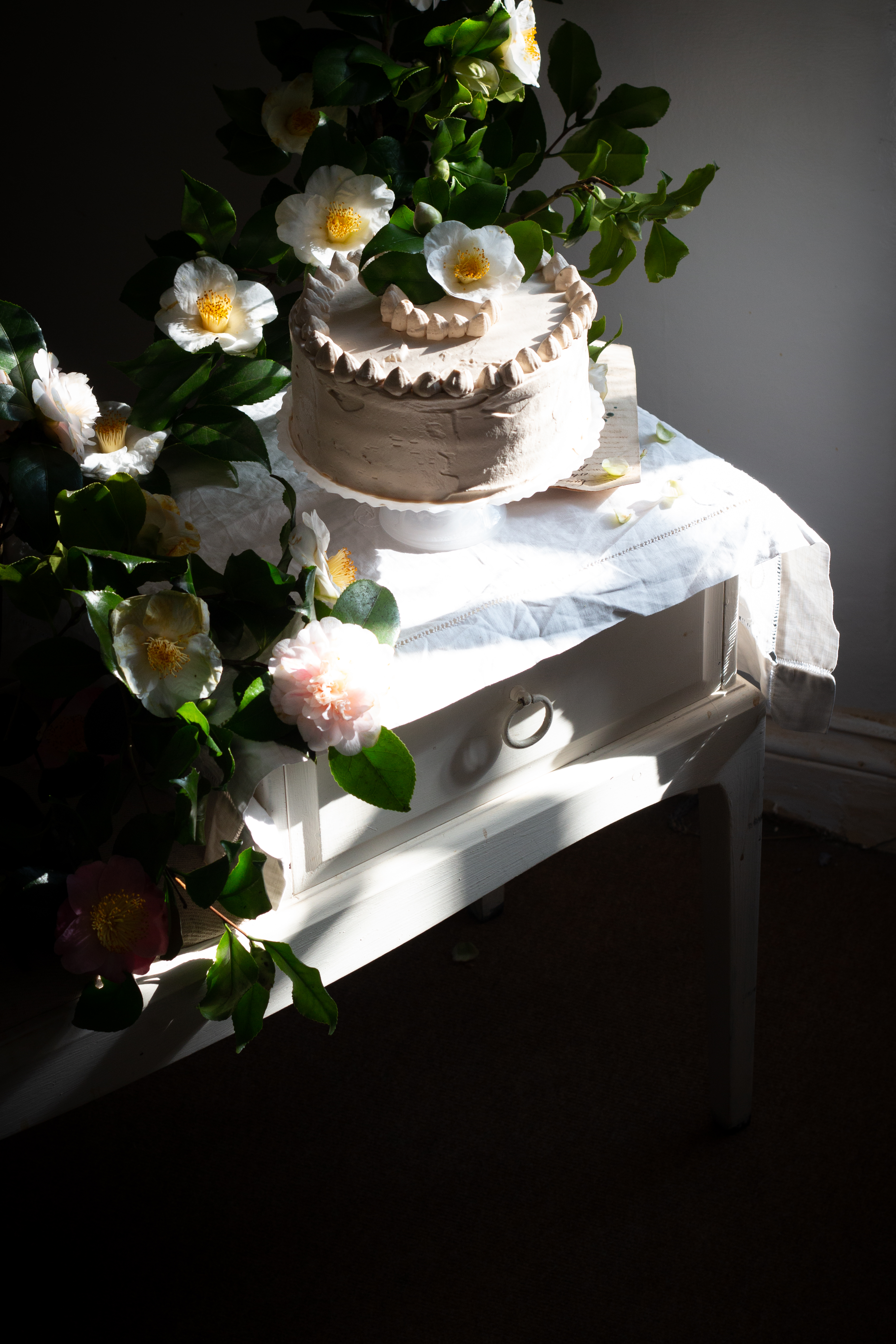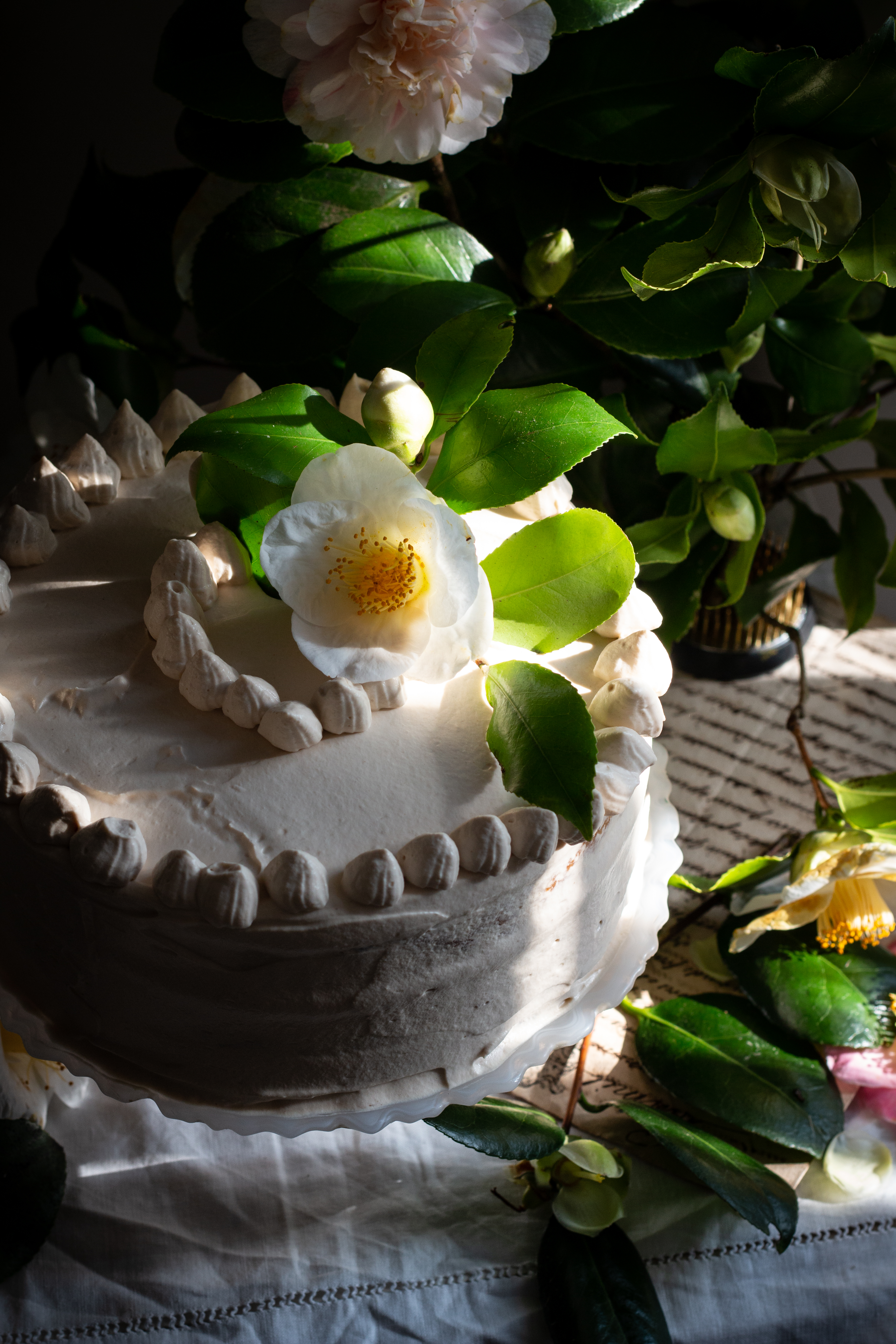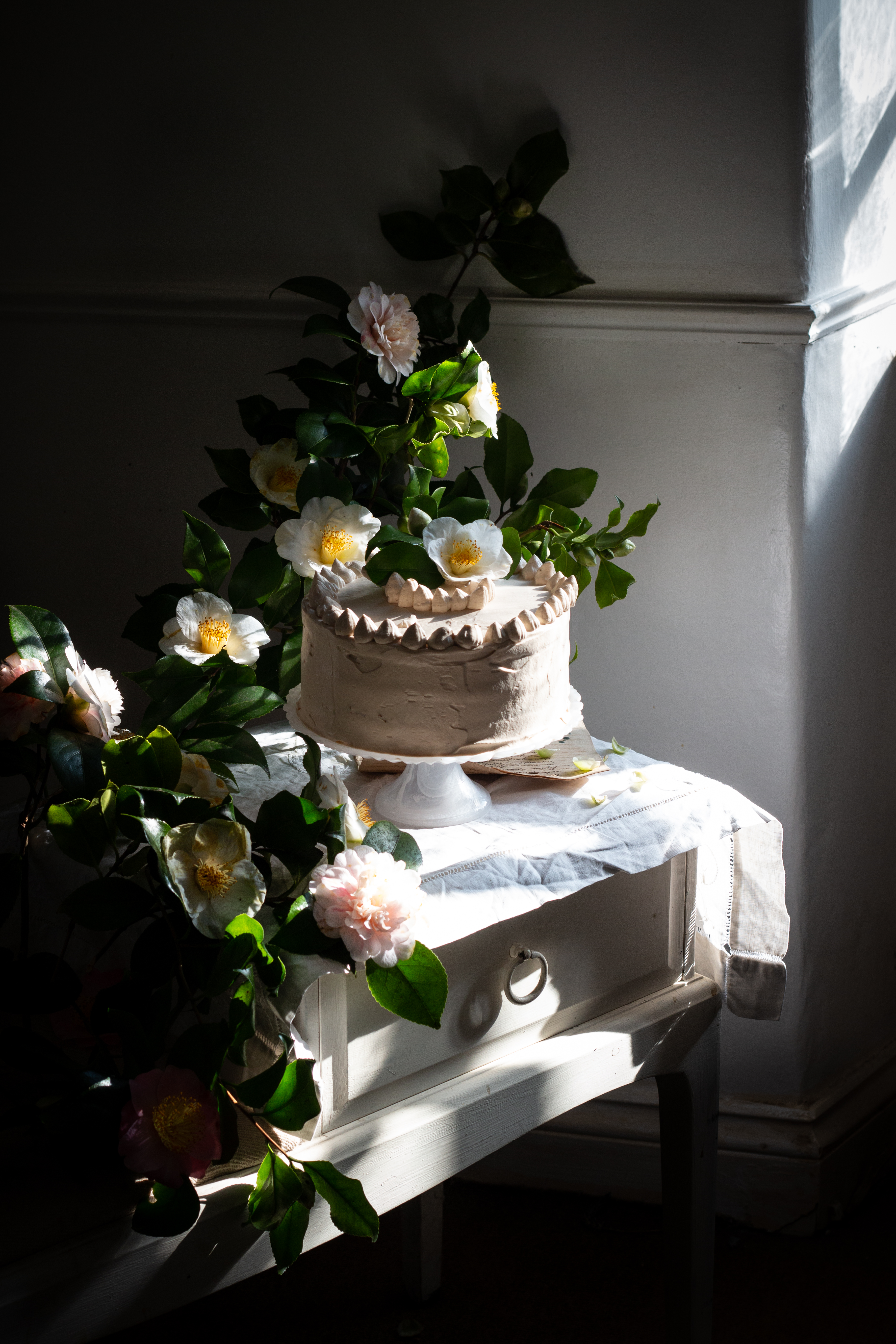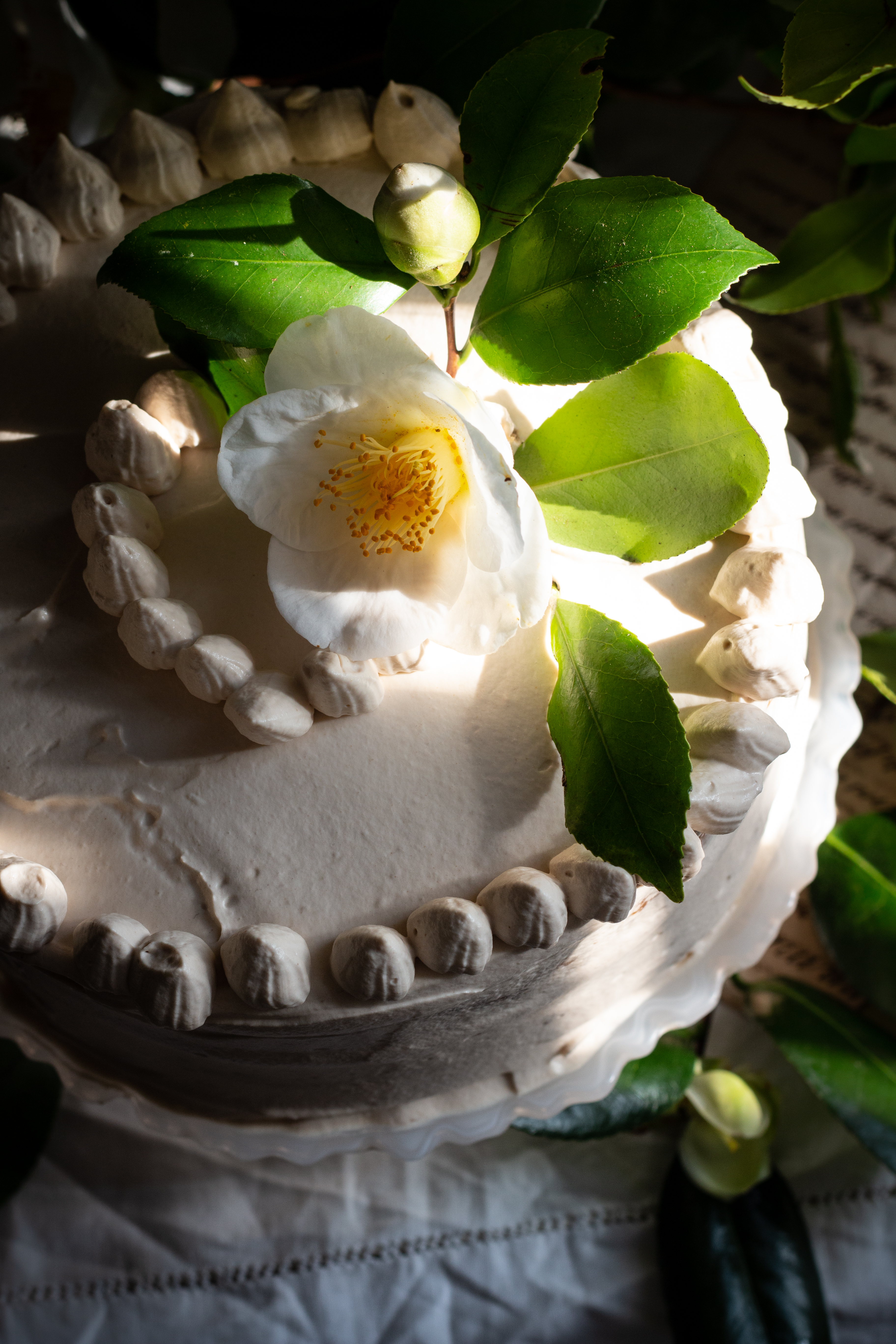 recipe
Sponge
120g caster sugar
60g dark soft dark brown sugar
220g softened unsalted butter
4 eggs
220g self raising flour
2 pieces of stem ginger (from a jar in syrup)
2 tbsp. of the syrup from the jar of stem ginger
5 tbsp. chopped candied ginger
1 tbsp. ground ginger
1/2 tsp salt
1 tsp cinnamon
zest of one lemon
2 tbsp. milk
juice from half a large lemon (or whole small one)
Directions
Preheat the oven to 160c
Grease and line three 9 inch cake tins with baking paper,
Using a stand mixer with the whisk attachment beat the butter and sugar together until its really light and fluffy. (stop the mixer after 1 minute and scrape the sides of the bowl with a spatula and whisk again for another 2 to 3 minutes) make sure that the sugar has been completely incorporated and that it is really light and fluffy. It could take 5 minutes so don't rush.
Add one egg and whip at high speed for 2 minutes, stop the mixer and scrape the sides of the bowl with the spatula and whisk again then add the second egg, whisk for 2 minutes and scrape the bowl then add the next egg. Continue this process with the last egg, then whisk at high speed for three minutes until the mixture is thick, pale and creamy. (please don't rush this step, the mixture needs to be light and fluffy)
Add the vanilla extract
Remove the bowl from the mixer and using a spatula fold in the flour, ground ginger, cinnamon and salt by hand, then add the chopped stem ginger, candied ginger, lemon zest and fold in.
Add the milk and fold in then add the lemon juice and fold in. (don't fold in to vigorously as you don't want to over work the flour)
Separate the mixture between the tins and level out and bake for 20 to 25 minutes, check if it is baked by using a knife, inserted into the centre if it comes out clean its done.
Leave to cool completely
Ginger syrup
80g fresh stem ginger
400ml water
200g caster sugar
Directions
Peel the skin of the ginger and slice into chunks
Place in a pan with 400ml of water and boil for 10 to 15 minutes until it is infused
Turn off the heat and leave to infuse in the water for 20 minutes.
Remove the ginger and squeeze to remove any liquid and add the sugar into the pan and place back on the heat.
Stir until the sugar has dissolved then bring to the boil and let simmer for about 8 minutes.
Let cool
Goats milk caramel
1 ltr whole goats milk
375g granulated sugar
1/4 tsp bicarbonate of soda
1/4 tsp vanilla extract
Frosting
600ml double cream
3 tbsp. icing sugar
1 cup of the caramel above
1 tsp vanilla extract
Direction for caramel
In a large heavy based saucepan add 500ml of the milk and the sugar,
Add the other 500ml in another sauce pan but don't turn the heat on yet.
Place the big pan with the milk and sugar on the heat and bring to the boil and stir with a whisk until the sugar melts.
Simmer vigorously while whisking with a balloon whisk for about 20-25 minutes until it turns a light golden brown (Justin's recipe says to whisk occasionally but I find my pans burn the milk if I don't stir constantly)
Turn on the other pan and add the bicarbonate of soda and bring to the boil, then gently pour into the large pan a little at a time. It will fizz up and bubble up the sides so be careful.
Bring back to a simmer and whisk constantly until a smooth caramel is reached (110c-112c on a thermometer).
Pour into sterilized jars and let cool and keep in the fridge.
Assembling the cake
In the bowl of a stand mixer add the cream and icing sugar and whip until soft peaks,
Add the caramel and vanilla and whip again, whip until the cream becomes thick. (Don't over whip the cream you don't want it to reach the point where its too thick)
Take the cake layers and prick the sponge all over with a fork then brush with some of the syrup so it soaks in. (you will only need some of the syrup so save the rest in the fridge for another recipe (it goes well in cocktails too).
Place one of the cake layers on your chosen cake stand and then add some of the cream and spread out, add 2 tbsp. of the caramel in the centre and spread out and then add the next layer on top.
Continue this step again then add the last layer.
Top the cake with the rest of the cream and using a pallet knife spread the frosting over the edges and around the sides. (I saved a little and put it in a piping bag to decorate the top)
Then decorate as you wish and enjoy.
As this cake is made with fresh cream it wont keep as long as a buttercream one.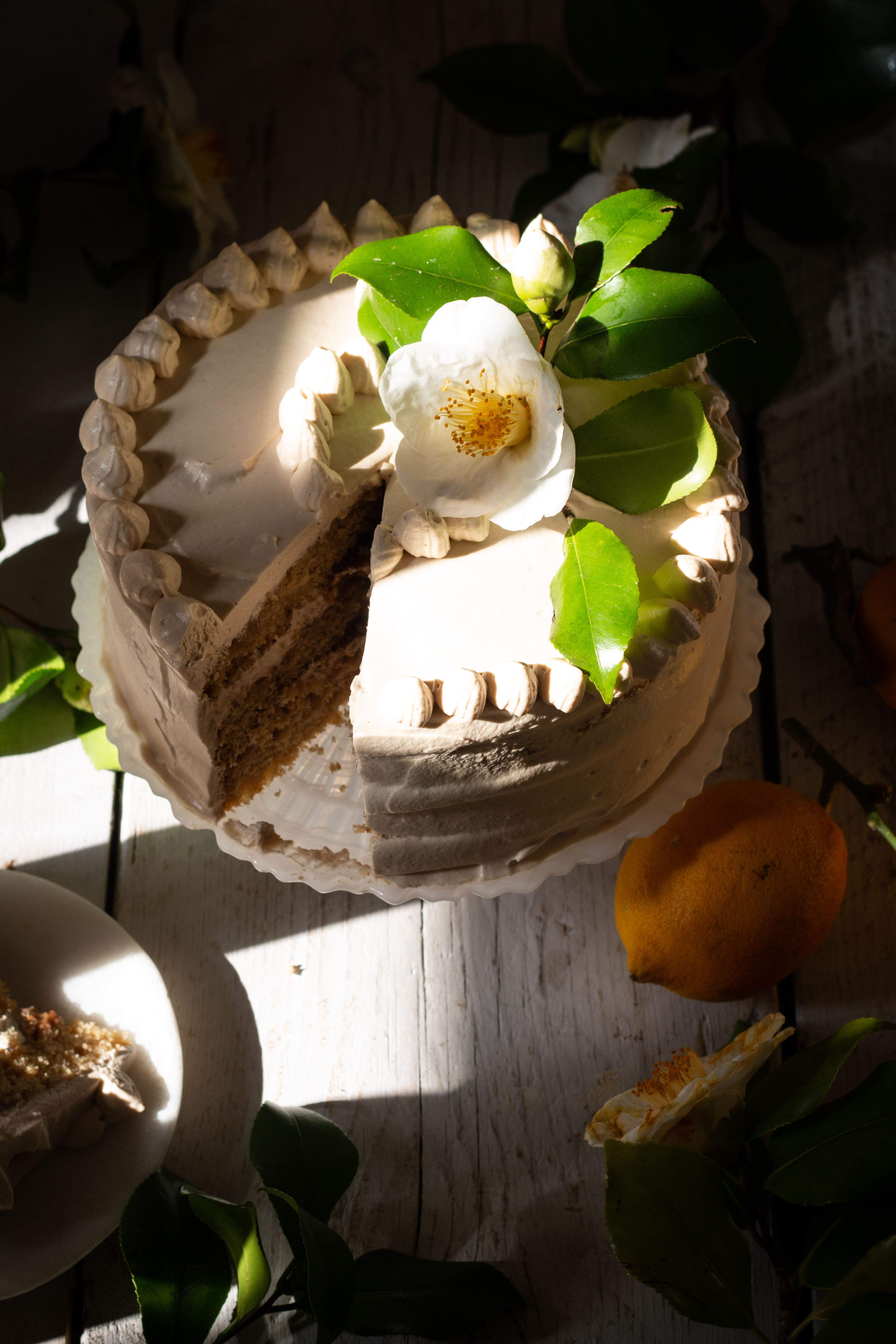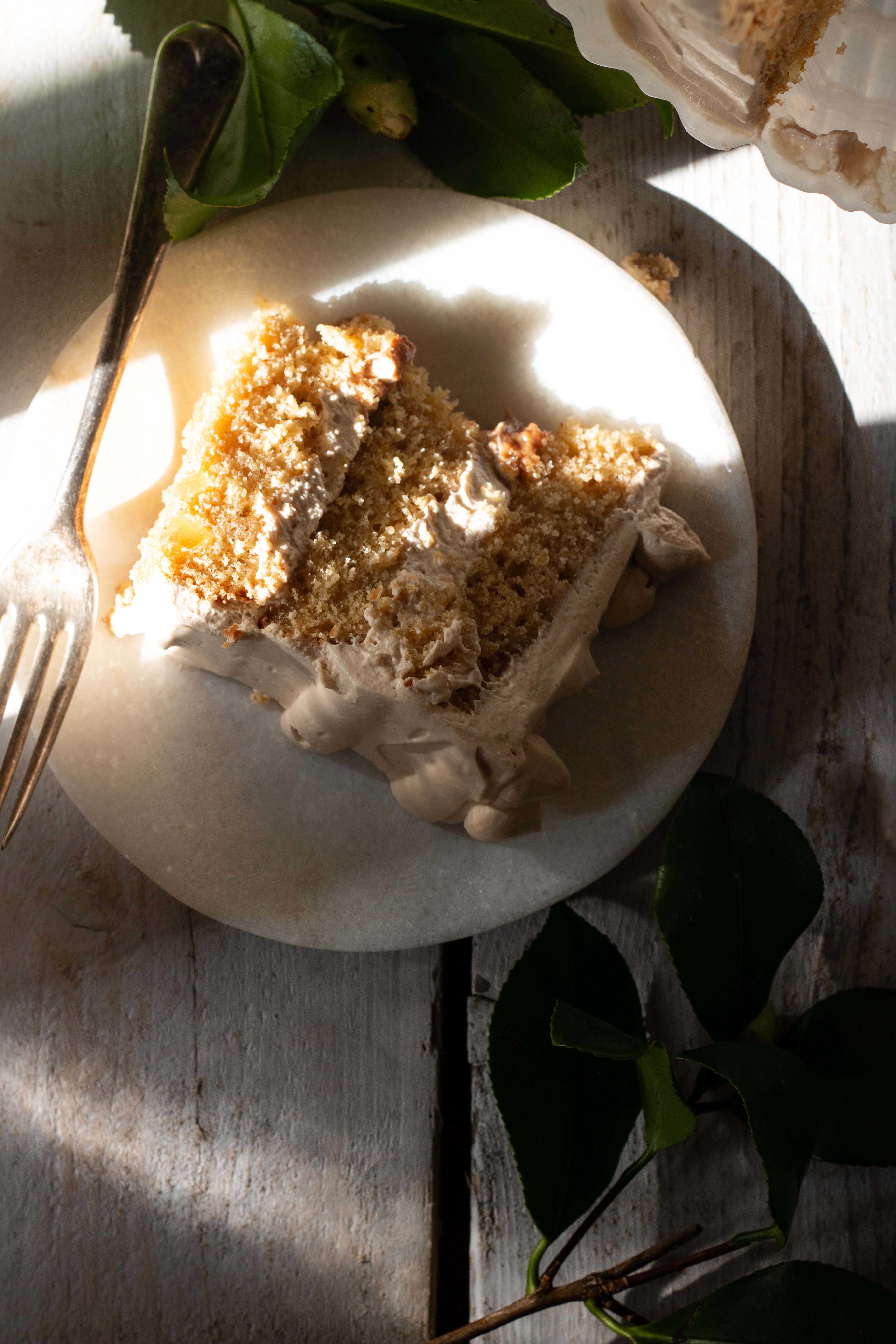 A slice of cake with a cup of tea is such a lovely afternoon treat. My mum usually bakes a cake each week so there's something sweet to enjoy.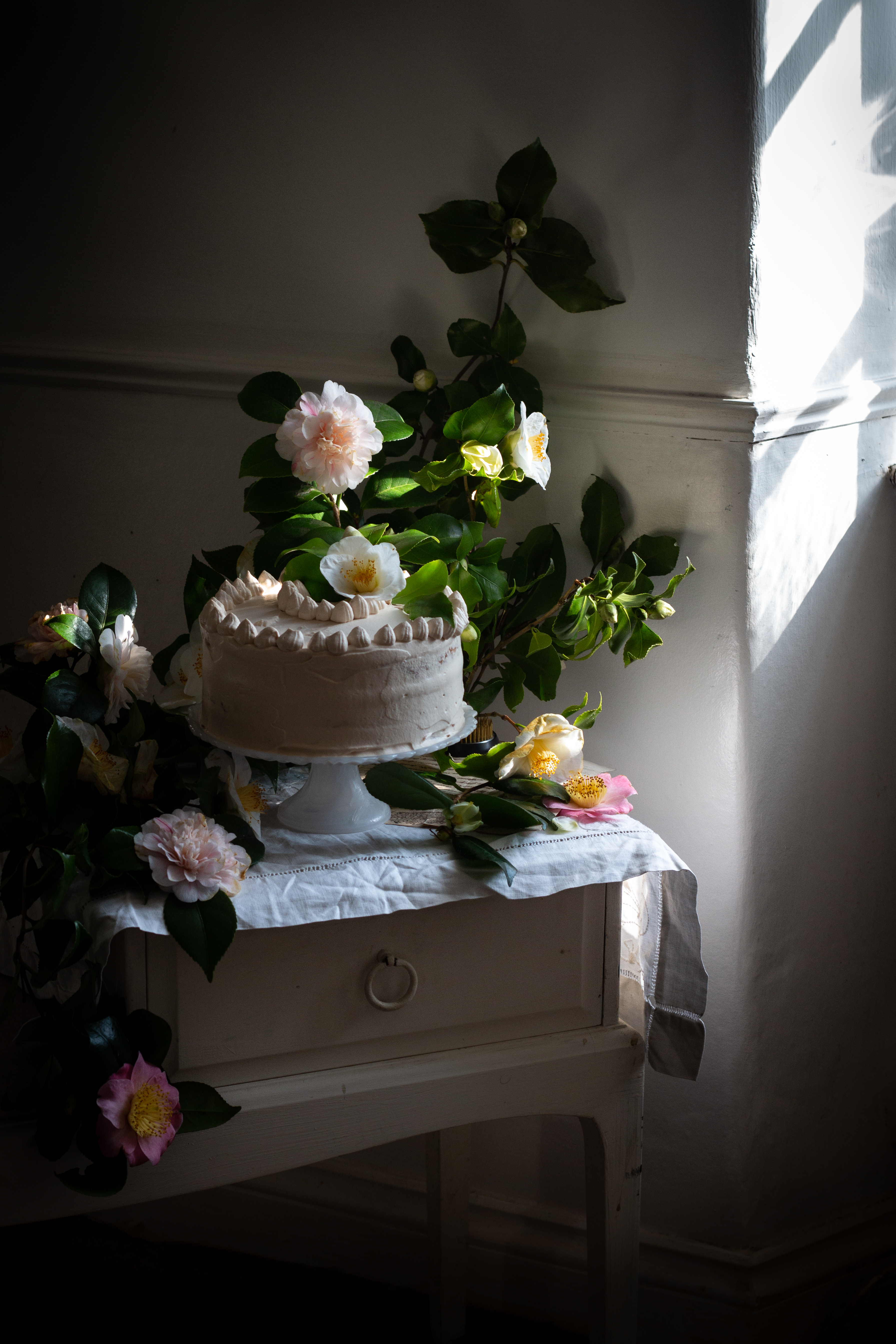 Want to join one of my workshops? I have just updated the dates I have planned so far this year in Sydney and London.
What to see some other cake recipes?
Here's a chocolate cookie dough cake with caramel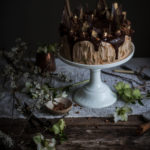 Here's a banana cake with bourbon caramel