I love the flavour or rose, and I was sent some amazing homemade jam that is made with roses grown in the Yunnan province in china. the company is called blossom age and the jam is called rosy rosie. I made a peach and earl grey pie to go with it but the ice cream was great on its own too. when I was thinking of peach recipes (I bought loads) I knew I wanted to do a pie, and I love peach iced tea so that's how I arrived at the peach tea pie idea. I don't have an ice cream maker any more as we got a new freezer and its too small for the bucket than you churn the ice cream in, so this one is a no churn recipe. but if I am honest I prefer the no churn ice cream as it is always so creamy and easy to scoop. plus its so easy to make.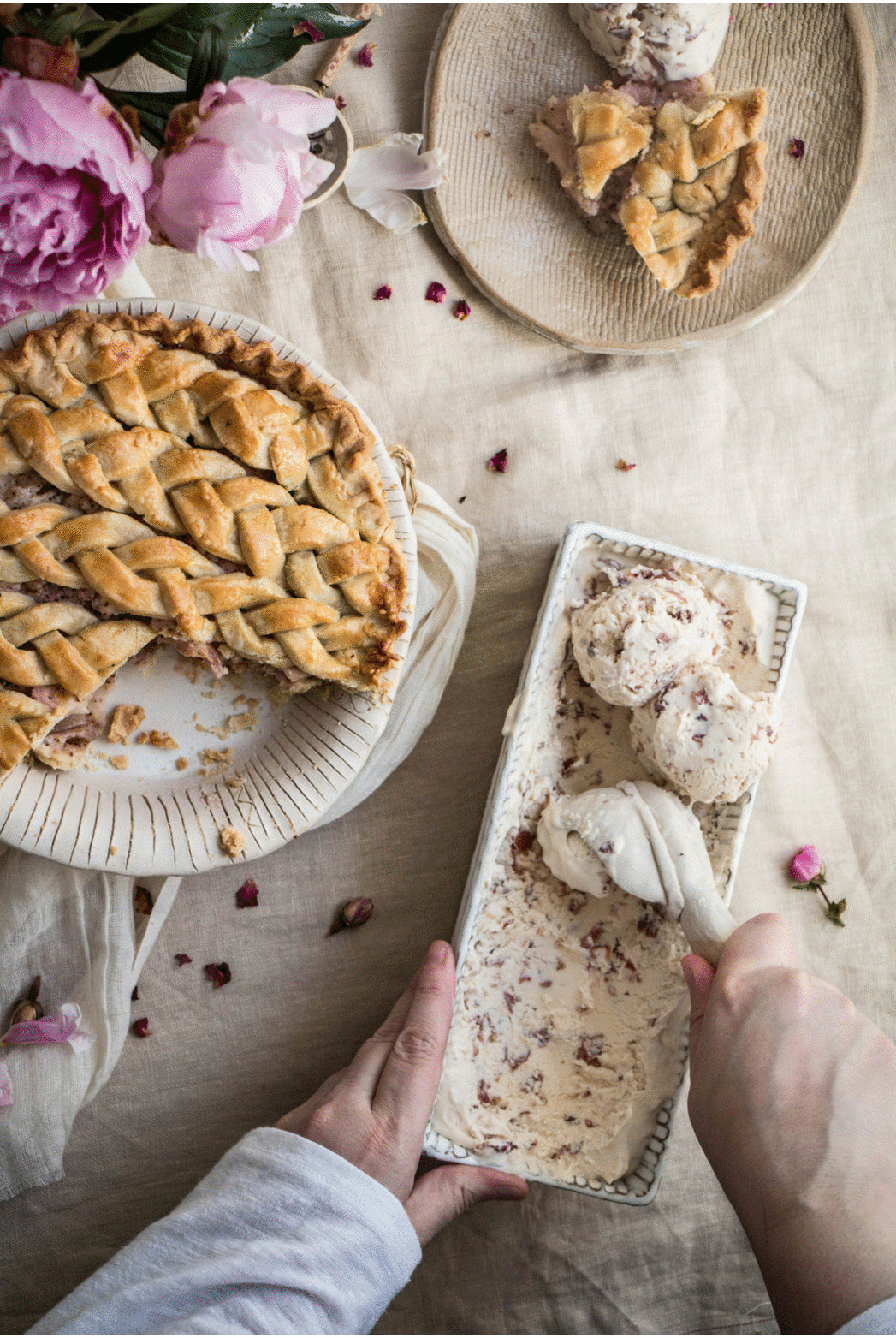 icecream rosy ricotta no churn icecream
300g ricotta
300ml double cream
1 tin of sweetened condensed milk
1 tsp rose extract (I like mine to have a really strong rose flavour, so add the jam first and taste it before adding the extract as you may not need it)
6 heaped tbsp. rose petal jam (I used about 1/3 of the jar)
in a mixer whip the cream and add the condensed milk and ricotta then mix in the rose extract and rose jam scoop into loaf pan and freeze over night.
pie
for the crust
400g plain flour
220g butter
3 to 4 tbsp. ice cold water
4 tbsp. icing sugar
I decided to make a short crust pastry and use all butter and water rather then butter and an egg yolk as I wanted the pasty to be a bit stronger to braid it for the decoration.
in a food processor combine the flour, icing sugar and butter and mix until it resembles bread crumbs then add the water and mix until it comes together, then tip out onto your work top and knead into a ball cover with plastic wrap and place in the fridge to rest for about 25 minutes.
filling
8 white peaches
1/4 cup ground almonds
1/3 cup sugar
2 heaped tbsp of corn flour
1 earl grey tea bag
in the mean time, start boiling a large pan of water and score crosses on each peach then put them in the hot water for 30 seconds then drain and pour straight into a bowl of ice water (so you can peel the skins off). cut up the peaches removing the stones and toss in a bowl with the other ingredients, (empty the contents of the tea bag in with the almonds, cornflour and sugar)
preheat the oven to 180c 350f, cut the dough into two roll out one piece and line the pie dish with it, then tip in the filling.
roll out the second piece of dough and cut into strips and braid them together and place across pie then crimp edge. brush with a beaten egg and bake for 45 minutes or until golden.