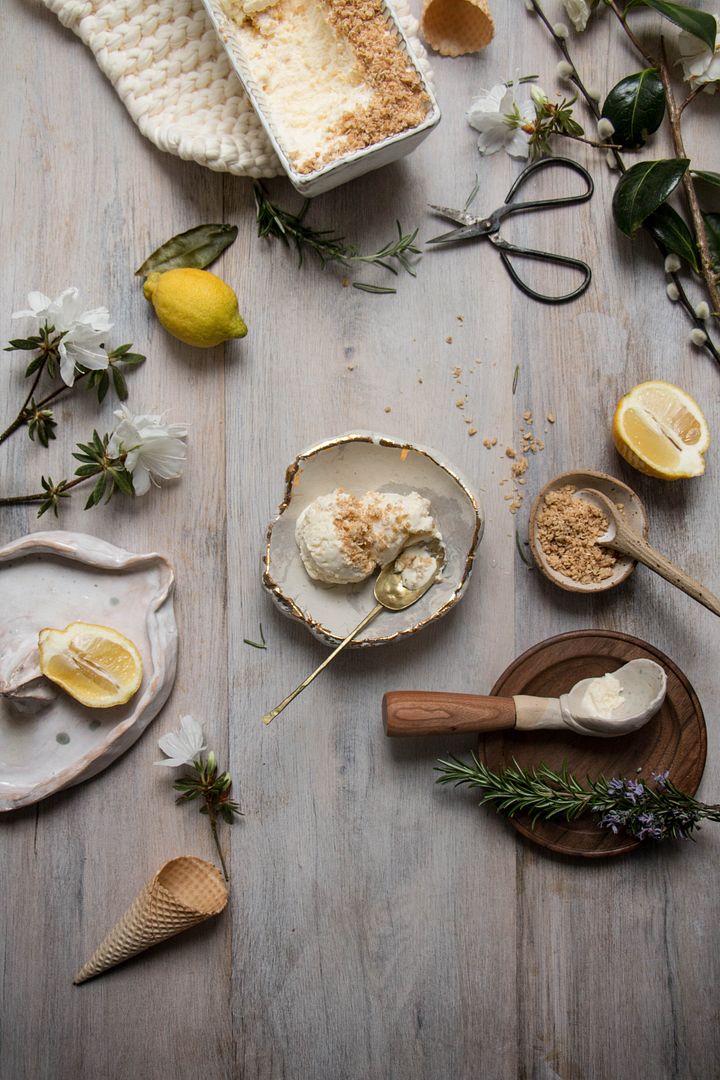 this ice cream one not only so easy to make, but it tasted incredible. I love making quick no churn ice cream with condensed milk so I decided to add a pot of clotted cream in with some lemon juice and zest and some chunks of comb honey, then then I topped it with a Anzac cookie crumble.
Anzac day is on the 25th of april so I thought I would be a great idea to create a new Anzac cookie recipe, they are traditionally made with oats, coconut and golden syrup and they where sent to the men on the front line in Gallipoli to remind them of home, I added rosemary too which is another symbol of Anzac day. I'm not austrailan but I think its an important date to remember as so many people died. (I'm a bit of a history geek, plus I enjoyed watching Anzac girls on the tv)
aron from facture goods created this ice cream scoop especially for me, and I love it, he made the bowl and spoon too.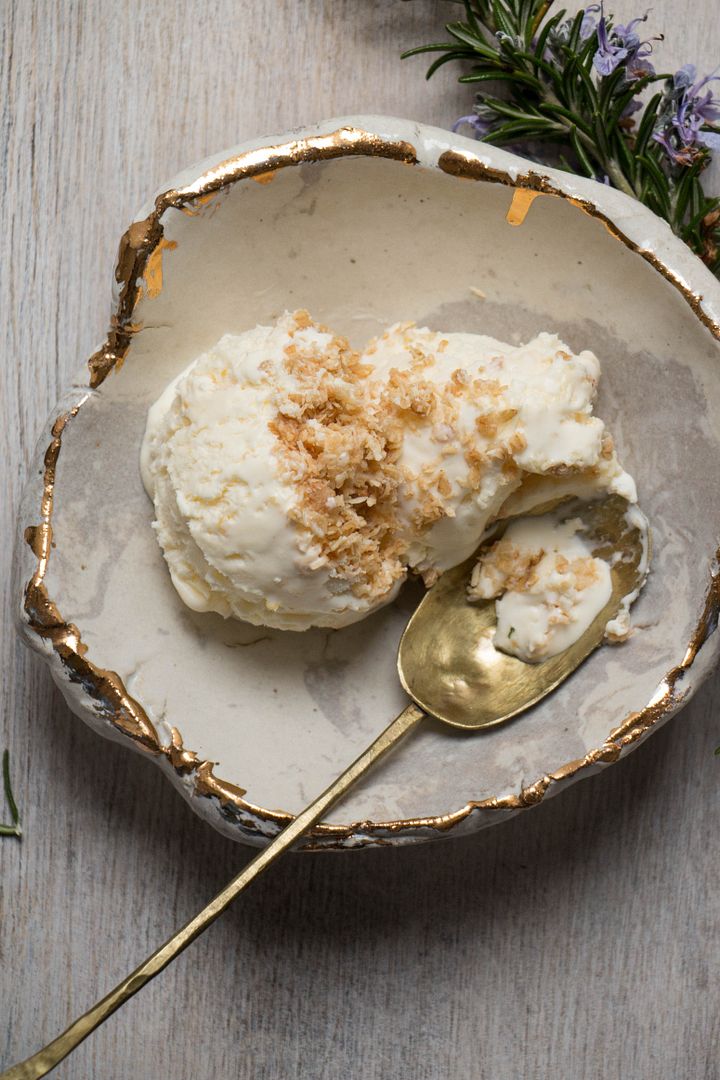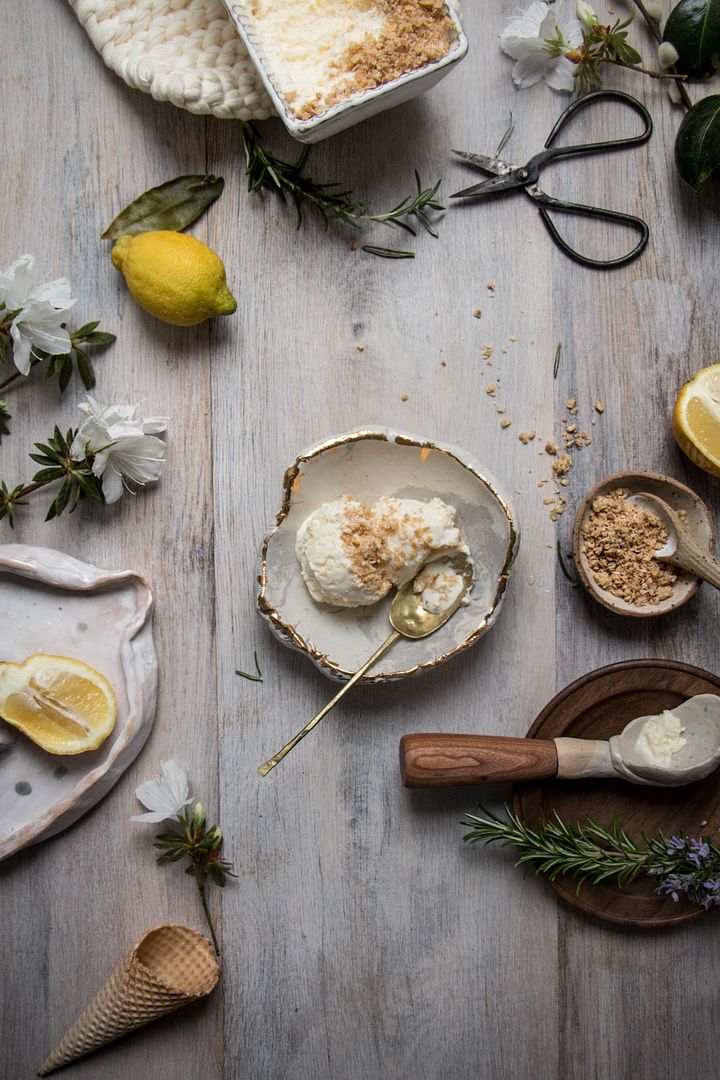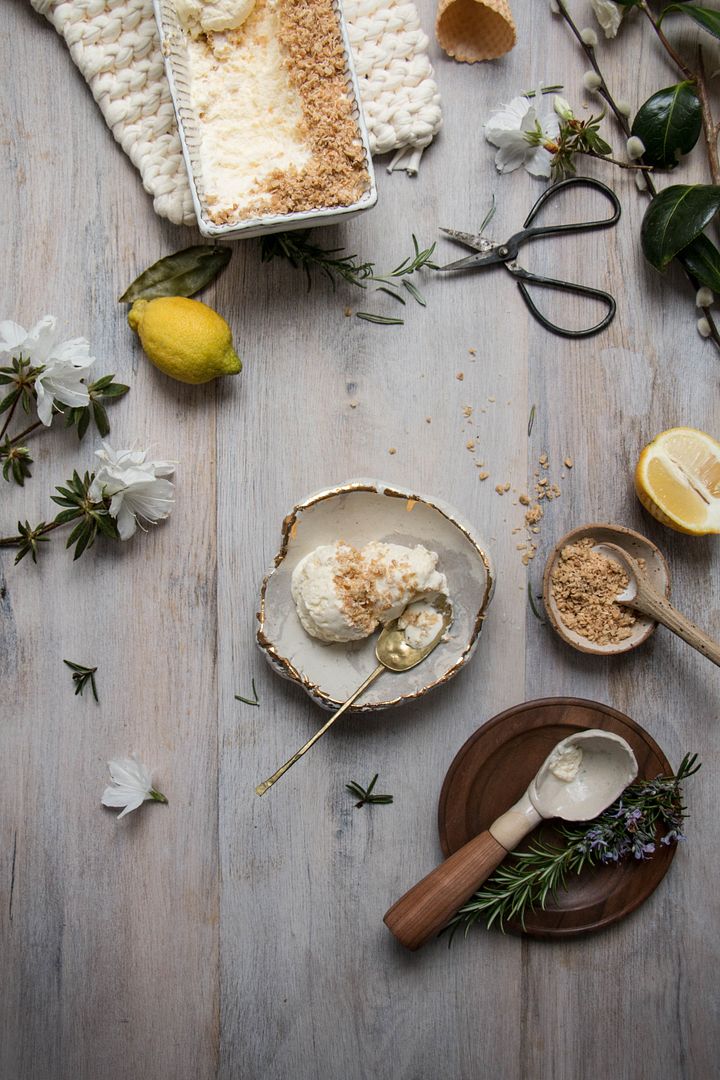 recipe
for the crumble
3 tbsp. flour (I used buckwheat but all purpose is fine)
1/4 cup rolled oats
1/4 cup desiccated coconut
3 tbsp. golden syrup
3 tbsp. butter melted
1/4 tsp chopped fresh rosemary
pinch of salt
preheat the oven to 180c
mix all the ingredients together in a bowl so it is all coated then spread onto a lined baking sheet and cook for 10 minute then stir the crumble and bake for another 5 minutes then stir again and bake for another 5 minutes or until golden then let cool while you make ice cream.
for ice cream
300ml of double cream
250g clotter cream
1 tin of sweetened condensed milk
zest of one lemon
juice of half a lemon
3 tbsp. runny honey
5 tbsp. cut comb honey crumble into chunks
using  a mixer beat the cream until starting to thicken then pour in the condensed milk and mix then add the clotter cream, lemon juice and zest and runny honey andthen fold in the comb honey and pour into a loaf tin and level out.
place in the freezer for 20 minutes then sprinkle on the crumble and leave to firm up over night.