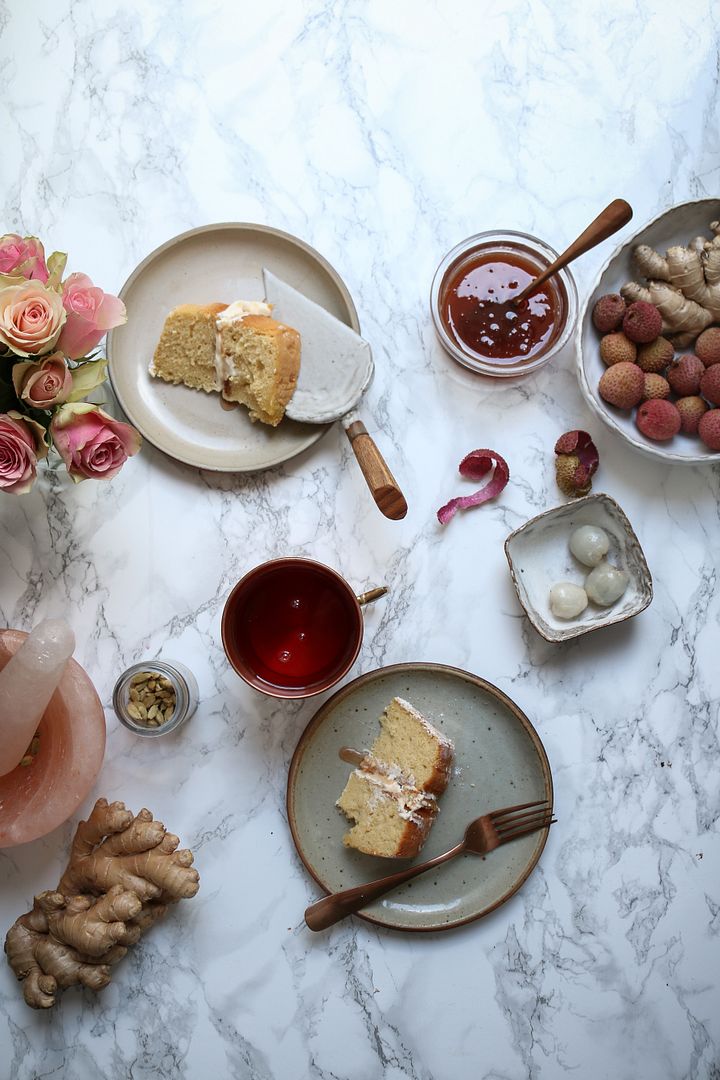 I love lychees, the smell is so fragrant and perfume like. I like adding rose with them as I think the two flavours work really well together, this time I decided to try it with some stem ginger too. this was the first cake I have made since we entered 2016 (which is strange for me as I usually like to make at last one a week) and since I got my new oven as I killed the other one last week after baking a million meringues.  I was craving a simple Victoria sponge, which is my favourite type of cake. its such a simple cake to whip up and to fill with cream and jam. I decided to use the lychees, ginger and rose and make a jelly to drizzle in the cake rather than jam, not a set stiff jelly but a loose syrupy one. it was really good (I'm not just saying that trust me). if you are feeling adventurous then add a few ground cardamom seeds in to the cake batter too so it is super fragrant. I loved the jelly/syrup so much that I cant wait to drizzle it over pancakes and what ever else I can find that calls for a drizzle. the colour was a bit drab so to give it a bit of colour I added a hibiscus flower into the pan whilst I was making it to make it a bit more appealing.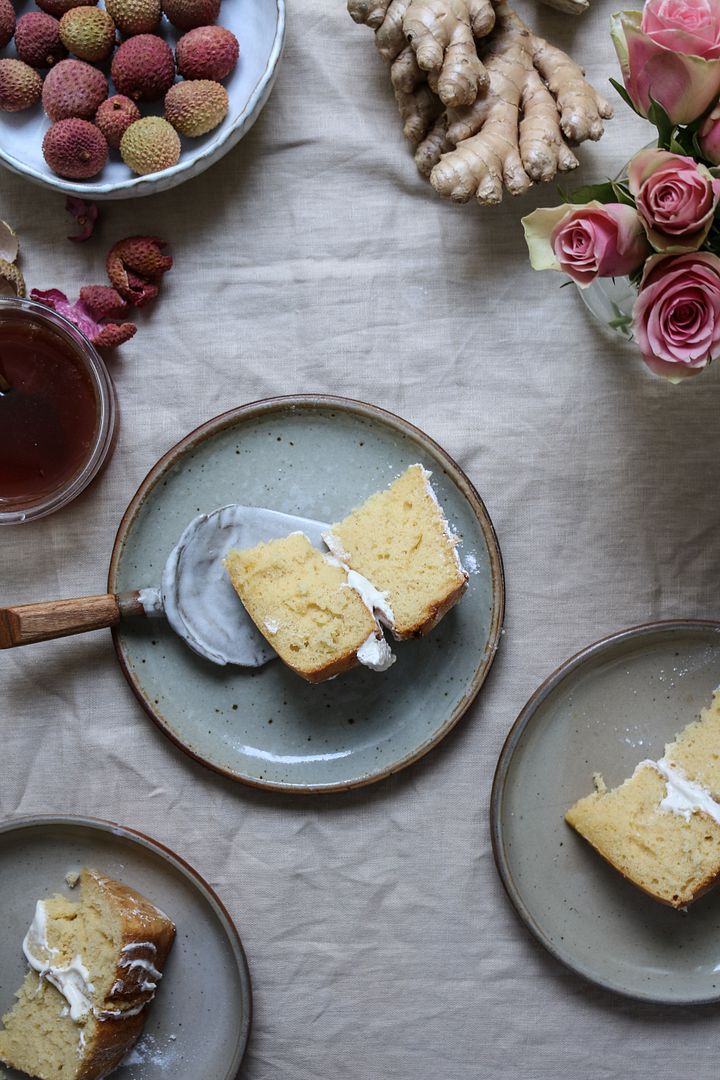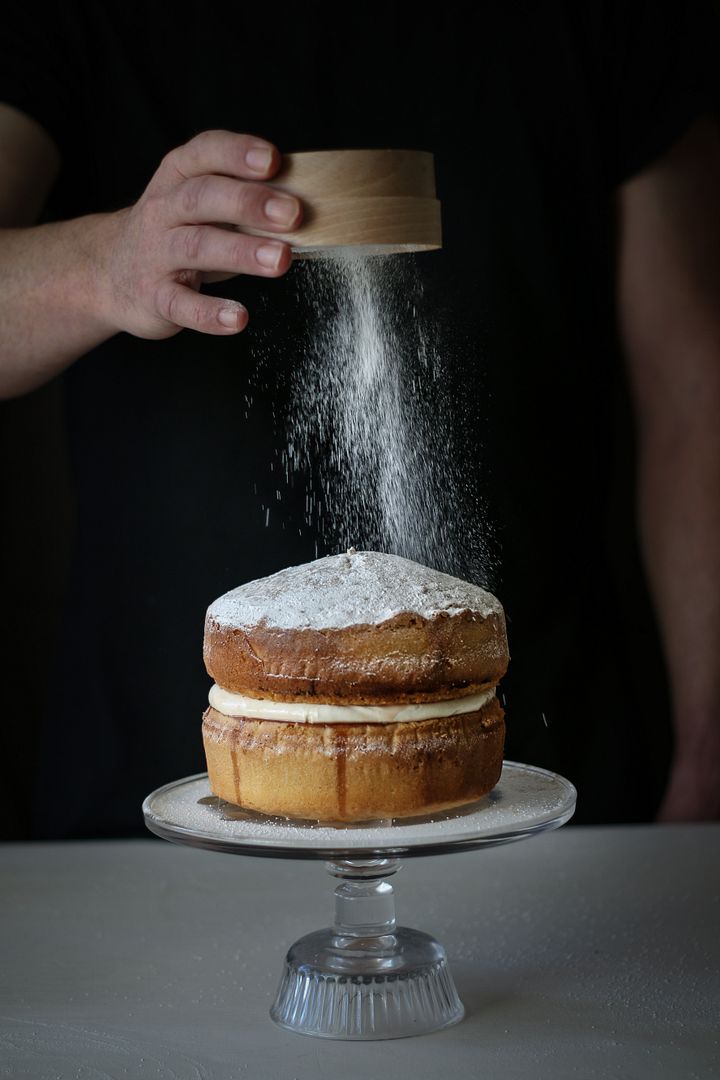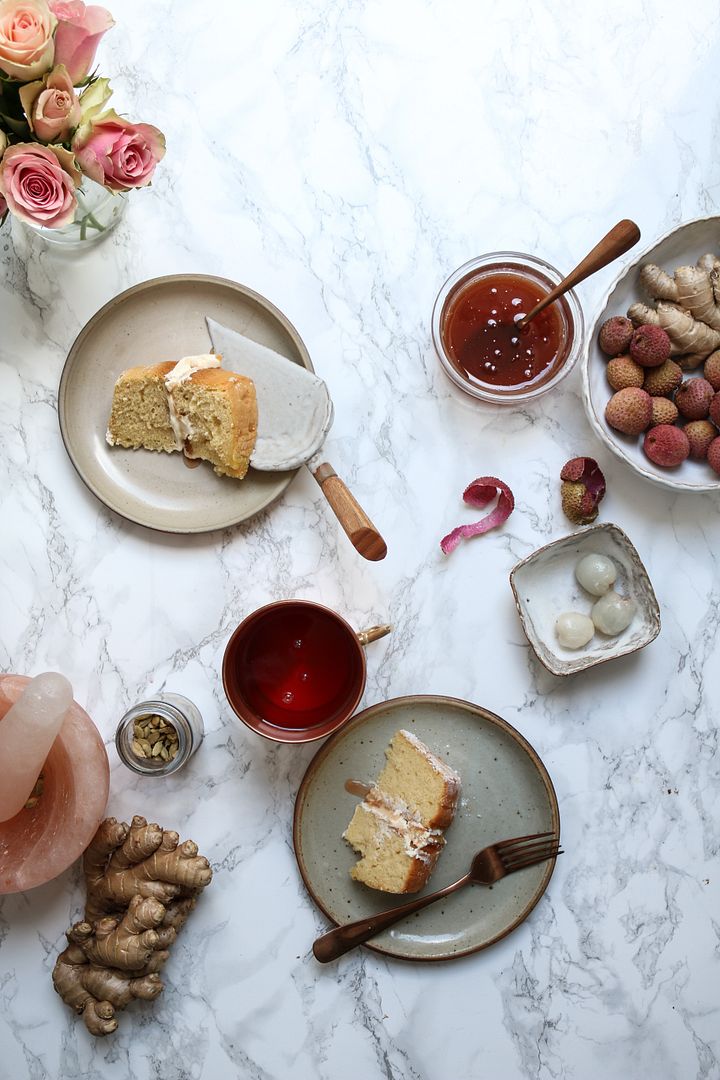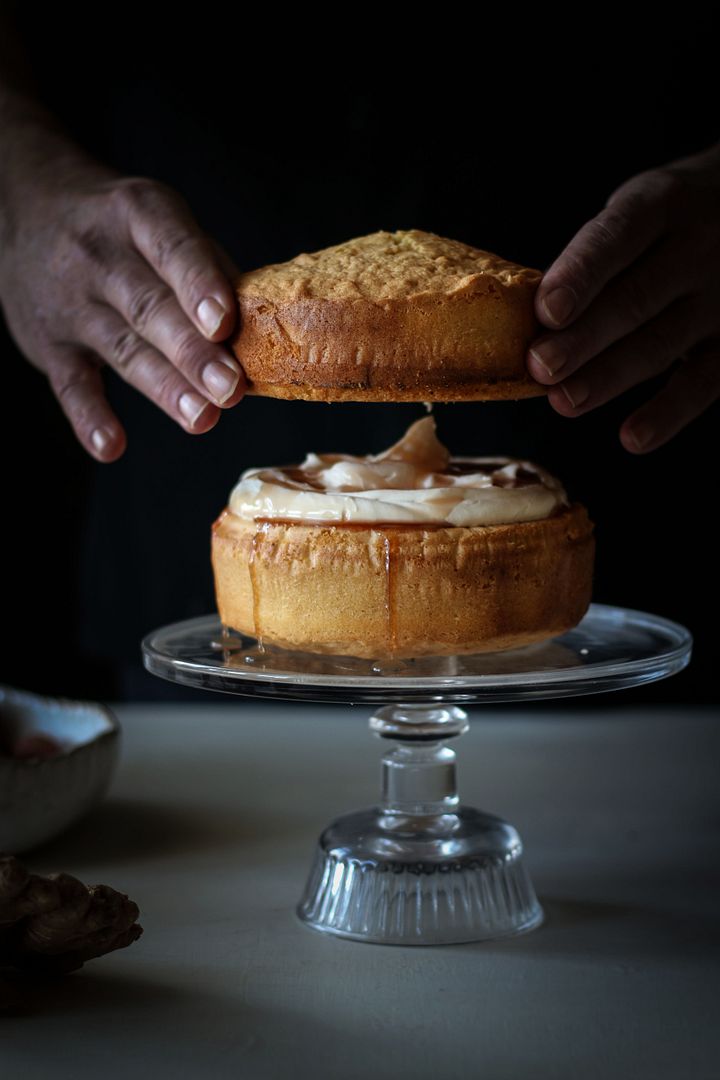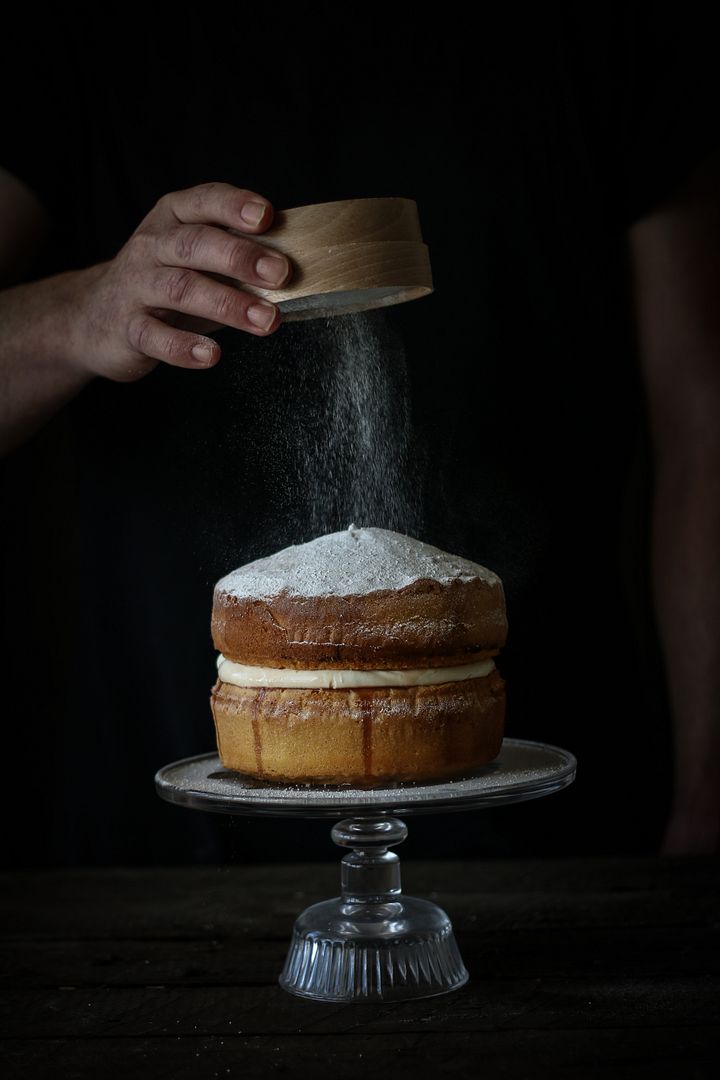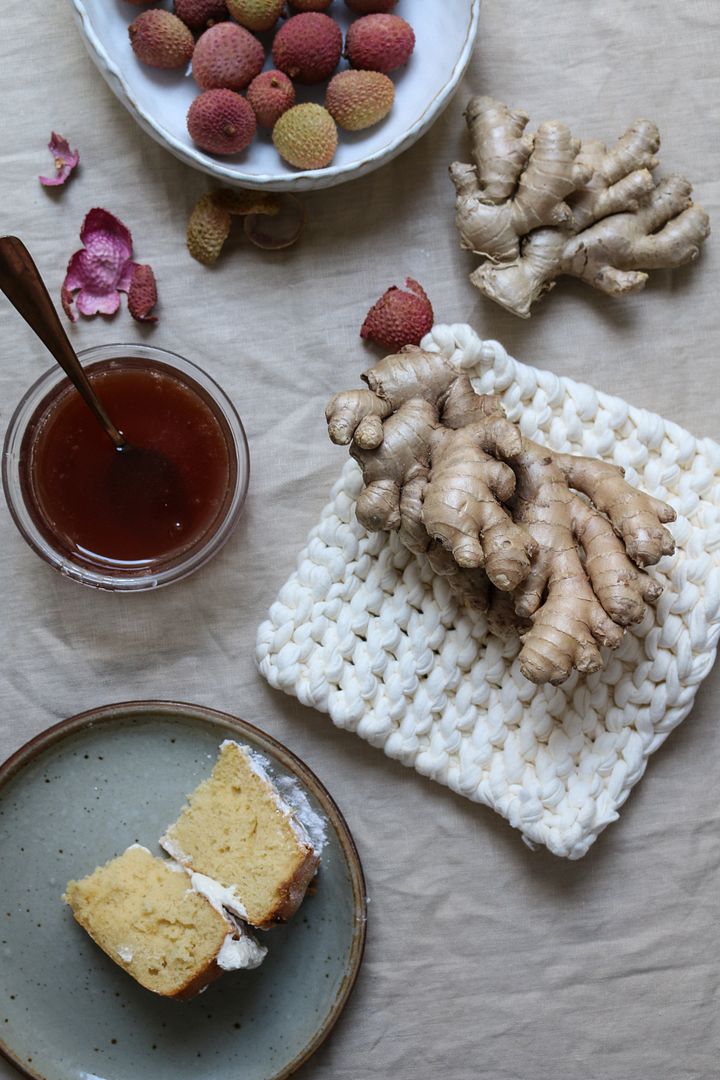 do you like this pot holder my mum knitted for me? I bought the t-shirt yarn and gave it to her and she made it for me.
for the Victoria sponge cake
220g butter
220g golden caster sugar
4 eggs
220g self raising flour
1 tsp vanilla extract
seeds from 3 to 5 cardamom pods ground until fine (this is optional)
preheat the oven to 160c
grease and line two baking tins with baking paper (10cm tins)
in a mixer cream together the butter and sugar for 5 minutes until pale, stop the mixer after two minutes to scrape around the sides of the bowl with a spatula, then add an egg and mix for two minutes, scrape around the bowl again and add the next egg and mix again for another 2 minutes and scrape the bowl and add the next egg, then do the same with the final egg.
mix in the vanilla extract then sift in the flour and add cardamom and fold in by hand with a spatula, once mixed spoon the mixture evenly into the two tins and bake for approx. 40 minutes.
make the jelly/syrup
15 lychees
thumb sized piece of stem ginger
100ml runny honey
2 tbsp. rose water
1 drop of rose extract
120g golden caster sugar
1 sheet of leaf gelatine or 2 tsp of powdered gelatine
2 tsp dried rose petals
peel and deseed the lychees and add into a blender with the honey, rose water, extract, petals and ginger and 2 tbsp. of water and pulse until the fruit has broken down pour through some muslin or a jelly bag into a pan and squeeze to remove all the juice and discard the pulp.
add the sugar and heat gently, place the gelatine in some water to bloom. let the mixture reduce until thick, (if you want to colour it add one hibiscus flower whilst you are reducing it). then squeeze out any excess water from the gelatine leaf and add to the pan and stir. then pour into a jar and let cool and place in the fridge until ready to use.
whip 150ml double cream with 5 tbsp. icing sugar until thick, then take one layer of sponge and spread on the cream then drizzle over the lychee mixture and add the second sponge then dust the top of the cake with some icing sugar.