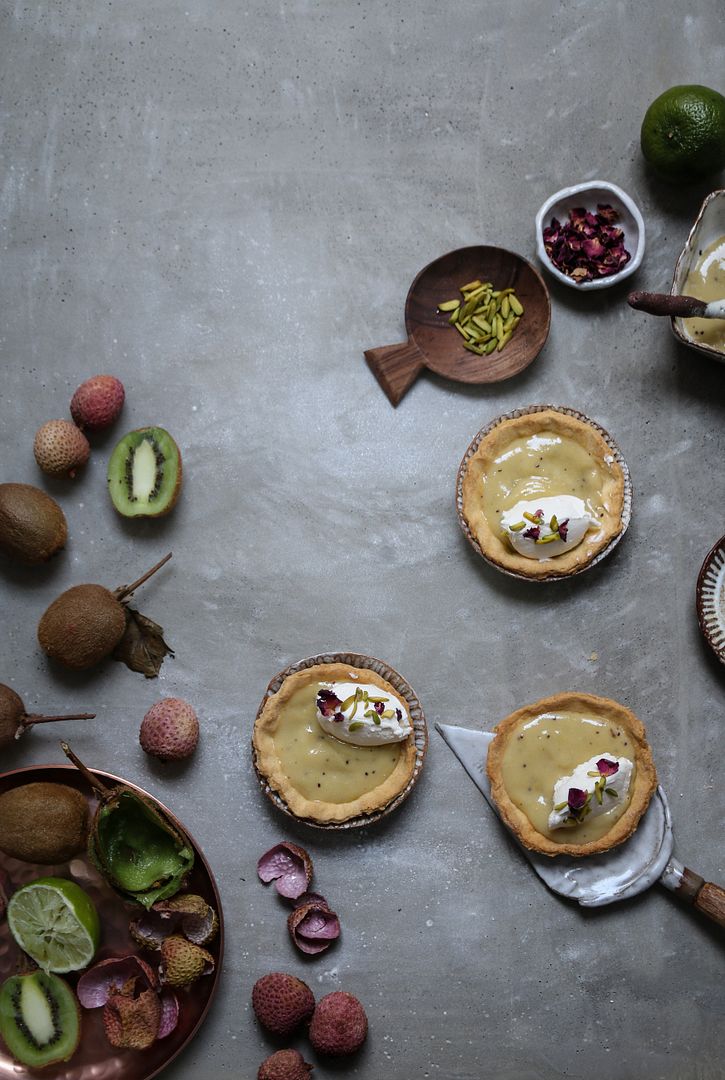 This recipe kind of evolved in the grocers, I saw these kiwis and was so surprised to see they where grown locally, I didn't expect to see kiwis growing in England. I had some lychees and limes at home and thought how well they all would go together with some rosewater to that's what I did. The curd is made with lychee, lime and kiwi and it is sweetened with honey rather than sugar to make them a little healthier. they where really yummy and had a lot of flavour. I love lychees and rose together and use those two flavours together a lot.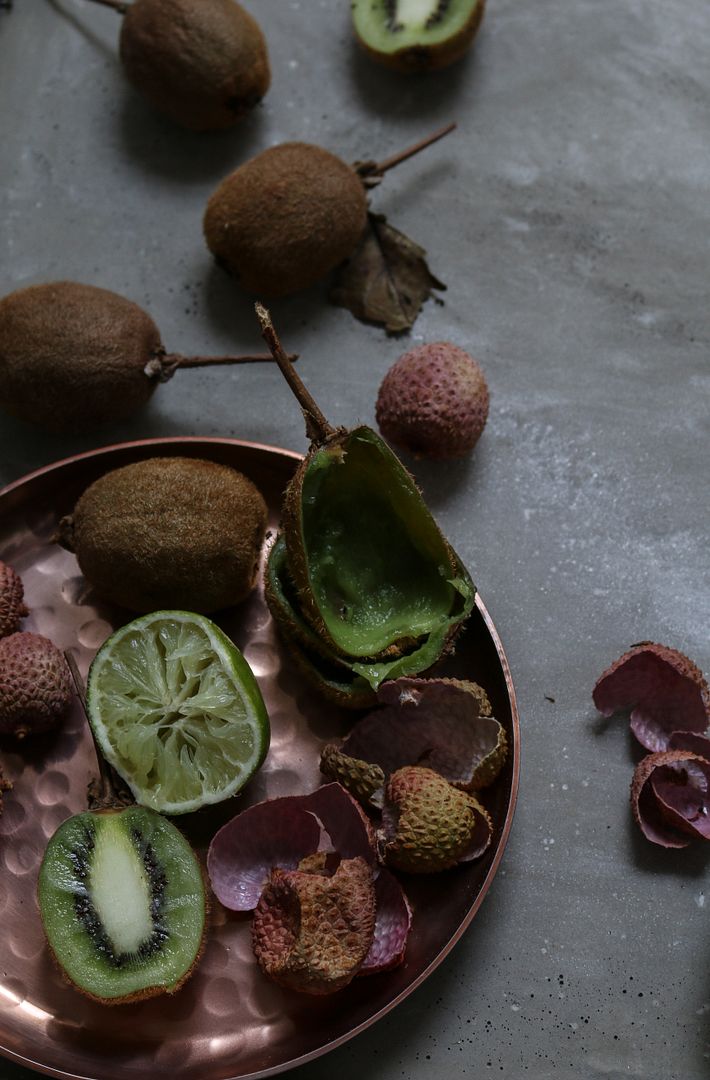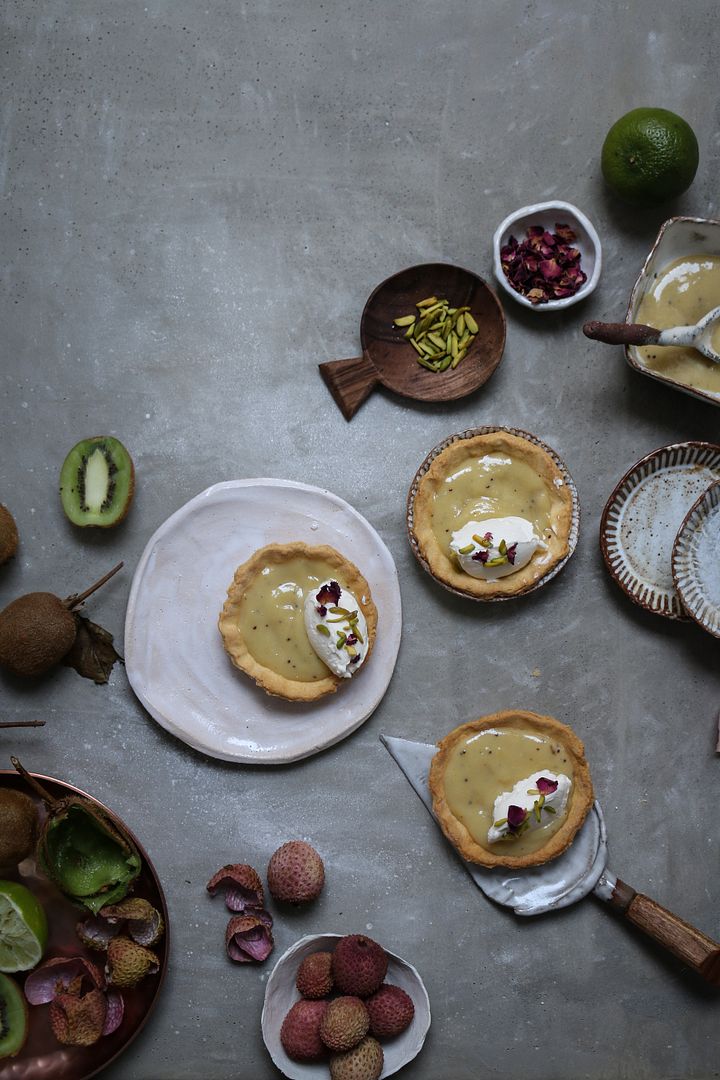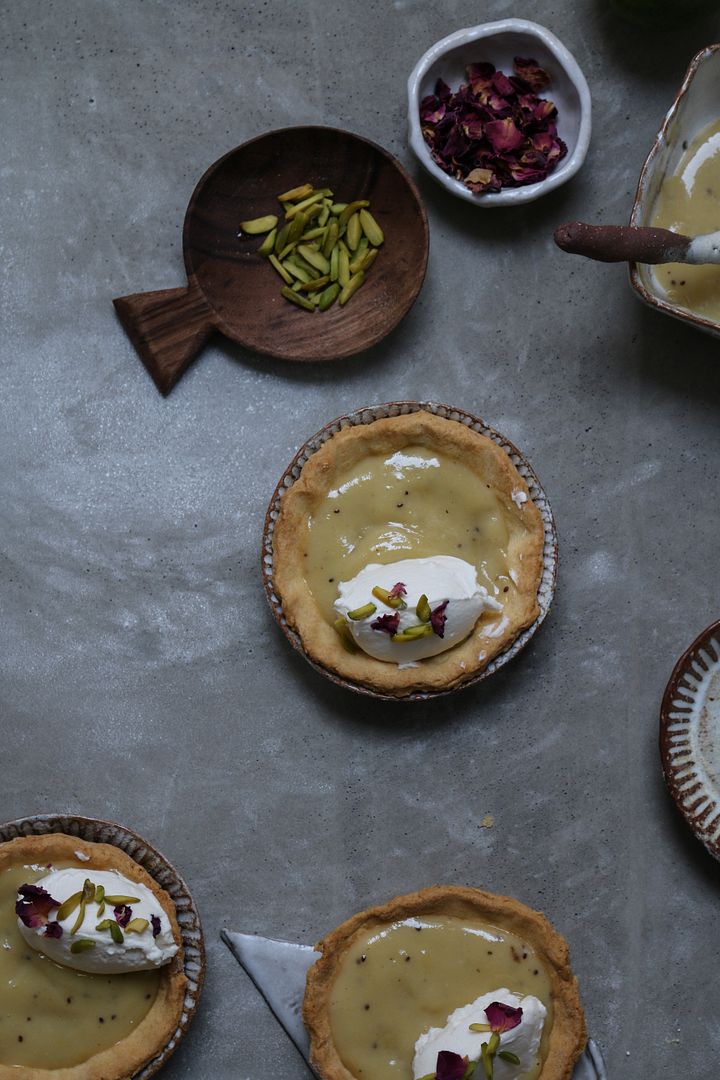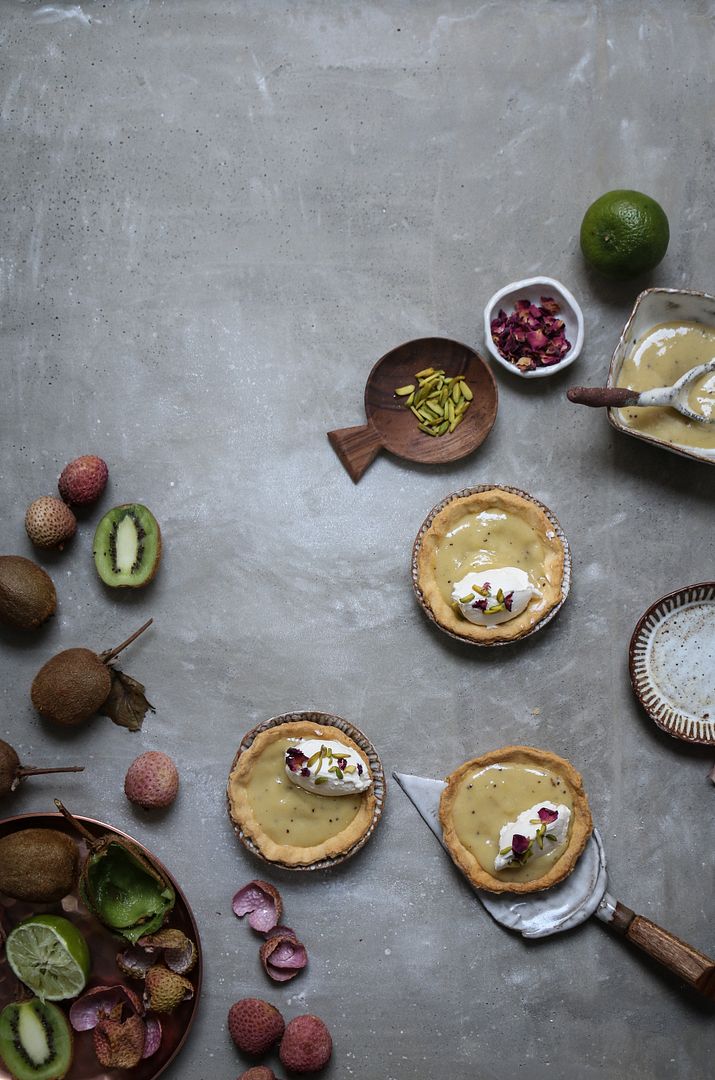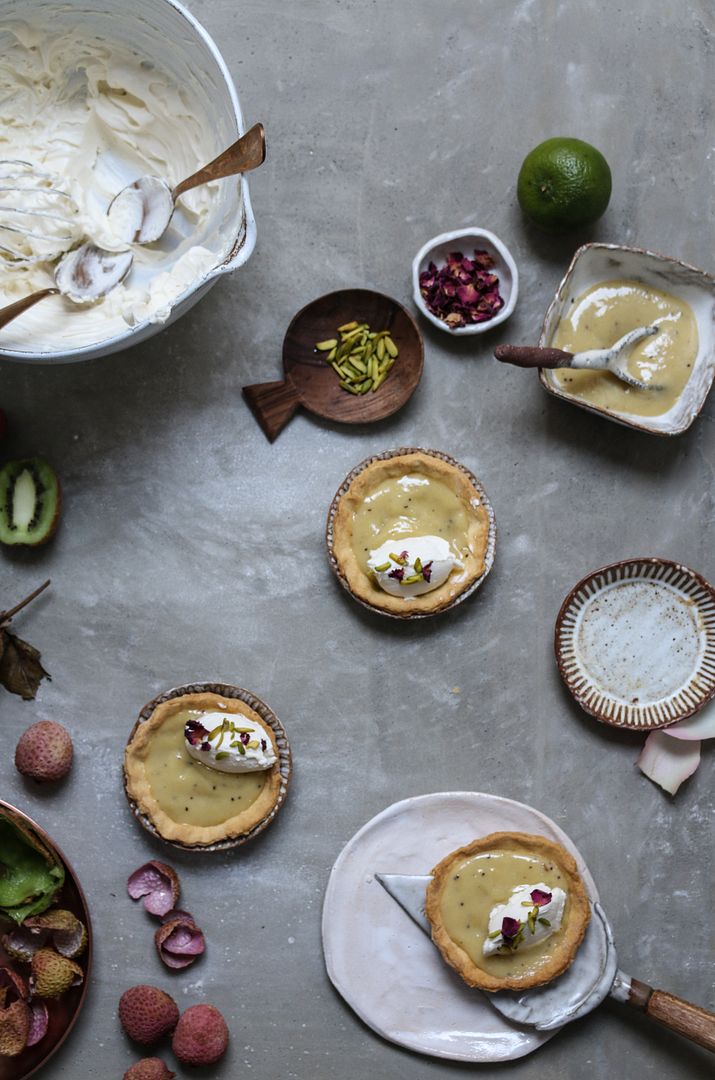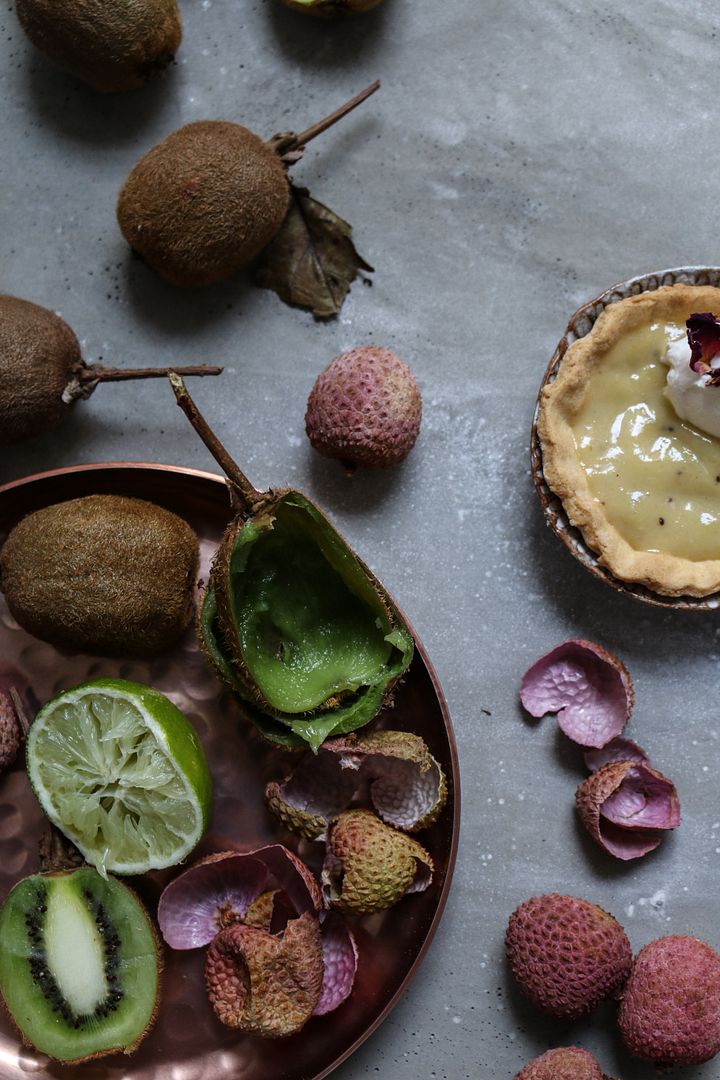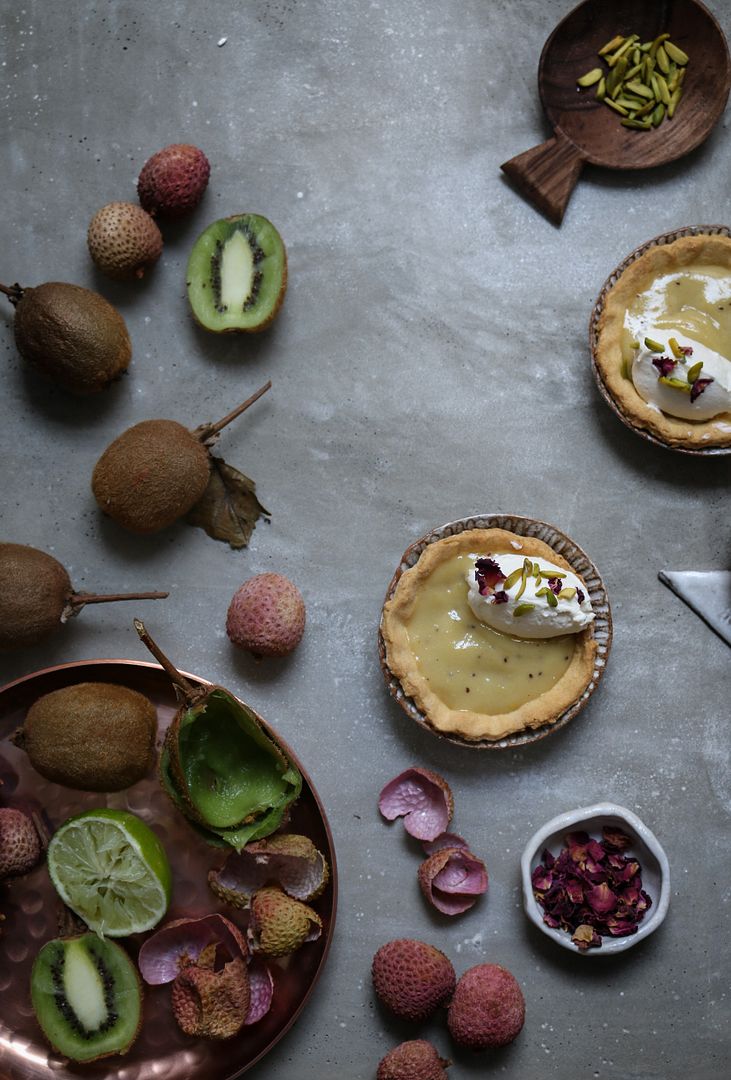 pastry
200g plain flour
110g butter
1 egg yoke
directions
in a food processor pulse the butter and flour together then add the yolk and pulse again until it comes together into a ball of dough, cover and refrigerate for 20 minutes, preheat the oven to 180c then roll out the dough and cut out circles and press into tart tins, place a layer of baking paper on top and fill with baking beans and bake for 15 minutes, then remove the beans and bake for another 10 to 15 minutes until golden.
curd
2 kiwis
5 lychees
juice of half a lime and 1 tsp of zest
3 egg yokes
2 tsp rosewater
100ml honey
directions
peel skin off the lychees and remove the seeds, the scoop out the flesh from the kiwis and place in a food processor with the lychees, lime juice, honey and rosewater and pulse until the fruit has pureed, then pass through sift into pan and add the yokes and zest and mix then over a medium heat stirring constantly until the mixture thickens and coats the back of the wooden spoon. I then passed it through a sift again into a bowl.
rose cream
200ml double cream
2 tbp honey
2 tsp rosewater
whip the cream until soft peaks then add the honey and rose water and mix until thick.
to make the tarts spoon the cooled curd into the pastry shells and the spoon on the cream or pipe it on if you like, I think sprinkled on some rose petals and pistachios.