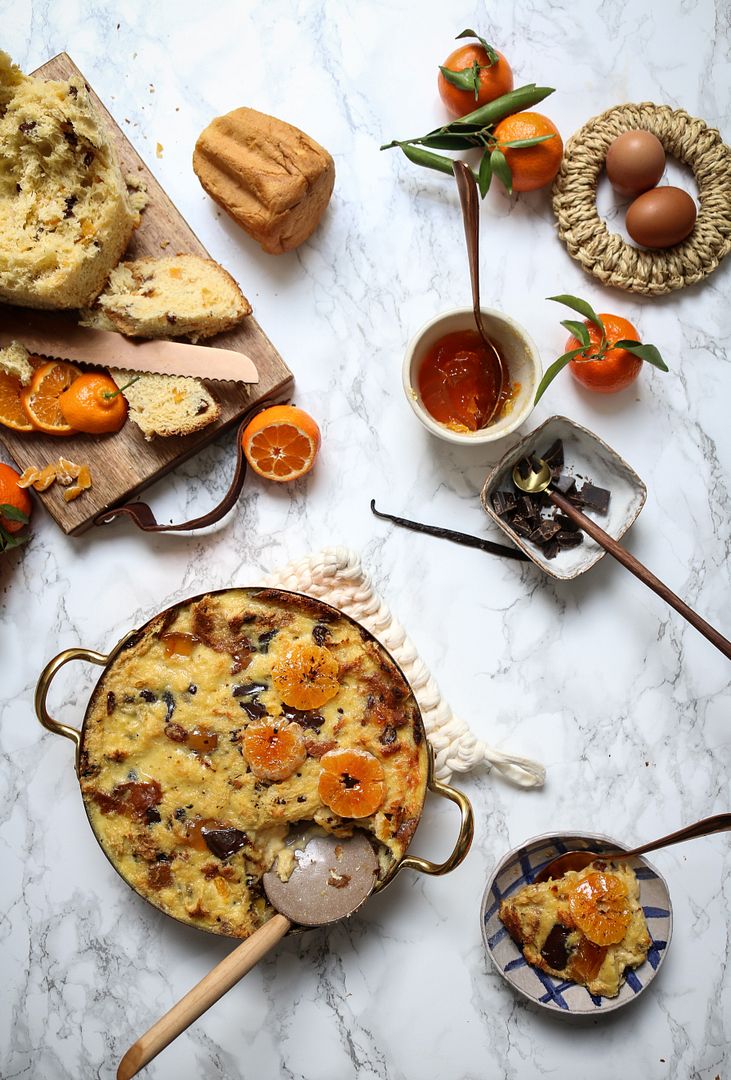 I still had a panettone and pandoro left over from Christmas as was looking for recipe ideas and then I saw this one in Jamie Oliver's comfort food book (my favourite one he has done). this recipe is not just any old bread pudding recipe, there are chunks of chocolate and blobs of marmalade hidden through out it. I bruleed some clementine's to serve with it. Now is a great time to purchase a panettone from an Italian deli as they will probably be half price.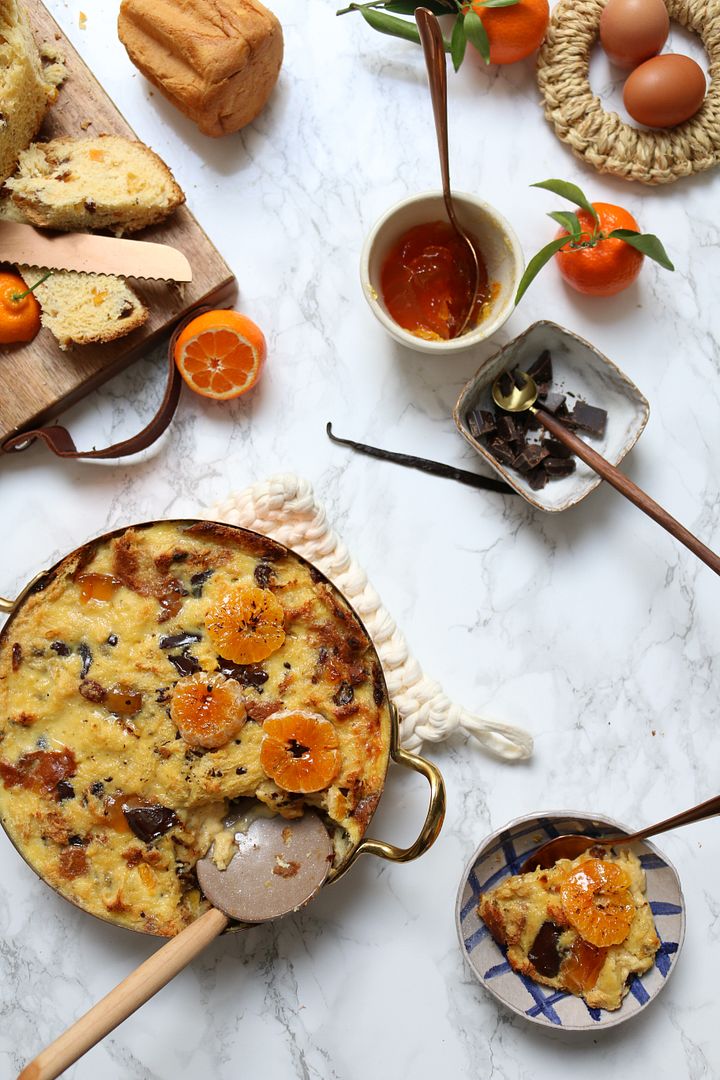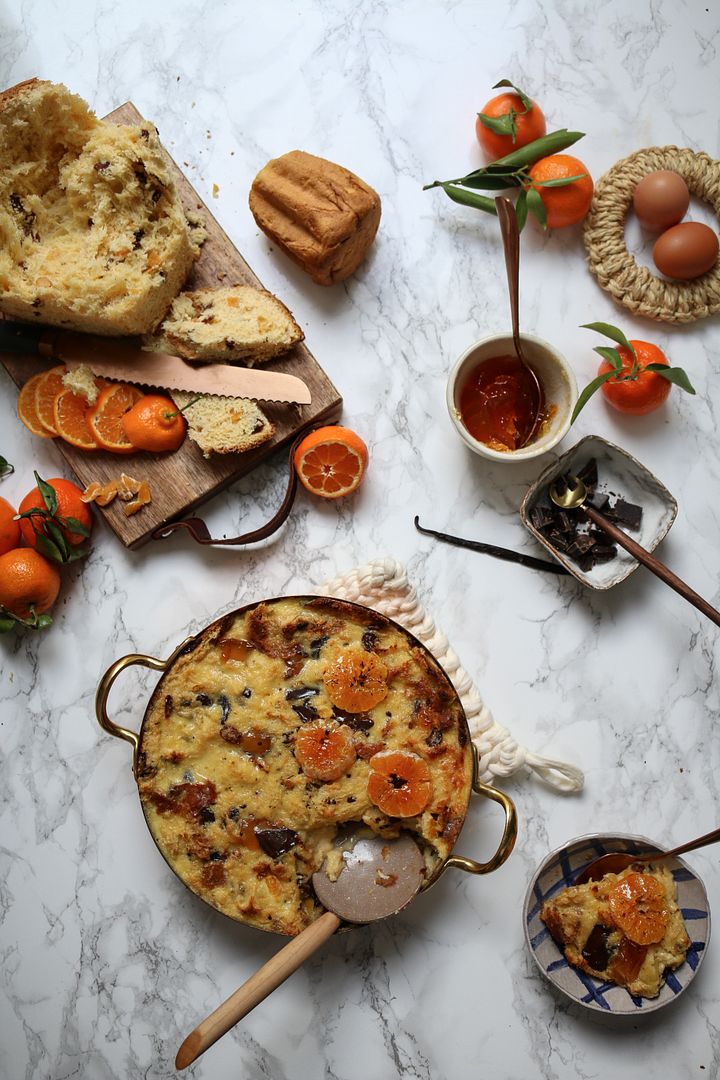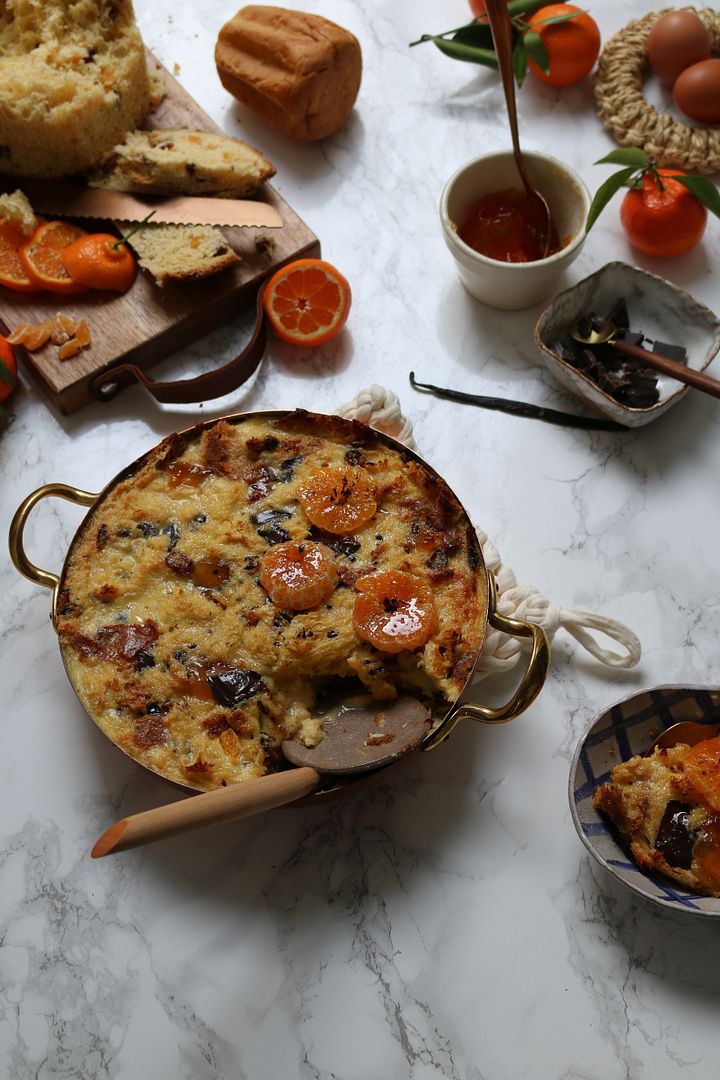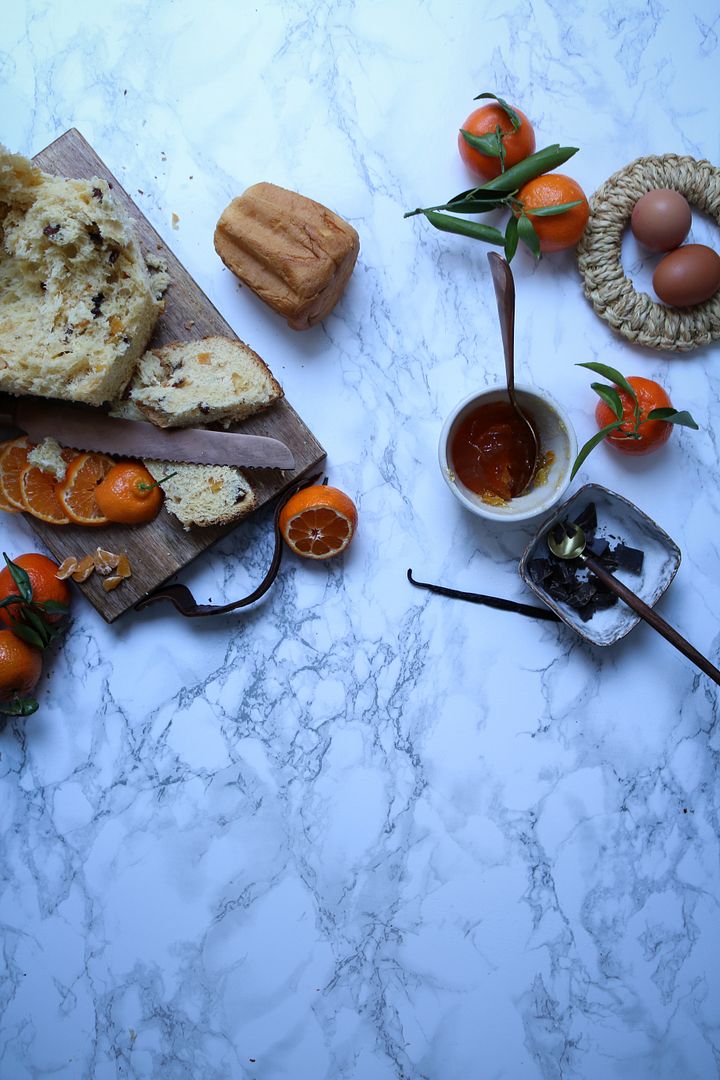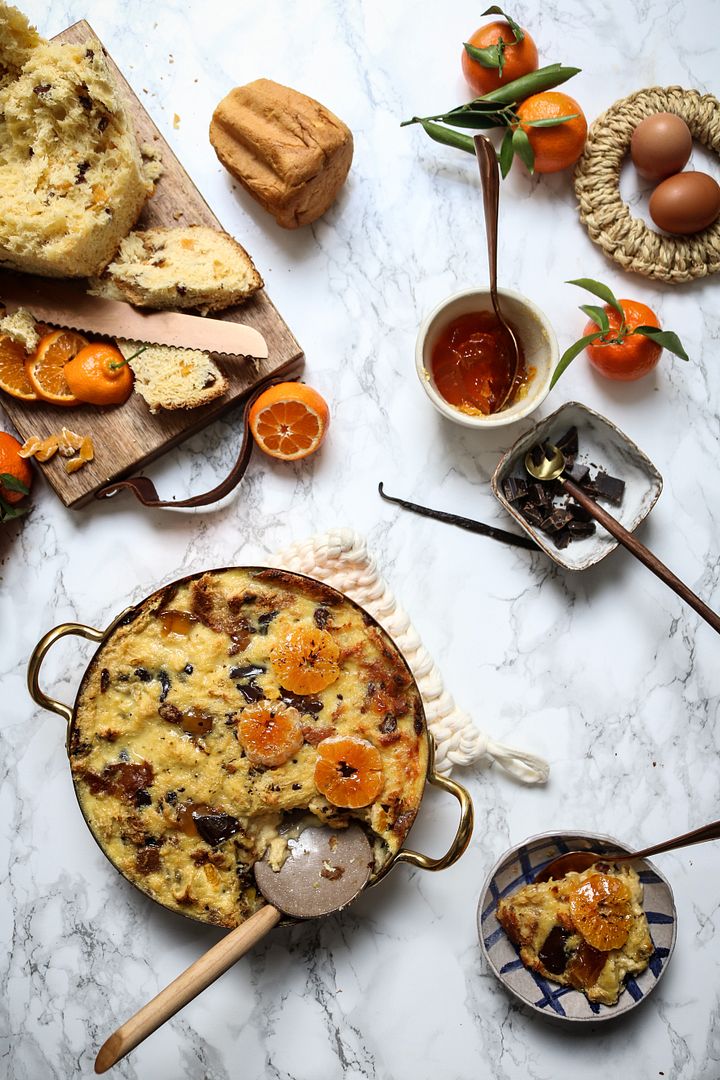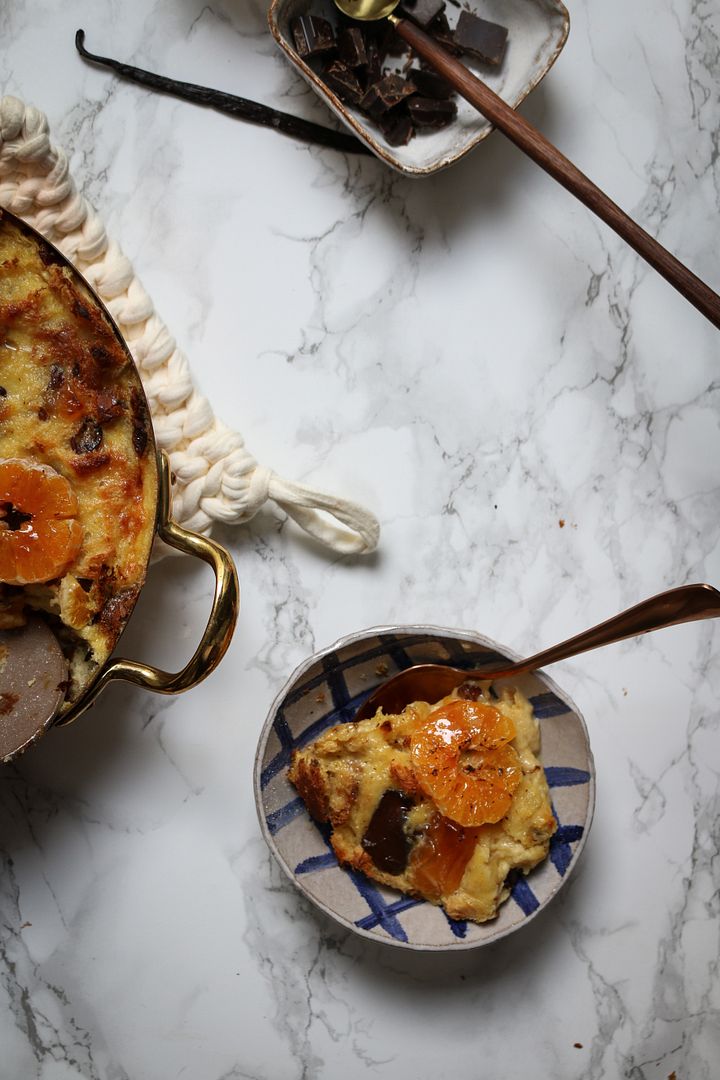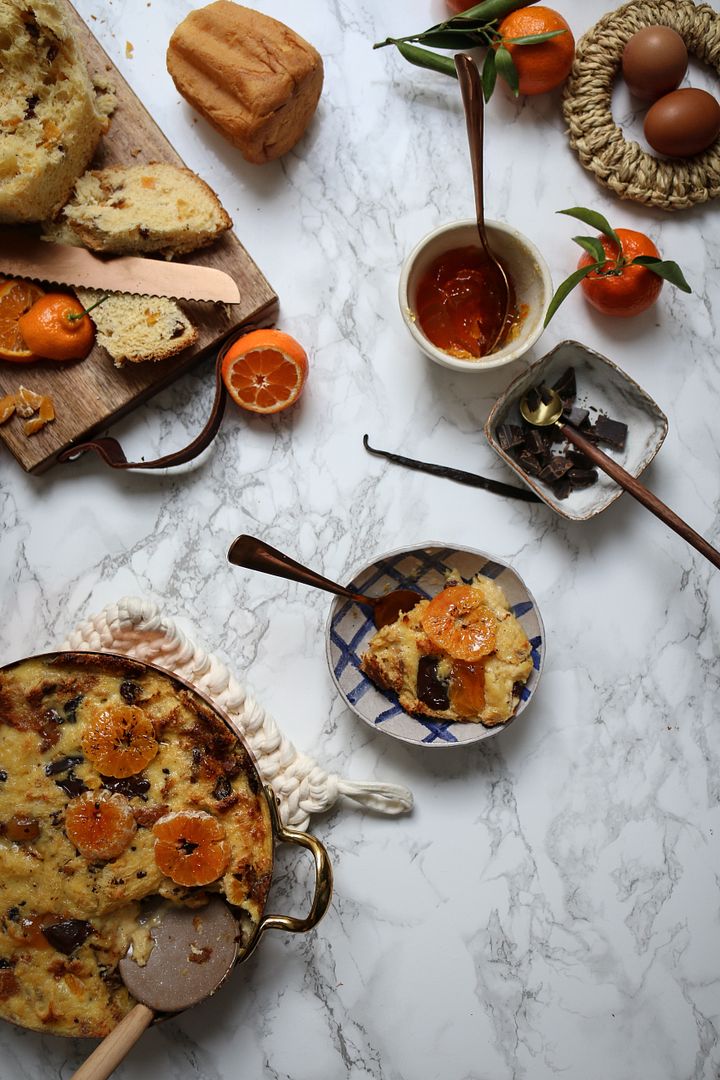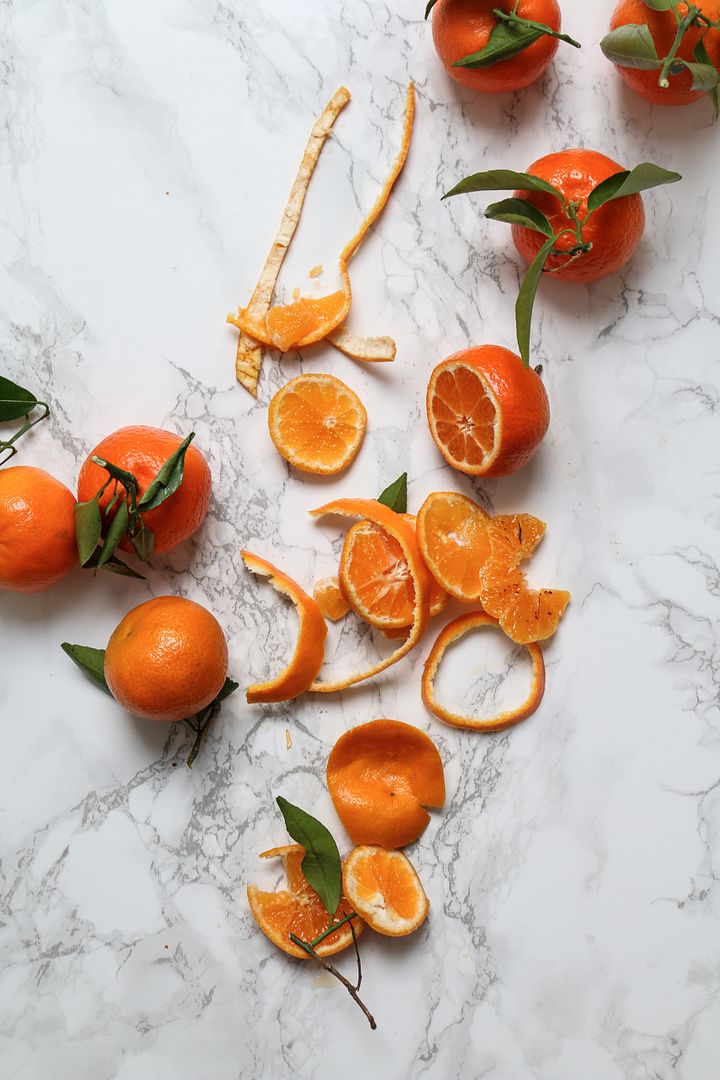 recipe
4 tbsp. demerara sugar
300ml double cream
300ml milk
5 eggs
125g butter
100g golden caster sugar
750g panettone
1 vanilla pod
60g dark chocolate
60g orange marmalade
preheat the oven to 180c 350f
lightly grease a 28cm loose bottom tin, I used a copper roasting pan. bash two tbsp. of demerara sugar with a pestle and mortar until fine then mix in the remaining sugar so you have a range of textures. tip this into the tart tin and spread around then tip out any excess for later
cut the bottom of the panettone off and use it as the base of the pudding, then cut the edges off and push them down the sides of the tin so it is compact like a pastry shell.
half the vanilla pod lengthways and scrape out the seeds and place both the pod and seeds in the pan with the milk, cream and butter, gently heat until the butter has melted mean while in a bowl whisk the eggs and golden caster sugar together for 2 minutes until smooth, once the butter has melted slowly pour the hot milk mixture into the bowl with the eggs whilst mixing. pour 1/4 of the mixture into the tart tin and let it soak in then rip the rest of the panettone into chunks and soak them in the bowl with the rest of the custard then spoon into the tin and sprinkle bits of chocolate around then spoon on some dollops of marmalade then add some more of the panettone. pour over any left over custard and add some more chunks of chocolate and dollops of marmalade and then sprinkle over the remaining demerara sugar. bake for 25 minutes. allow it to rest for 10 minutes before serving. it is great with some icecream. to brulee the oranges slice thinly remove the peel and sprinkle over some caster sugar then use a blow torch to heat the sugar until golden and crisp.