I made sally my sourdough starter a few months ago, (yes I have named her) I made her with some organic apples, some strong flour and water and she has grown it to a beautiful sweet smelling starter. I thought it would be interesting to make croissant dough with my sourdough starter rather than yeast so I gave it a go and I'm glad I did, it was a lengthily process which involved a lot of waiting around , which I'm not very good at but the final results where so yummy. my partner had stuffed three croissants and a slice of the loaf, for comparison purposes so he claims in the first 5 minutes of being shown them. to get the pretzel part I dipped the croissants in a water bath with bicarbonate of soda like you would if you where making soft pretzels.
the filling of choice was Nutella, I toyed with the idea of making an almond praline spread but then I thought why bother, I mean lets face it the recipe was hard enough with out making more work for my self, so Nutella was the easy option (a very tasty one). I don't really use enough of Nutella in my recipes that's going to have to change in 2016 as its amazing.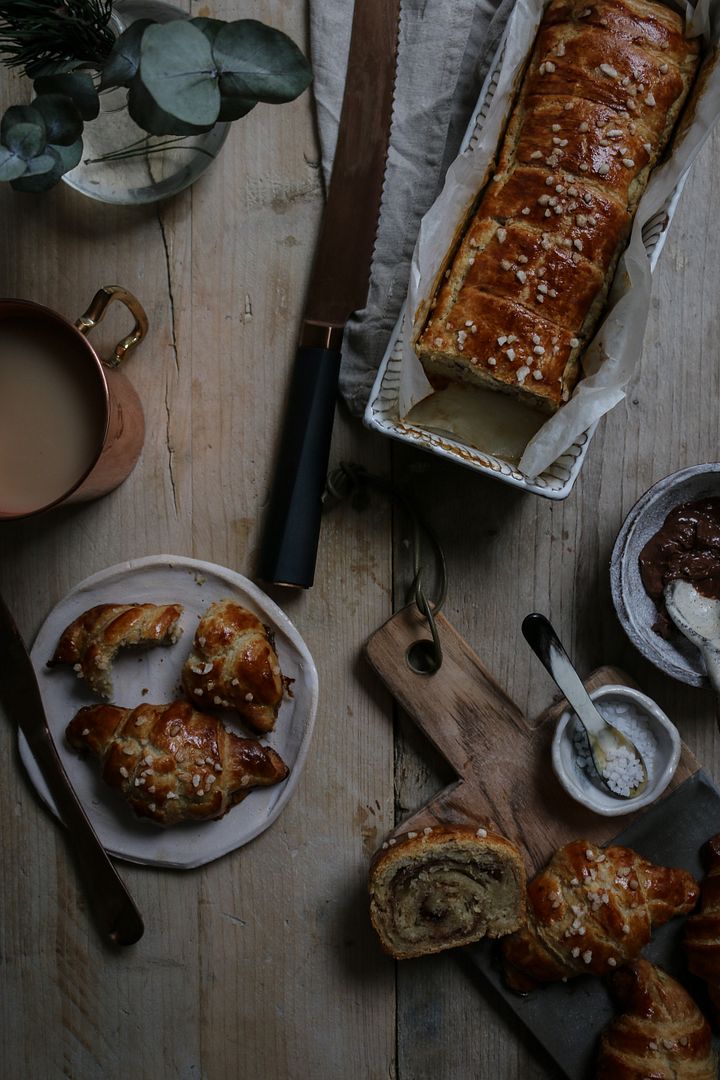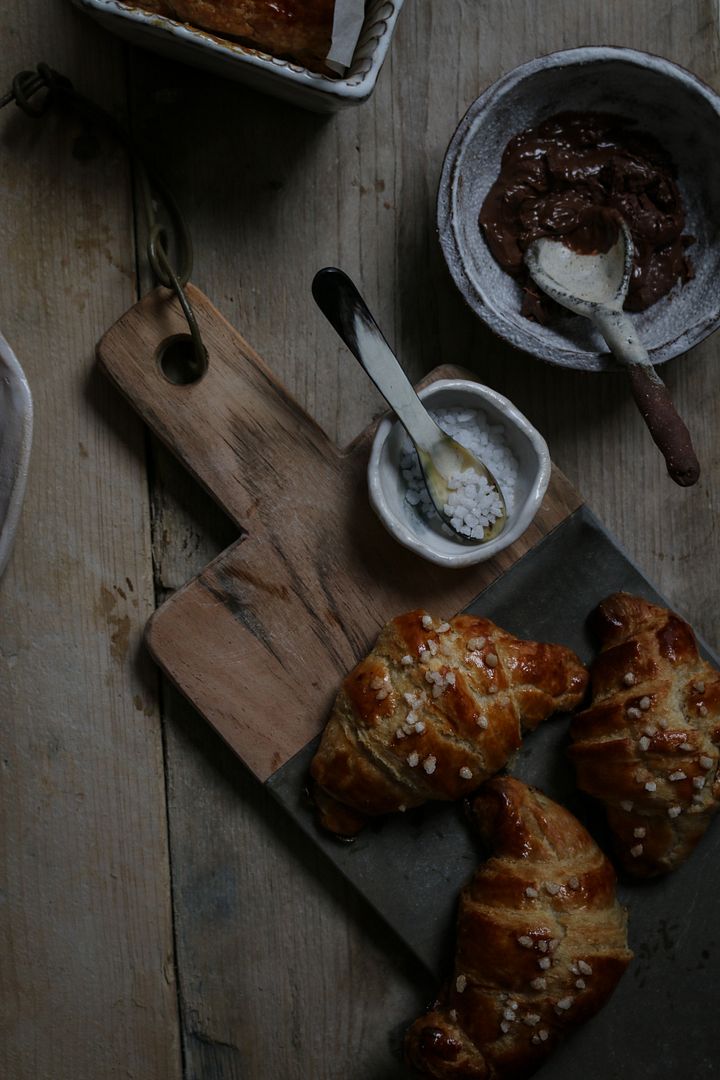 recipe for dough
250g sourdough starter
380g strong white flour
200ml water
3 tbsp. brown sugar
1/2 tsp salt
To make the dough add the flour, starter, sugar and salt in the bowl of a stand mixer then start mixing with the dough hook while pouring in the water. Knead for 5 minutes until a soft elastic dough has formed then place in a oiled bowl and cover with plastic wrap and leave to rise for 6 to 8 hours. then tip it out on to a floured surface and knock out the air and roll out into a large rectangle. Take a block of butter and place it between two sheets of baking paper and bash it with the rolling pin to flatten it then place it over 1/4 of the dough and then fold the rest of the dough over the top and pinch the edges to seal it in then roll it out and then fold each end in so it meets in the middle the turn to the left and roll out again into a large rectangle again, then fold the dough again twice more and cover and place in the fridge for 20 minutes then take out and roll and fold again 3 more times then cover and leave in the fridge over night. The next day roll out the dough and fold Again twice more then roll into one long rectangle then it's ready to use. to make the loaf cut half of the dough and spread with Nutella and roll into a log and place in a loaf tin leave for 2 to 3 hours then brush with an egg yoke and sprinkle on some pearl sugar then bake for 35 minutes at 180c. For the pretzel croissants cut into triangles and place a spoon full of Nutella on to each one and roll up then place on a floured tray for 2 and a half hours then Boil a pan of water and add two tbsp of baking powder dip each pretzel in for 30 seconds then place on a lined baking tray and brush with egg yolk and sprinkle on pearl sugar and bake for 25 minutes.
ideally the second prove should be longer than two to three hours but I tried it and it was great if you can leave it 5 to 6 hours then give it a go. See some step by step pictures below.