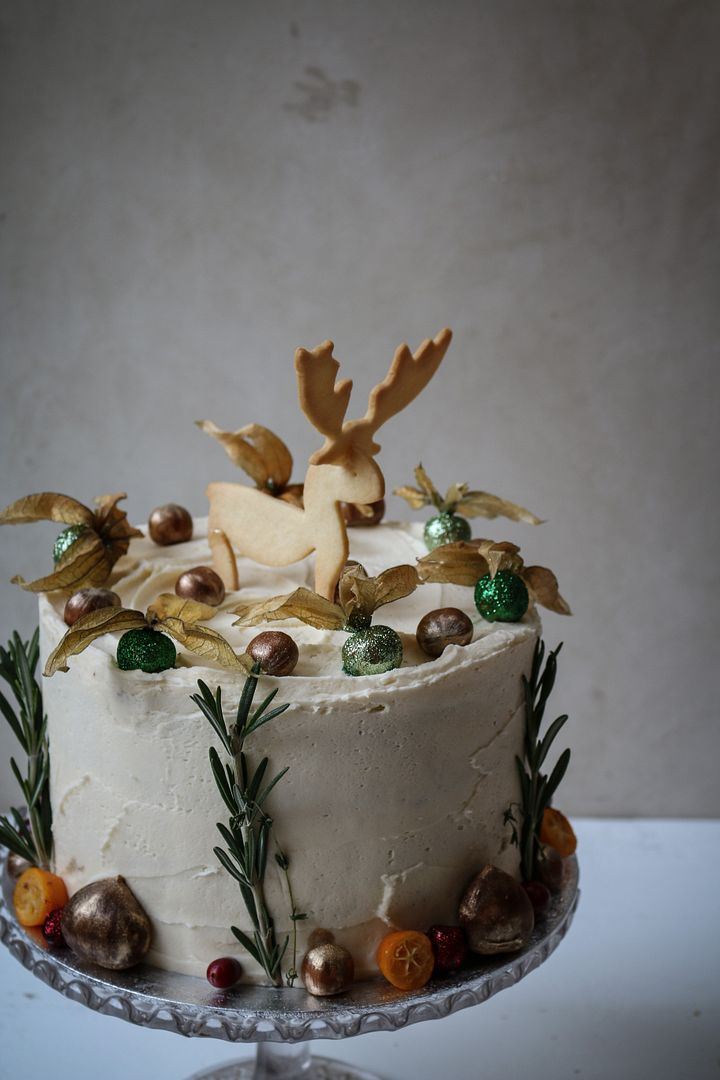 I had the pleasure of joining lily jones from lily vanillis bakery last week to bake and decorate some goodies for the bakeries Christmas Wednesday evening openings. lily let me loose with the glitter and I decorated this gluten free oreo cake. I made a cookie cutter out of a soda can and made this 3d deer to go on top out of some pastry off cuts from the mincepies lily was making. the recipe for the gluten free oreo cake is in lily book "sweet tooth" which is brilliant by the way.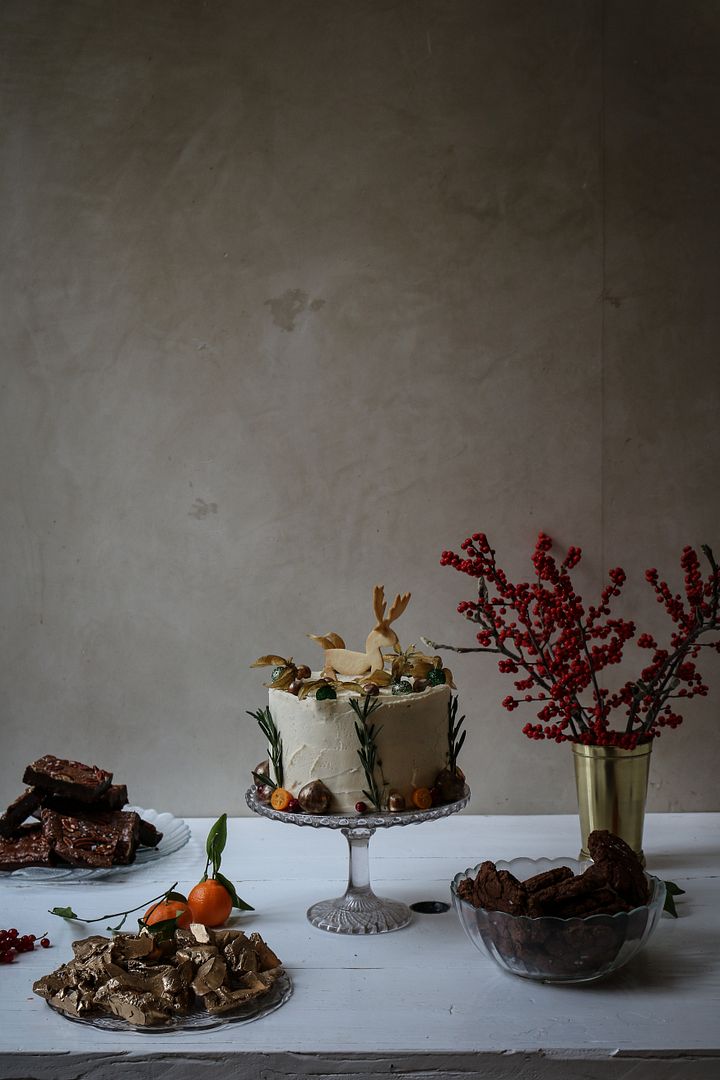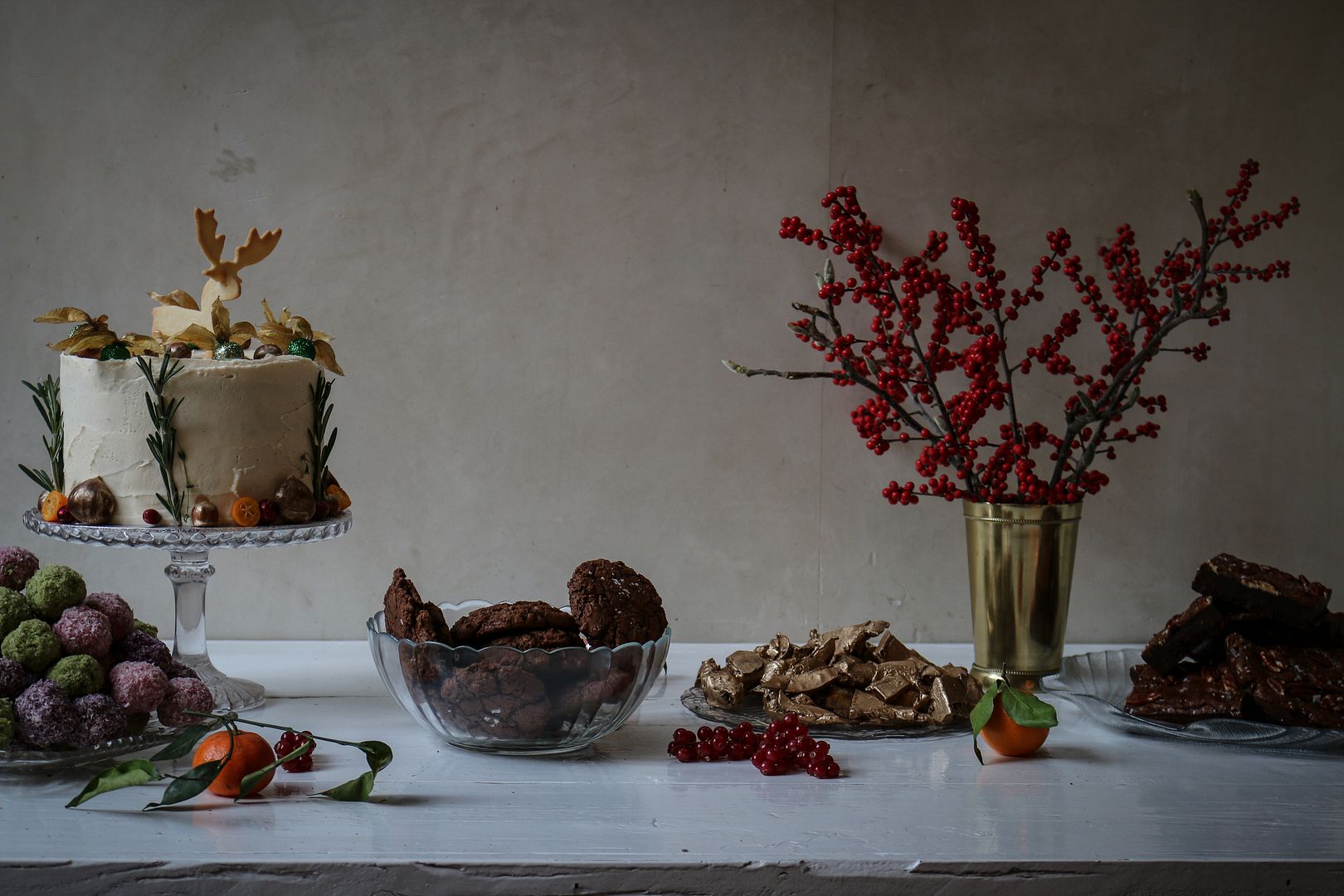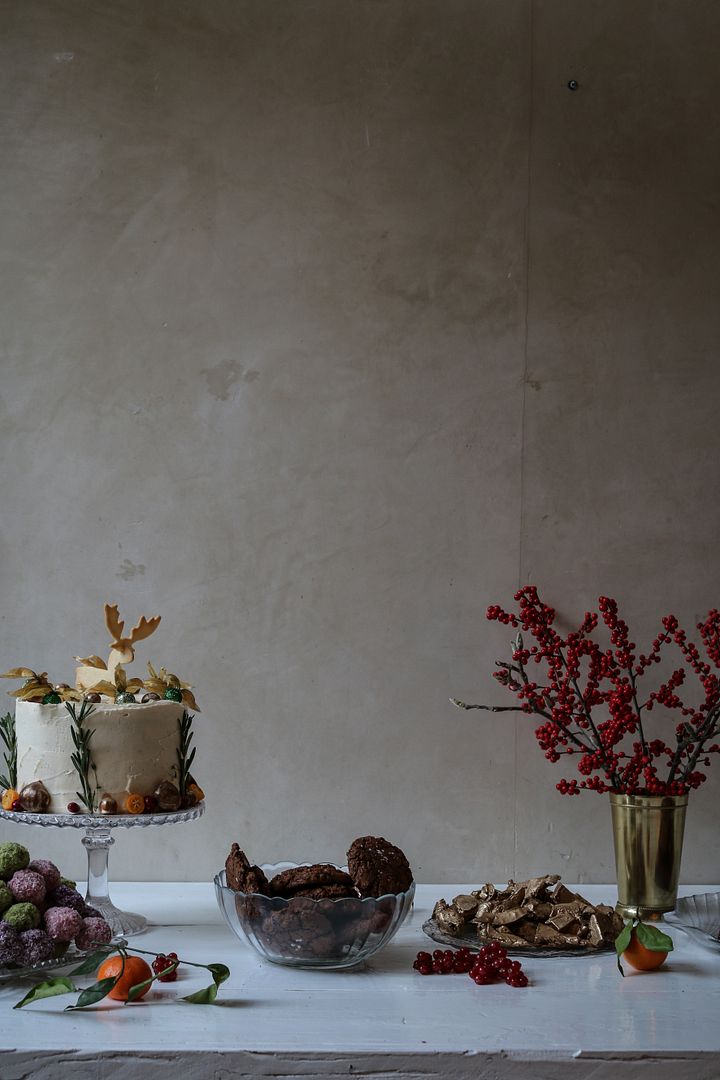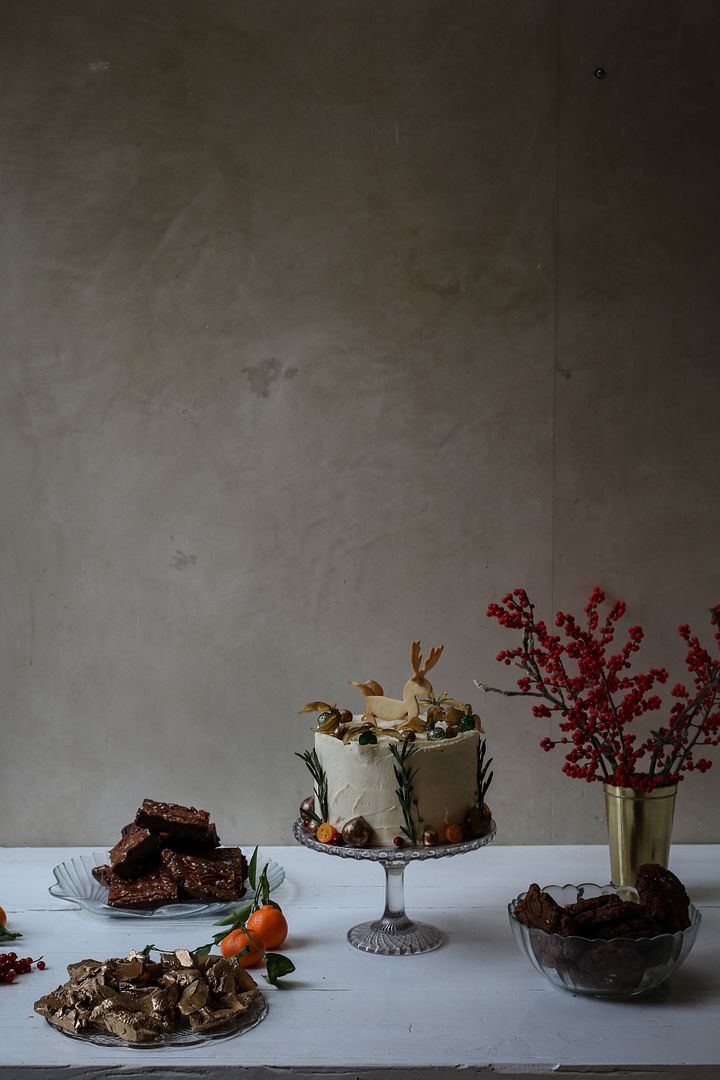 lily make this fools gold the recipe is also in her book and those brownies are to die for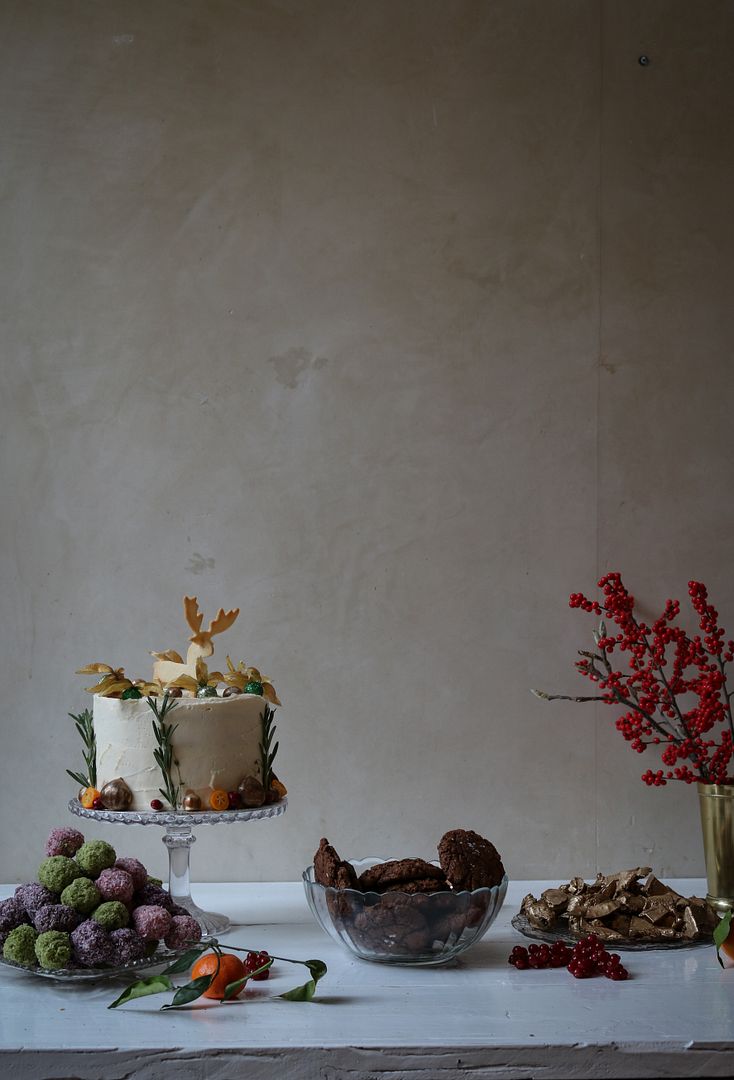 those colourful balls are lily's raw macarawns they are matcha, blackberry and raspberry flavour. I tried and blackberry one it was really yummy.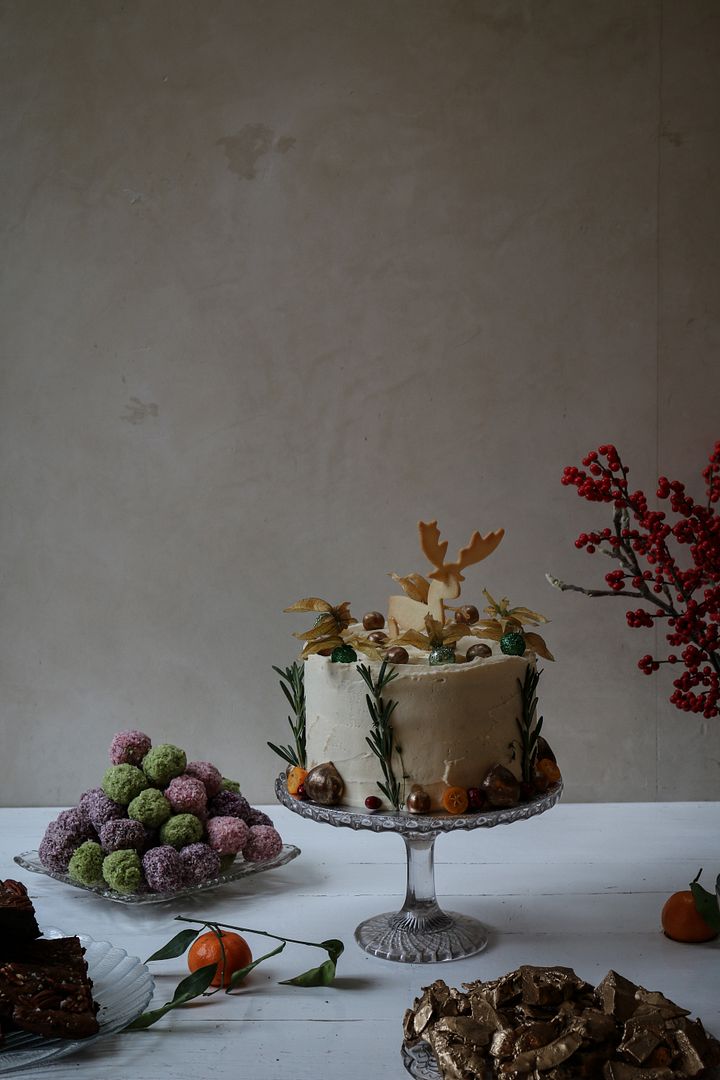 recipe for the oreo cake (makes one 23 cm cake so to make a layered cake double recipe and bake in three 15 cm tins for smaller three layers)
130g unsalted butter room temperature
140g light brown sugar
4 eggs separated
150g black/blue poppy seeds
130g ground almonds
40g cocoa powder sifted
pinch salt
1 tsp baking powder
directions
preheat the oven to 180c
beat together the butter and sugar until fluffy approx. 4 minutes. then add the egg yokes gradually and mix until combined, mix together the poppy seeds, ground almonds, cocoa and baking powder and salt in a separate bowl, beat the egg whites in a very clean bowl starting slowly and then turning up to high speed until stiff peaks form. by hand stir half the poppy seed mix into the batter, the fold in half the beaten egg whites, then the rest of the poppy seed mix and finally the remaining egg whites. use the folding technique to incorporate everything gently. transfer into lined tins and bake 25 to 30 minutes until risen and firm.
for buttercream
200g unsalted butter
600g icing sugar sifted
2 tsp vanilla extract
150ml double cream
beat the butter until fluffy and soft for approx. 4 to 5 minutes, then add the cream, icing sugar and vanilla extract and mix slowly to bring together then turn up high and mix until smooth and thick.
place a dab of buttercream on the cake stand then place on the first layer, then pipe on a layer of butter cream and spread out and add the next layer of sponge, then do the same again with the next layer. pipe butter cream around the sides and smooth with a pallet knife then place cake in the fridge for 15 minutes this is the crumb coat.
next pipe on some more frosting and spread around the cake until smooth.
to decorate I added glitter to some physalis and added some gold lustre dust to some chestnuts and hazelnuts and placed on some cranberries, kumquats and rosemary