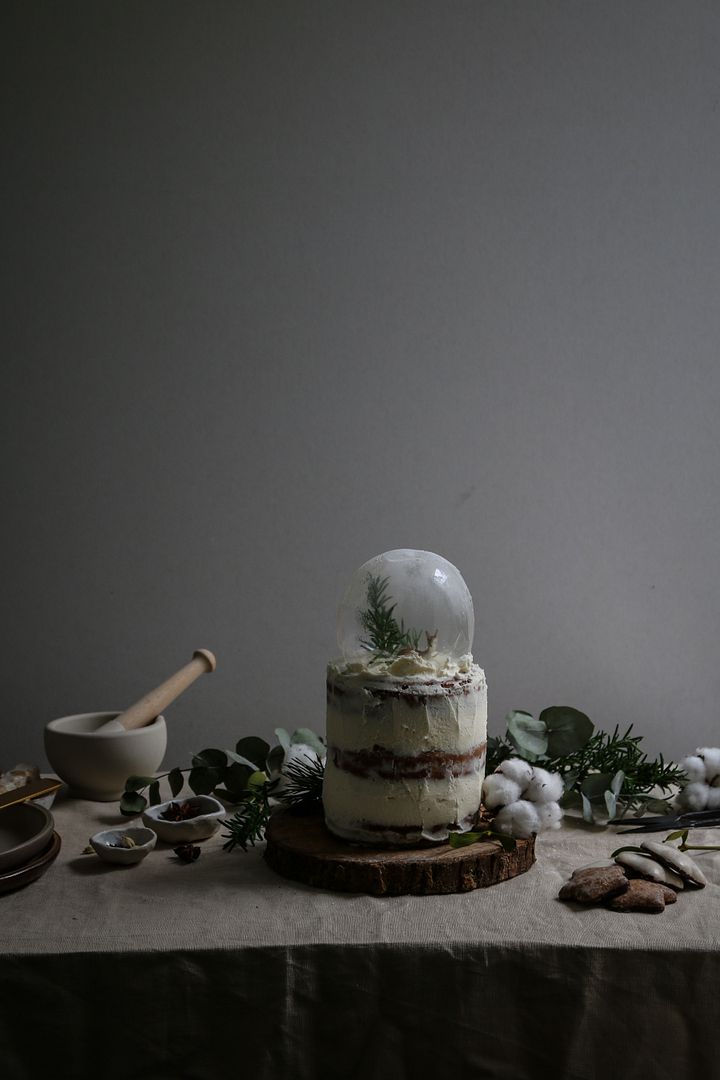 My dad arrived from France this week and the first thing I asked was what cake shall I bake for you, when ever he comes over he wants a cake so I thought this time I would find out what flavour he actually wanted rather than just making him my guinea pig for flavour ideas, he said he wanted a cake that was like the lebkuchen cookies we used to buy when i was younger from the german supermarket. I also decided to make a gelatine snow globe to go on the top (this needs to made 24hours in advance). To make the lebkuchen cakes i decided to keep the recipe like the cookies but then folding in some whipped egg whites and yokes at the end to make it a bit lighter than the heavy cookie, but its still chewy and dense like the cookie, basically it is like three giant lebkuchen cookies stacked with mascarpone frosting. this was only a mini 6inch cake with three layers just enough for him to eat while he was here. (I think that you could get 6 slices out of it) I did buy some white marzipan to make a little snow man to go inside the snow globe but then I remembered I had this little china deer so I used that instead.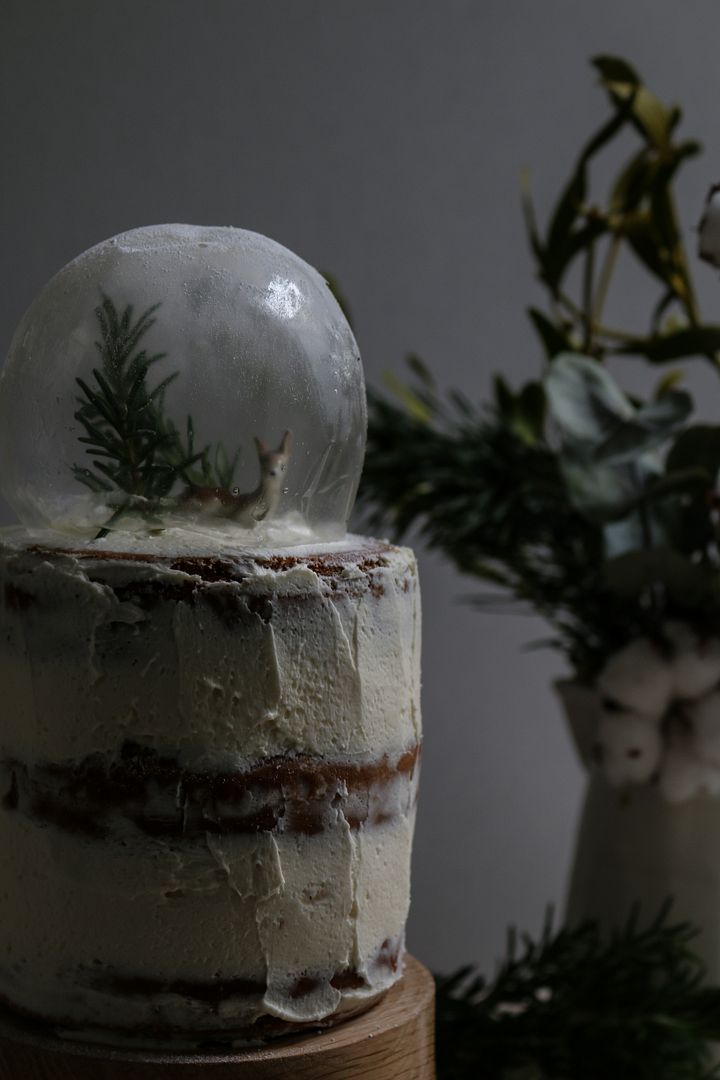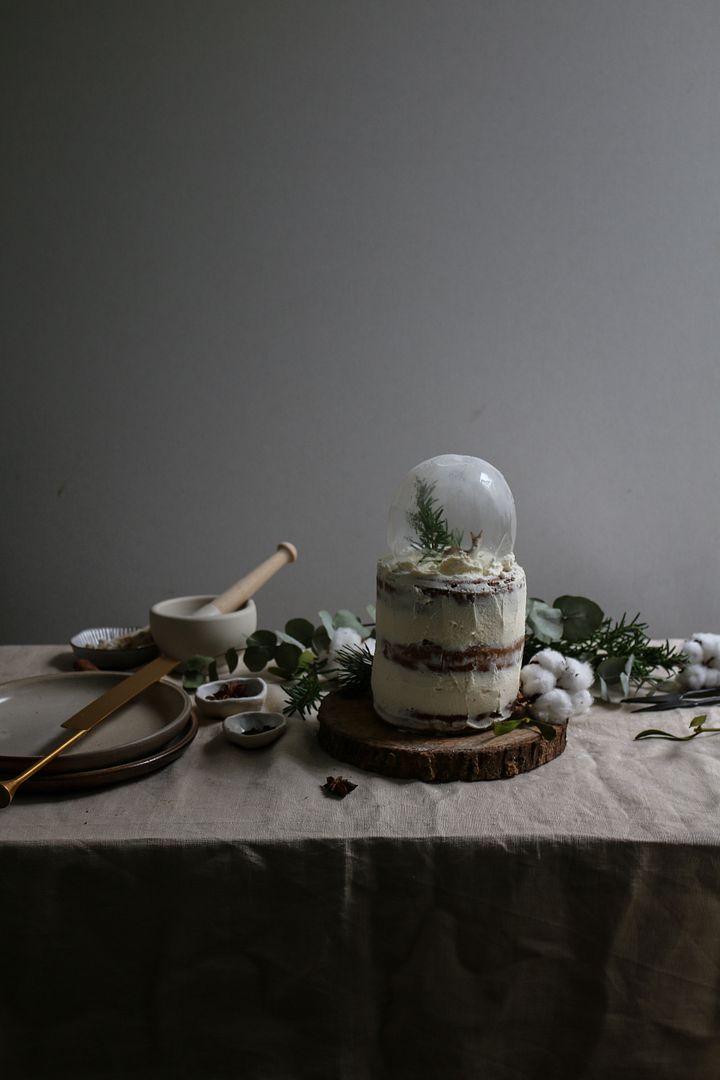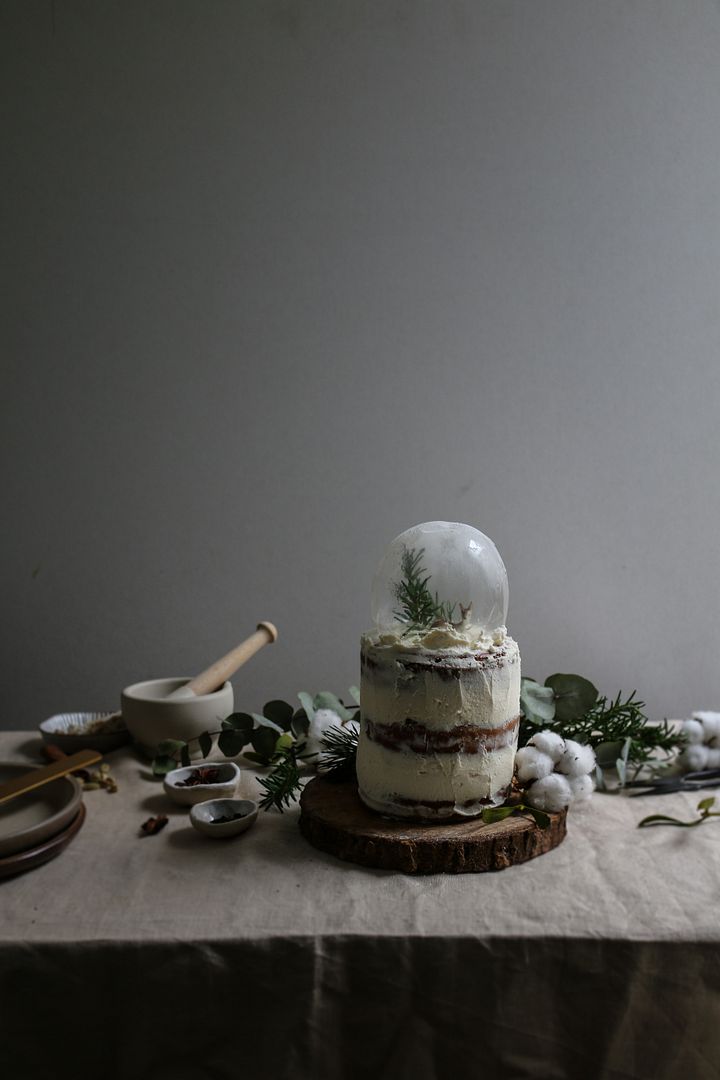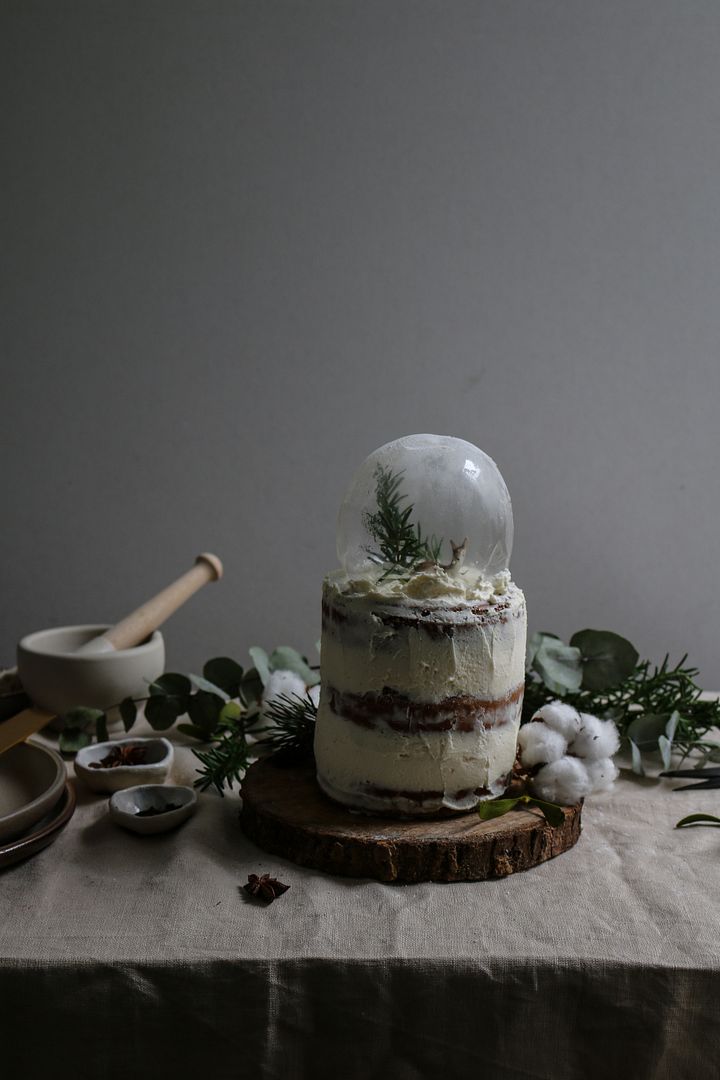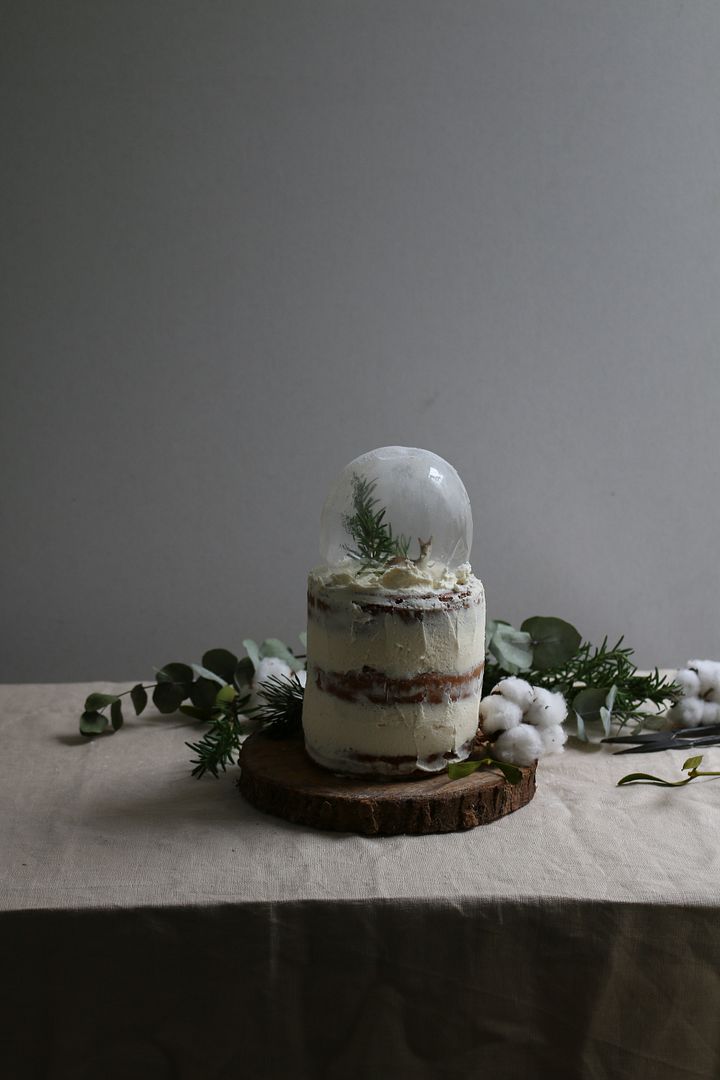 for details on how to make the snow globe visit this website , its a great really detailed tutorial, mines a little bent in places but for a first attempt it worked out will.
recipe for cakes
160g runny honey
1 tbsp. dark brown sugar
1 tbsp. light brown sugar
110g unsalted butter
50g ground almonds
250g self raising flour
1 and half tbsp. ground ginger
2 tbsp. ground cinnamon
1/2 tsp ground nutmeg
1/4 tsp ground cloves
2 tsp cocoa powder
2 pepper corns ground
seeds from 2 cardamom pods ground
4 anise seeds ground
three eggs separated
in a pan add the honey, butter and sugar (the sugar is optional if you want if to be refined sugar free don't use it), then stir until butter has melted and remove from the heat and leave to cool. preheat the oven to 160c and grease and line three 6 inch tins. in a mixer add the three egg whites with one tsp sugar or honey and whip until thick, add the flour and spices (i used a pestle and mortar to grind the peppercorns, cardamom and anise seeds) then fold to the butter/honey mixture then add the yokes to loosen it, then fold in the egg whites. once properly combined spoon into the tins and bake for about 25 30 minutes until a knife inserted comes out clean.
once cooled and cooled slice off the tops so that the cakes are flat, then make frosting,
200g mascarpone
150ml double cream
6 tbsp. icing sugar (of 4 honey for sugar free)
1 tsp vanilla
whip together all of the frosting ingredients, the spoon into piping bag then start assembling the cake/giant cookies place one of the layers on a stand or plate and pipe on some cream i then sprinkled on some chopped up nougat (optional), then add the next layer and pipe on some more frosting, and sprinkle on some more nougat. finally add the top layer and pipe on some more frosting and pipe some around the edges of cake and smooth around with a pallet knife. i decided to keep the cake exposed. then I stuck in some rosemary to look like trees and placed a little deer on to the cake and placed the gelatine snow globe over the top and lightly dusted it with icing sugar. if you have any snow flake sprinkles you could stick them on too.